SIOUX CITY | Brittany Lesline was 10 years old when her parents, Linda and Kelly Conolly, purchased a green, three-story, Queen Ann Victorian-style home at the corner of 29th and Jackson streets.
The home, which was built in 1896 by William Haley, was known as the Haley House. Haley, a prominent Sioux City businessman, was the first fresh produce entrepreneur in the Midwest.
Back in 2000, Lesline wondered, "Why are we moving into a museum?"
At that young age, she couldn't understand why the family of three needed such a big house. As she grew older, she began to appreciate the Haley House for its spaciousness, as well as its beauty and history.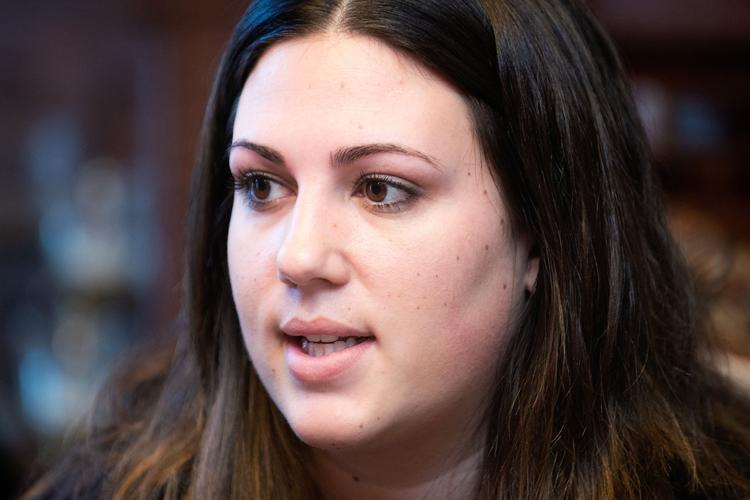 "It was kind of cool growing up in a historic home. You hear people talk about it. They'd always tell me stories of what they knew of the house," Lesline recalled as she sat in a high back chair in front of a brick fireplace in a rose red dining room surrounded by exotic woodwork.
Touches of Lesline's mother, whom she described as very loving, patient, fun and creative, are everywhere in the vintage home.
"She was dedicated to this house and to our family," Lesline said of her mother, who lost her battle with lung cancer in March 2016. "Everything that's in this house was a work of love."
Last May, Lesline and her father opened Linda Conolly's dream home as a boutique hotel. They named it Linda Sue Manor in memory of her.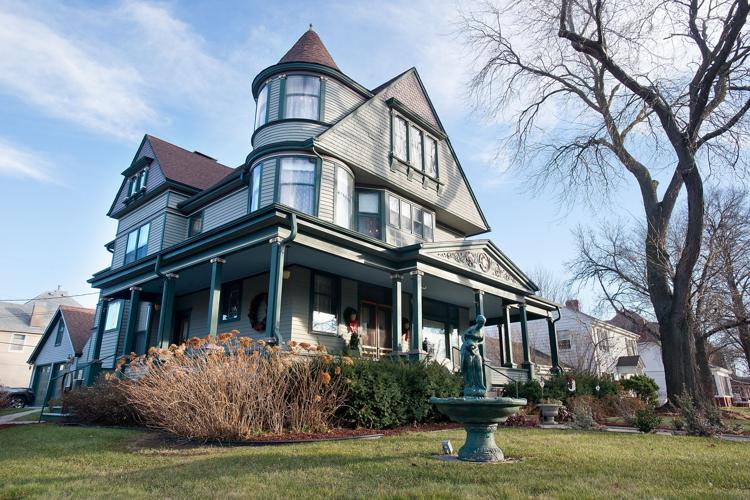 "We struggled with the idea of selling it. It was my mom's dream to have this in the family for a long time so her grandkids and great-grandkids could see it and be a part of it," Lesline said of the home. "Sadly, I think a lot of the older homes in town get turned into apartment buildings or they get very modernized. It's such an old, beautiful home we didn't want something bad to happen to it."
After filing the necessary paperwork to make the property a legal bed and breakfast, Lesline's father listed Linda Sue Manor on Airbnb, an online marketplace and hospitality service. Almost immediately, Lesline said the boutique hotel had requests for overnight reservations.
"People were very interested in staying in this home," said Lesline, who took over hostess and marketing duties at Linda Sue Manor full time in August. "It's nice renting (a room) out to those people who are just traveling back and forth, but it's also nice to rent the whole home out."
Grand main floor 
Linda Sue Manor, with its regal turret, gables, wraparound porch and square pillars, is centrally located, just two miles from downtown.
With 5,300 square feet of space, the Victorian is the ideal place for an entire family to spend the holidays, but Lesline said people have also rented the home for a bridal shower or a book club meeting. 
"We've had a few people stay with us who've had a family member in the hospital. Also, a lot of traveling nurses have stayed with us," Lesline said noting Linda Sue Manor's close proximity to UnityPoint Health-St. Luke's campus.
To the right of the front foyer, where Lesline said guests awaited their host and hostess more than a century ago, is the front parlor.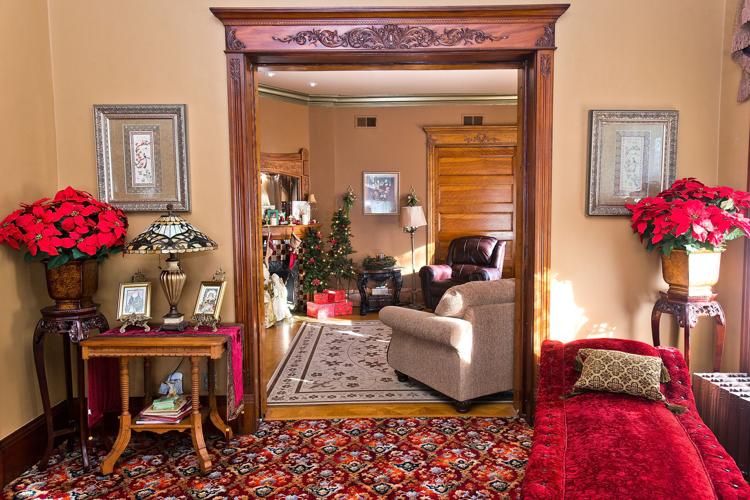 The room's bold, red floral carpet is in pristine condition for being more than 120 years old. The large African mahogany-framed mirror flanked by two large vertical windows is a statement piece and talking point in the golden yellow-painted room.
"William Haley actually had it shipped in in one whole piece," said Lesline, who would gather with her family in the front parlor at Christmastime to open gifts around the tree. "Everything you see in here is literally how we lived in it. This is all of our family stuff."
The elegant dining room, functional kitchen and living room, which is equipped with the home's second fireplace, original oak woodwork and cozy furniture round out the first-floor offerings. Lesline said her mother worked with Sioux City Paint & Decorating to meticulously select true Victorian colors for each room in the house.
"They spent probably a good year finding the right colors that would play off the woods perfectly," she said. "She went a little bit lighter with the darker woods and a little bit darker with the lighter woods to kind of bring out the grains in them and the detail."
Unique bedrooms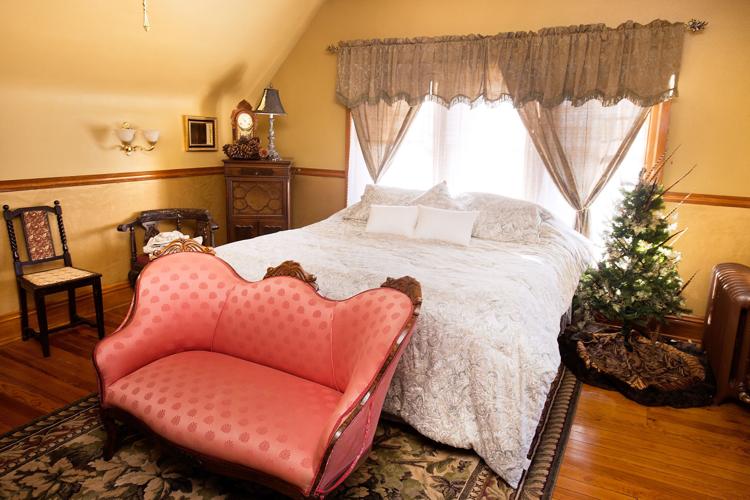 The staircase to the left of the foyer leads to six themed bedrooms on the home's second and third floors.
Linda Conolly, a nurse, handmade the drapes and valances in each room, which she filled with antiques and furniture.
Lesline said "The Master Suite," which boasts a queen-size bed, and full en suite bathroom, was her mother's favorite room. The highlight of the room is the turret sitting area, where a pair of white gloves, a small clasp purse and old books rest on a coffee table.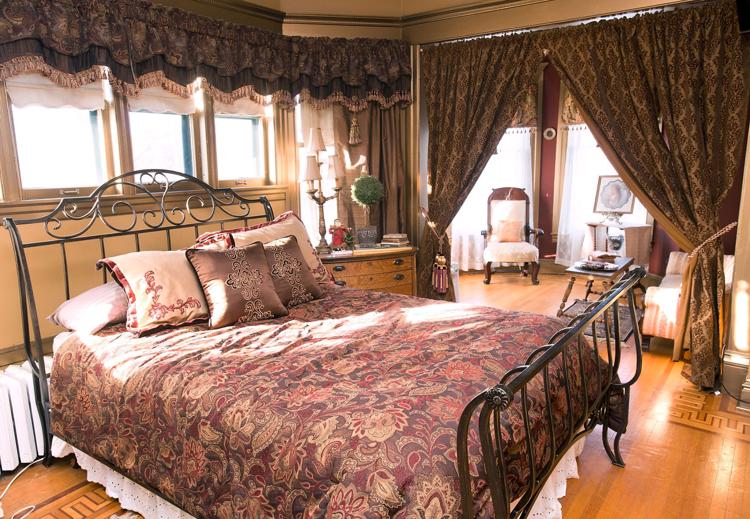 "A lot of Victorian homes are very broken apart and dark, but this is so light because of that turret window," Lesline said.
Also on the second floor is "The Purple Room," a bedroom with green walls and purple accents that is dedicated to Lesline's late-aunt Peggy, who lost her life to pancreatic cancer in 2000, and "The Pink Room," which was once Lesline's bedroom. She said the room, which had a jungle theme, underwent a drastic transformation into an elegant, pink space decorated with a chandelier and pictures Linda Conolly framed.
"This is probably my favorite room in the house, only because it is so airy in here and cozy and inviting," she said. "I kind of push this one a lot to people who want to stay."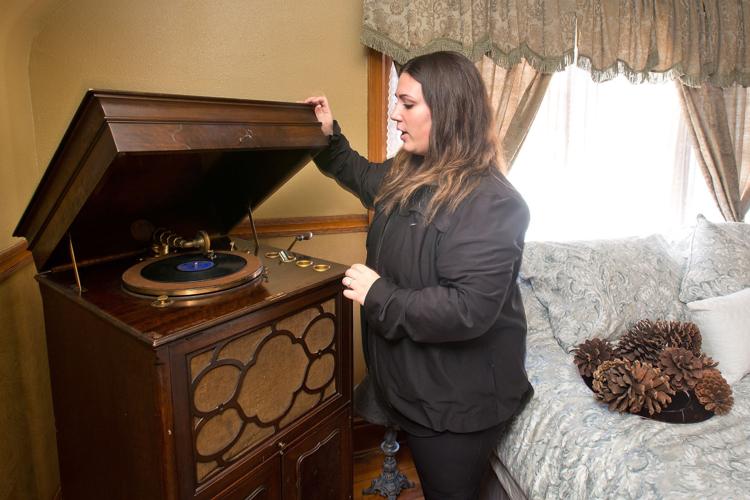 On the third floor are three more bedrooms. "The Ballroom Suite," formerly a ballroom, also has its own turret sitting area where guests can sit quietly and read a book or enjoy a cup of tea. The most unique find in the room is a working Victrola, a brand of phonograph that dates back to the early 1900s.
Down the hall from "The Ballroom Suite" is "The Tiffany Blue Room," a dainty room painted ice-blue, which Lesline said is perfect for the single traveler. The small, peaked-shaped room's twin bed is dressed with a floral quilt and an old-fashioned doll buggy sits in one of its corners.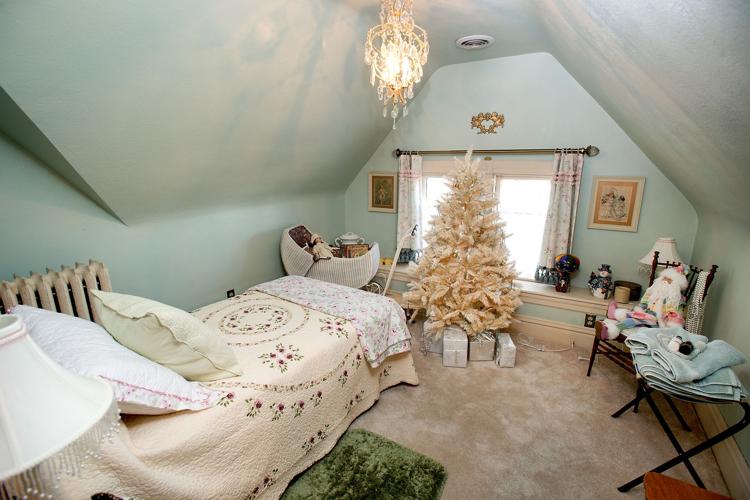 "The Secret Garden Room," which is tucked away in the farthest corner of the third floor is also popular with guests. The room features rose walls, gold bedding and quaint floral patterns. While this room and the "Tiffany Blue Room" are carpeted, the other bedrooms have hardwood flooring covered in Oriental rugs.
Among the vintage treasurers, you'll also find modern touches in the bedrooms, such as flat-screen TVs, coffee makers and electronic door locks that open with a key or code.
"It's such a home-feel compared to a hotel," Lesline said. "If you want to come here and be relaxed, you can hang out in the living room and then walk upstairs to bed or come down in the morning and make your own food in the kitchen -- you have full access to everything."