SIOUX CITY -- Oscar Carl Vineyard owners Roy and Melanie Olsen are picking the fruits of their labor. Sunday is harvest day at the Sioux City vineyard, which is named in honor of the Olsens' maternal grandfathers -- Oscar Olson and Carl Berg.
For more than 30 years, the Olsens, high school sweethearts, have lived on the 15-acre property. The couple often wondered what they could do with all of that land. The inspiration for a bed and breakfast was sparked as they traveled back roads, stayed at bed and breakfasts and visited wineries en route to Bristol, Tennessee, for NASCAR races.
"We just thought it would be really cool to bring something like that to Sioux City," Melanie Olsen said.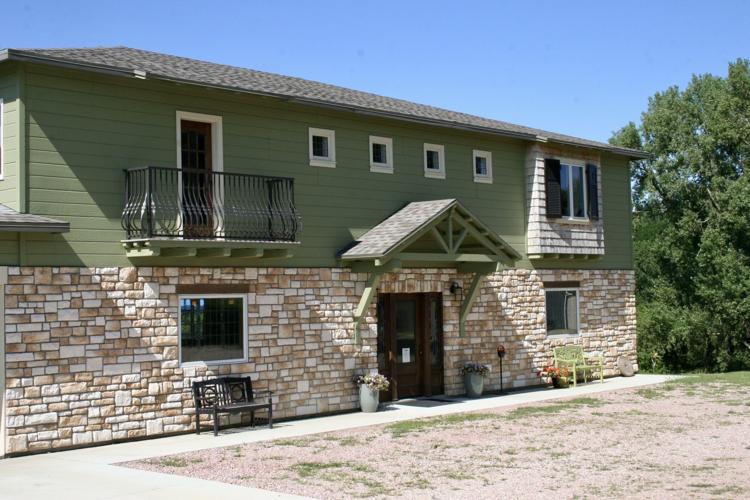 The Olsens were set on opening a bed and breakfast, but later decided that a vineyard would look beautiful by their spring-fed pond. They initially planned to sell their grapes, but were inspired by their former East High School classmate Jerry Sparks to produce wine. Sparks is the wine and spirits manager at Hy-Vee on Gordon Drive.
"We were just going to have the grapes so they'd be pretty for the bed and breakfast people. But Jerry told us when we were ready he would give us shelf space, so that planted the seed to go in that direction," Olsen explained Wednesday as she stood on a large terrace overlooking the vineyard.
Last year, the Olsens harvested 900 pounds of blueberry-sized grapes from vines planted in May 2016. From the grapes, Soldier Creek Winery, a family business in Fort Dodge, Iowa, made 649 bottles of wine for the Olsens.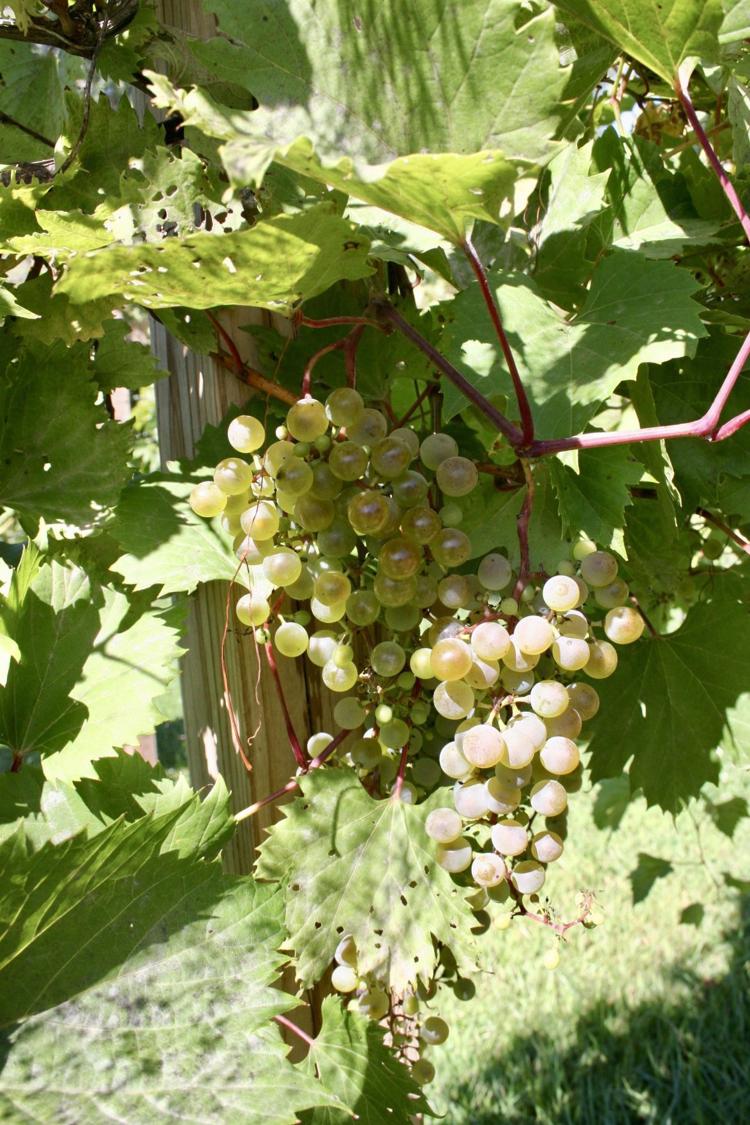 Oscar Carl Vineyard, 1473 Buchanan Ave., currently offers three wines: Number Ten, a dry red wine; Loesscato, a Moscato style white wine; and Jerry Wane, a sweet rosé.
"This year, we should get two to three times that," Melanie Olsen said of the impending harvest.
The couple now have more than 500 white grape vines on their property and intend to plant more. They also plan to open a two-room bed and breakfast nestled in an upstairs loft at the Venue at the Vineyard, a rustic-inspired building.
"This is my husband's craftsmanship and skill and his vision," Olsen said as light poured through 100-year-old windows into the wide open space equipped with a fireplace, bar area and sets of tables and chairs.
The Venue at the Vineyard, which opened in April, holds up to 80 guests. The building can be rented for board meetings, bridal showers, holiday parties, retreats and more. For the decor, the couple mixes antiques, mid-century furniture and family heirlooms. Olsen said they purchased the windows in Asheville, North Carolina. Other historic pieces include a wardrobe from the mid-1800s and a harpsichord that was converted into a desk. Even the texturing on the walls is unique. It was made with evergreen tree branches.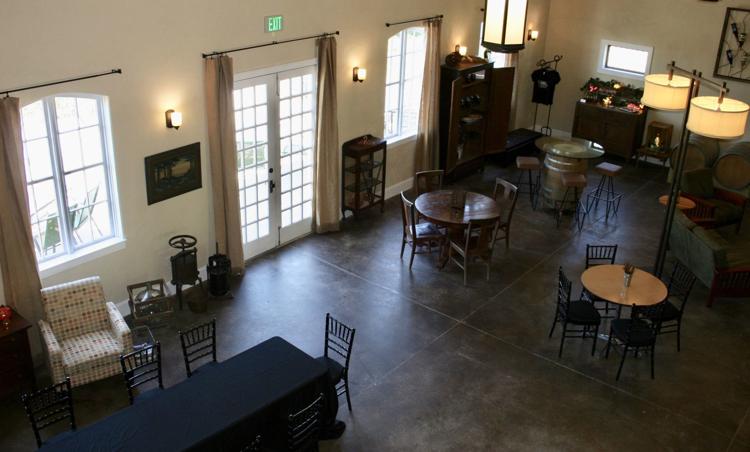 You have free articles remaining.
"We were inspired for the walls and even the stairs by different lodges that we stayed at in Kentucky, Illinois and Indiana," Olsen said.
Up a wooden staircase is the Hulda Milly Nook, which is named after Melanie Olsen's maternal grandmother. To the left of the nook is the Laura Marie bedroom, named in honor of Roy Olsen's grandmothers and one of Melanie Olsen's aunts, and to the right is the Hattie Pauline bedroom, which pays homage to Melanie Olsen's paternal grandmother and an aunt, as well as Roy Olsen's great-grandmother. Doors in both bedrooms were purchased in Asheville, but Olsen said they originally came from a convent in Edinburgh, Scotland.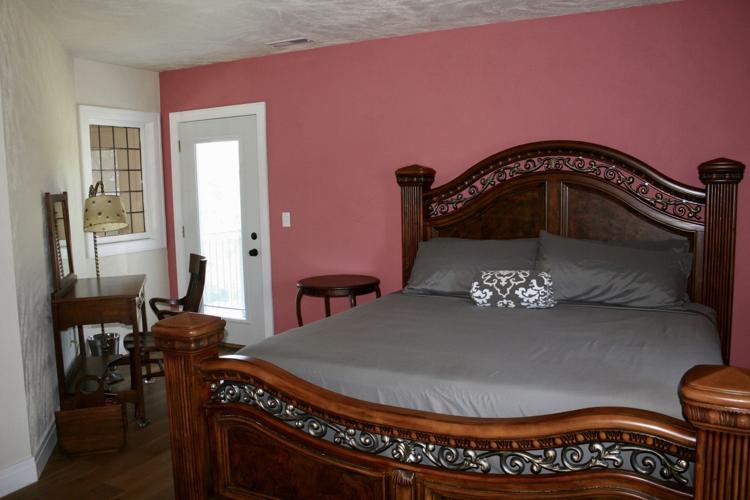 "We wanted to make this feel old," she said.
Growing grapes
Melanie Olsen said meeting the right people at the right time was key to getting Oscar Carl Vineyard up and running.
The Olsens attended the Iowa Wine Growers Association Conference in 2016 to get some information and advice. They were also introduced to Mike White, a viticulture specialist with Iowa State University Extension and Outreach.
"We got good advice on what kind of grape to plant and where to get it," Melanie Olsen said.
On May 7, 2016, the first 200 Frontenac Blanc grapevines were planted with the help of friends and family under the guidance of White. The planting day was sponsored in part by the Northern Grapes Project, making Oscar Carl Vineyard the first commercial vineyard in Woodbury County.
Frontenac Blanc is a natural mutation of Frontenac that was found in northern Minnesota. Olsen said the University of Minnesota developed Frontenac Blanc so that it could be sold commercially.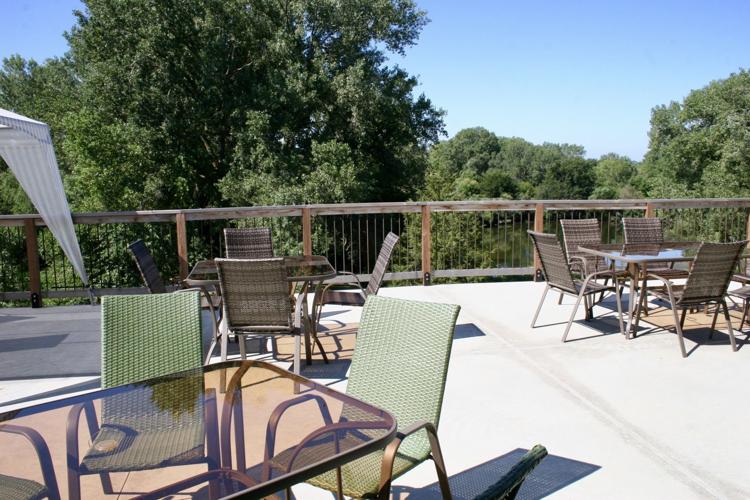 "We're in the Loess Hills, so with our soil our roots can go really deep. This varietal is really good for our area of the country," she said.
That first season after planting, Olsen said the grape vines grew as high as the 5-foot-tall wire. During the second season in 2017, she said the cordons, two more vines, grew across the wire and met each other. The vines produced some grapes during the second season, but the Olsens had to cut off the grapes so that the energy could go to the vines' roots. On Labor Day 2018, the Olsens harvested their grapes with the help of family and friends.
Olsen said she and her husband have no interest in fermentation. On Monday, they'll take the grapes from their second harvest, as they did with their first, to Soldier Creek Winery and watch them be destemmed and crushed. 
"We just wanted to grow grapes, drink wine and share it with people," she said.