SIOUX CITY -- One morning in early April, a hearing-impaired man living in an apartment at Morningside County Estates removed his hearing aids and took a nap, apparently forgetting that he had food cooking on the stove. 
Sioux City Fire Rescue quickly extinguished the burning food, and the man was uninjured and not displaced. 
Later that day, the fire department returned to his residence to install a set of special hearing-impaired smoke alarms. 
Sioux City Fire Rescue lieutenant Joe Rodriguez said the department has been installing these new smoke alarms for about a month and a half, since the Omaha Fire Department got a grant and provided some of the special alarms to Sioux City Fire Rescue.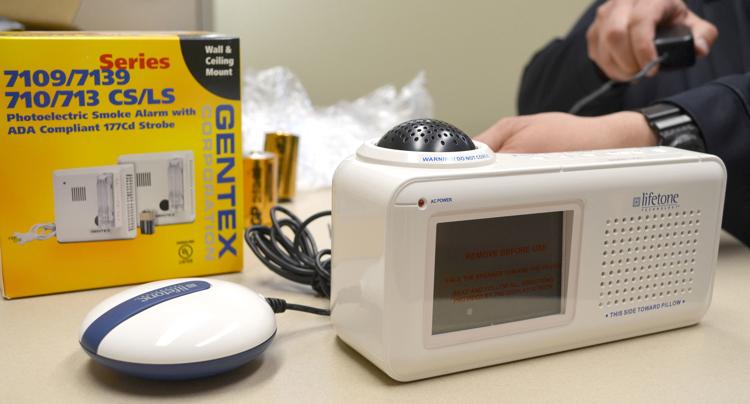 While the department has installed hearing-impaired smoke alarms for years, the old models required an electrician to come and hard-wire a dedicated electricity supply.
"It was a lot more work," Rodriguez said. The new models are far easier to install. 
Unlike a traditional smoke alarm, hearing-impaired smoke alarms consist of several pieces. Part one is a smoke detector unit with the usual earsplitting screech, plus a blinding strobe light; part two, a device that looks like an alarm clock (featuring, as a useful bonus, a clock) which listens for an alarm from the main smoke detector, and releases a low-frequency noise that may be "felt" by the resident; and part three, attached to part two, is a round vibrating device that goes between mattress and box spring, to "shake" the bed and awaken the resident.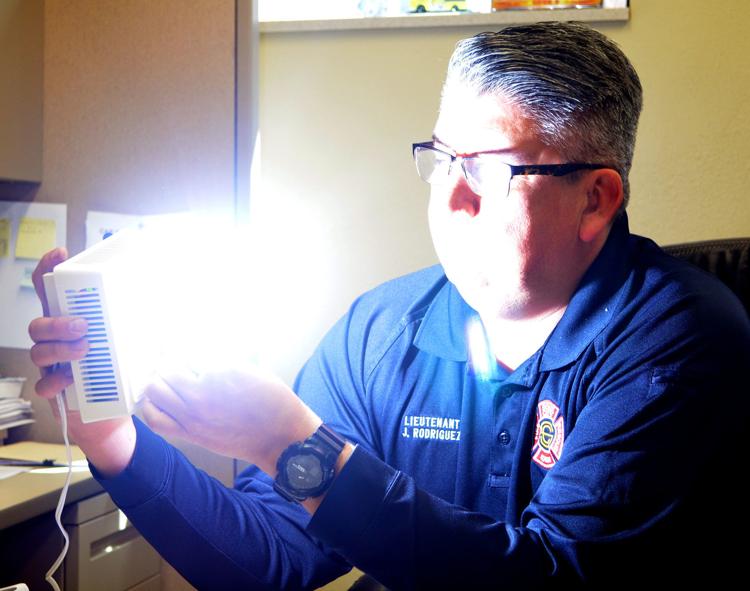 Fear of fire
The main fire risk for hearing-impaired people, Rodriguez says, is during sleeping hours, when many do not wear their hearing aids and could be oblivious to a regular smoke alarm. Hence the bed-shaker and bedside alarm unit. 
And the intense strobe light makes the whole system (hopefully) foolproof.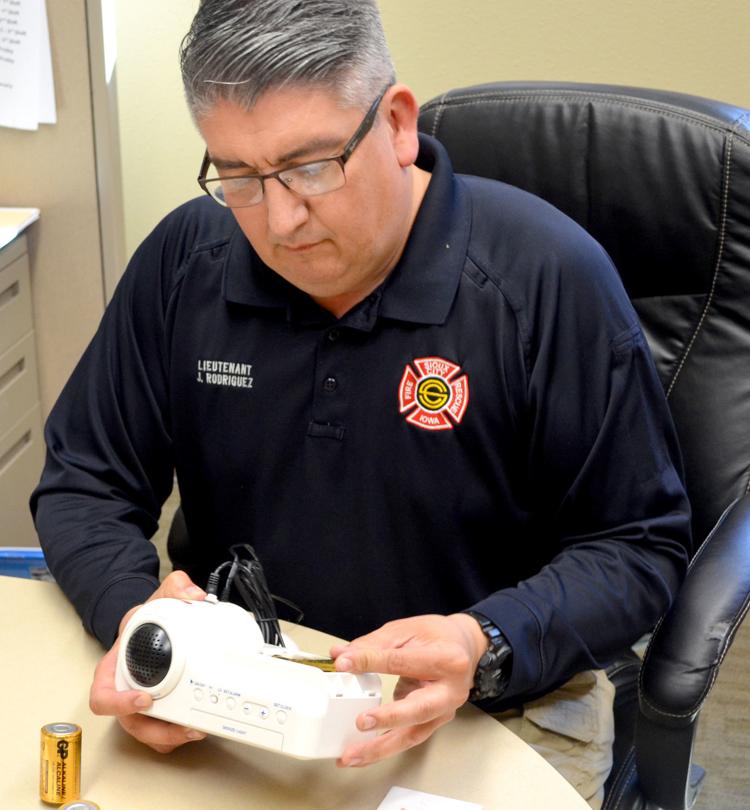 "If for some reason, they're not in bed, they're in the living room, hopefully the flash will get their attention as well," he said. 
Joanne Livermore, for one, was well acquainted with the fear of nighttime fires. 
Livermore, who has used hearing aids for about 20 years, said she had long been concerned about her inability to hear a smoke alarm. 
"I had been very scared, because when I take my hearing aids out at night, I don't hear a thing," she said. 
If there had been a fire in her house during nighttime, she said she wouldn't have known "until I smelled smoke or something."
Recently, the fire department came over to Livermore's residence and installed her new alarm system. Now she doesn't have to worry so much about fires. 
"If there is a fire, and I don't hear the alarm, that things starts shaking the bed," she said. "And we tried it out, and I knew there was no way I wouldn't feel that."