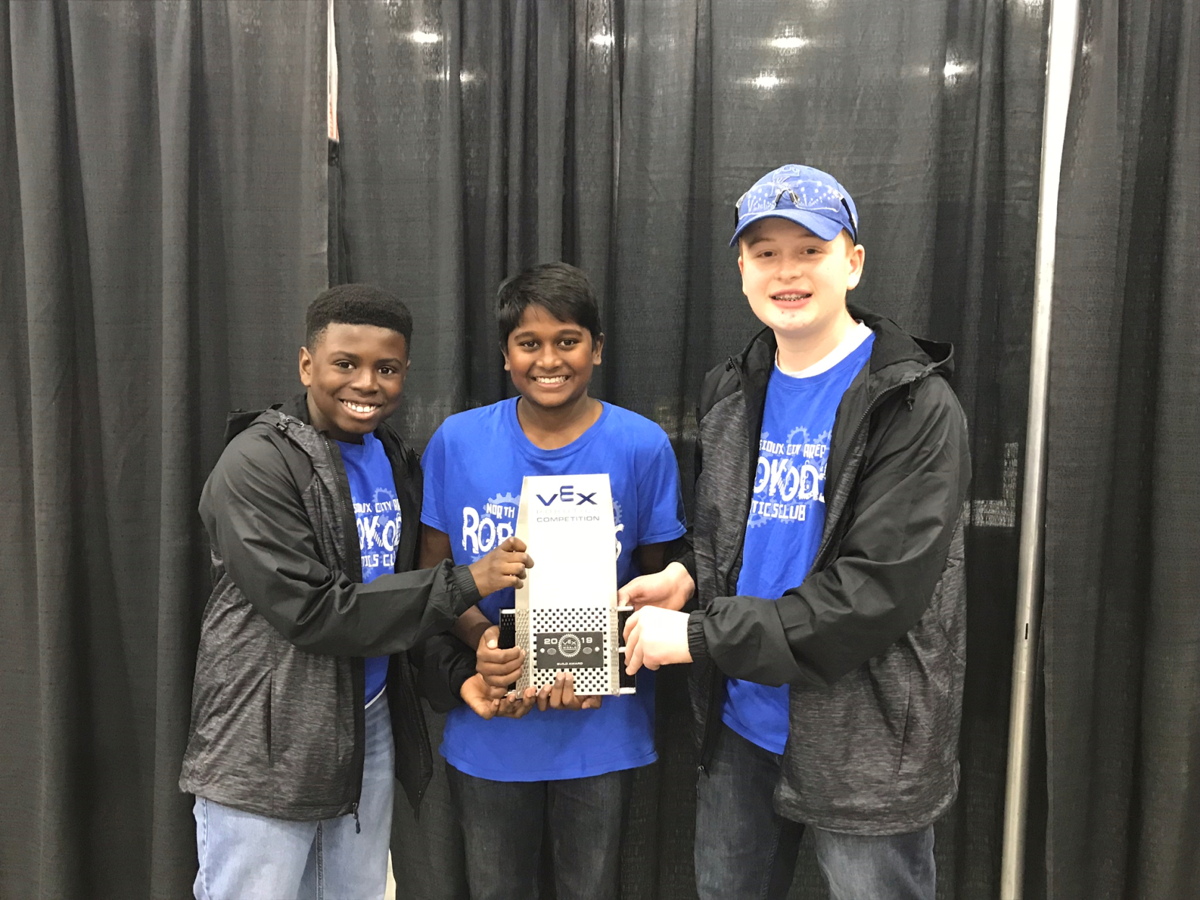 NORTH SIOUX CITY -- In the lower level of his parents' home, Dakota Valley Middle School eighth-grader Caden Dial was putting a robot through a series of tasks on a makeshift battlefield.
Joining him were friends Kobby Addo, a Dakota Valley fifth-grader, and Varun Kardarkaraisamy, a Vermillion Middle School seventh-grader.
But Caden and his crew weren't engaged in some high-tech game of Rock 'em, Sock 'em Robots. No, these kids (also known as the North Sioux City RoboKodas Robotics Club) were taking their love of building and programming robots to the next level.
In fact, these engineers-in-the-making have been competing -- and winning -- in battles that pit them against the best young builders in the world.
Team RoboKodas -- a word jumble of "Robot" and "Dakotas" -- earned a sixth-place finish in skills and a 14th-place finish in competition during the VEX Robotics National Competition, held in Omaha.
That allowed them to advance to the VEX Robotics Worlds Competition, held April 24-27 in Louisville, Kentucky.
A contest for elementary through college students, the VEX Robotics Worlds Competition was named the largest robotics competition in the world by the Guinness World Records.
Attracting combatants from 43 countries, Caden admitted his team members had their work cut out for them. Yet he also knew Team RoboKodas had plenty of heart. 
"We placed ninth in the skills category for middle schoolers and we won a special award for building our robot," he said. "That's pretty good for a new team like ours."
While Caden, Kobby and Varun have past robotics experience, Team RoboKodas has only been around less than a year.
You have free articles remaining.
Still, the kids have spent countless hours either building, designing and programming their robots to perform increasingly difficult and precise tasks.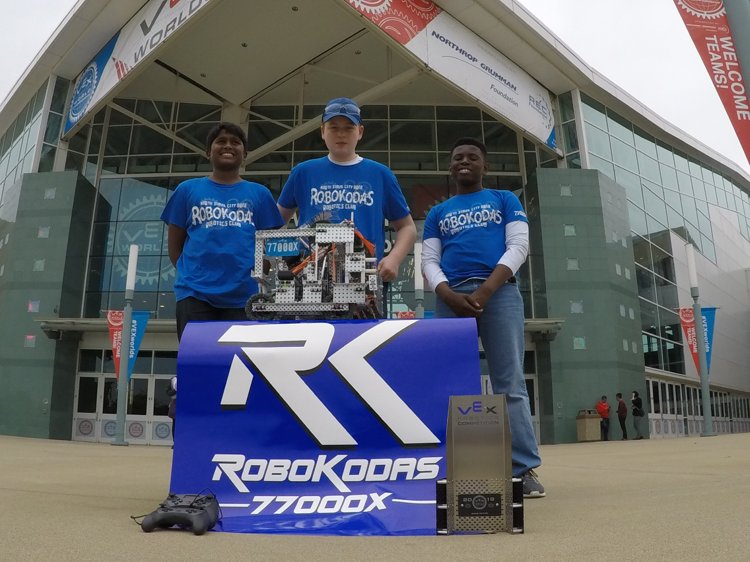 "The kids are here at night, on weekends as well as during school breaks," marveled Caden's dad, Ryan Dial. "They're more than willing to put in the time."
"We're designing the robot by using advanced software, building it from scratch and programming it to do what we want it to do," Varun said. "That's not easy."
"It takes a lot of trial and error," Kobby added. "But behind every failure is the opportunity to succeed."
Perhaps not too surprisingly, it also takes money to build robots as well as attend tournaments.
While their parents foot most of the expenses, Team RoboKodas has had sponsors ranging from empirical foods, Sterling Computers and Two Rivers American Legion Post 319, among others.
That makes sense since the robotics team is gaining first-class experience in engineering while also having a good time.
"We wouldn't be doing this if it wasn't fun and challenging," Caden explained. "Robotics is both."
Plus this level of collaboration will be advantageous for Team RoboKodas, whose members all want careers in the either the science, engineering or medical fields.
"The key to learning is being able to have one step ahead," Caden said. "In robotics, you're taught to always be anticipating what will happen next."
Copyright 2019 The Sioux City Journal. All rights reserved. This material may not be published, broadcast, rewritten or redistributed.