ORANGE CITY, Iowa -- Up until three years ago, Jaycee Vander Berg avoided drawing people's faces and stuck to sketching tigers.
"A tiger doesn't have to be recognizable, but a person's face -- you have to make look right," Vander Berg said while seated in a chair facing a tall, white wall tacked with charcoal drawings of celebrities, such as Michael Jordan, Johnny Depp and Heath Ledger. "I would always draw my friends to try. It didn't even look like them."
Eventually, Vander Berg's practice paid off. The Northwestern College senior, who is double majoring in art/graphics and criminal justice, recently had a dozen lifelike charcoal drawings of faces that aren't familiar, but to the family members, friends and coworkers who grieved their loss, displayed at Northwestern's Te Paske Gallery.
"End of Watch" honors law enforcement officers who were killed in the line of duty in 2018, while weaving together two of Vander Berg's interests.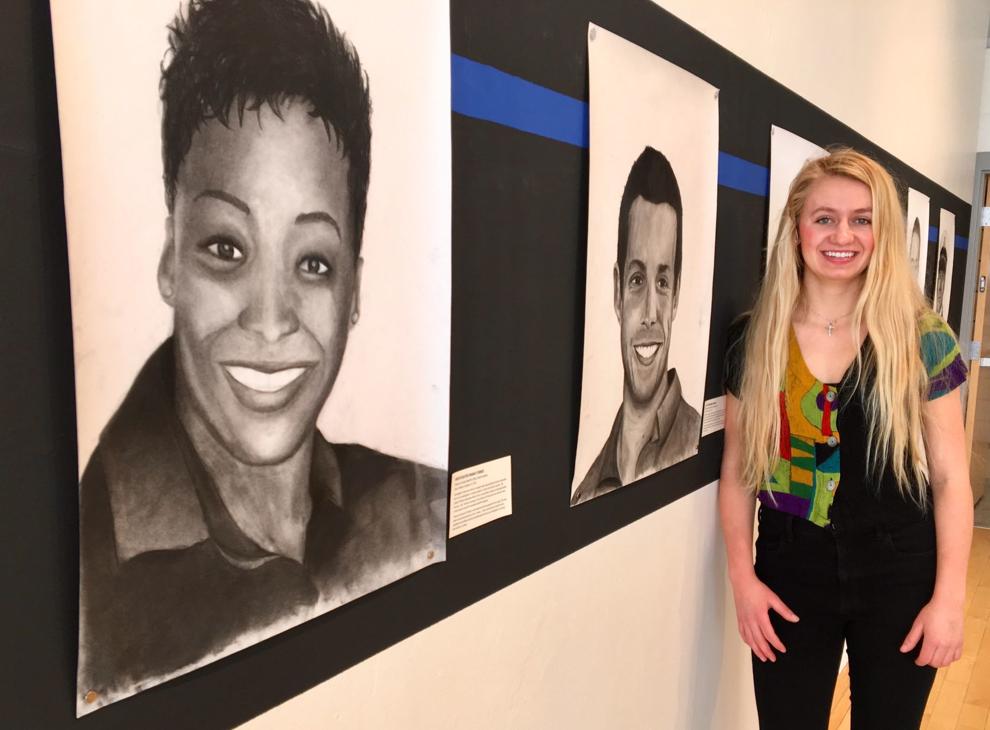 "These were people, essentially, who didn't have their guns drawn. They were just doing things like serving papers or a traffic stop and they were fired at," she explained. "That was something that was really discouraging and disheartening to me. They were people who were really genuinely here to serve."
Finding her calling
Vander Berg loved to create things as a child. She spent much of her time digging in a pond behind her Sioux Center, Iowa, home for clay, which she molded into finger pots.
As she grew up, distance running began to take precedence over art. Vander Berg, who ran cross country and track in high school, expected to be competitive running for Northwestern College, but labral tears in her hips ended her collegiate running career early.
"I had a surgery that kind of took me out of that, so I always used to joke that God took away my legs, so I started using my hands again," said Vander Berg, whose love of art was rekindled in an introduction to art class.
Going into college, Vander Berg admitted that she didn't really know what she wanted to major in. A professor encouraged her to pursue art, but Vander Berg, who enjoys watching TV shows such as "White Collar" and "Criminal Minds," was also interested in criminal justice. She ultimately decided to double major in art/graphics and criminal justice. People often ask her, "Are you going to be a sketch artist?"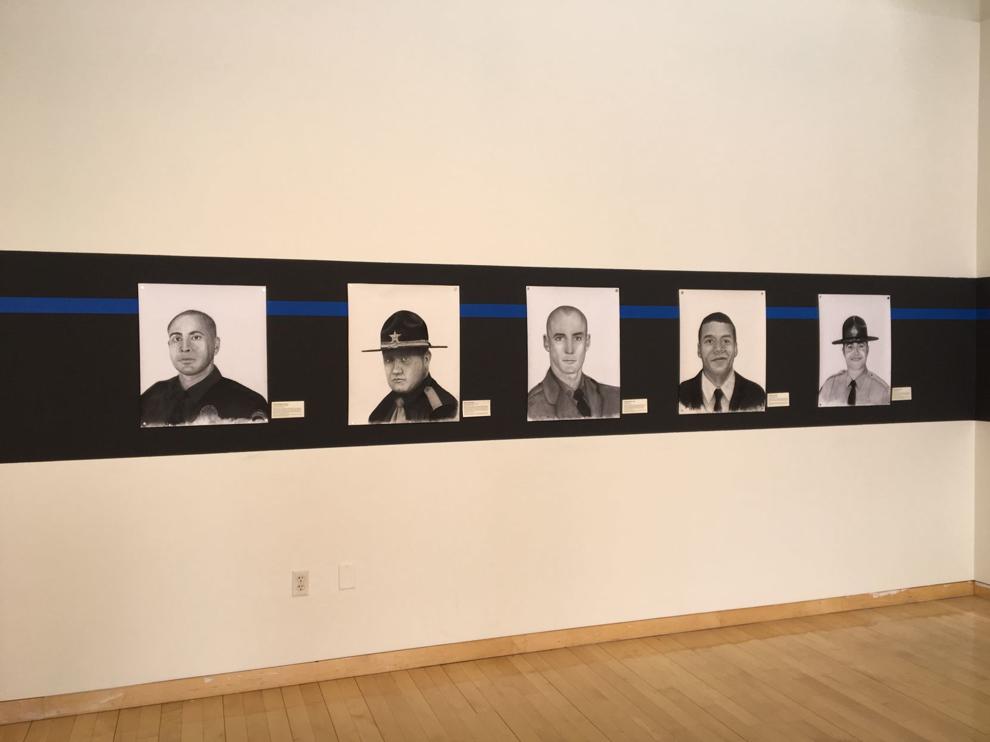 Vander Berg, who is currently working as a correctional officer at the Sioux County Jail, had her sights set on becoming an FBI agent when she first picked up the criminal justice major. But after an internship with the Woodbury County Sheriff's Office, she sees herself as a sheriff's deputy or a state trooper.
"I thought I wouldn't want to be in local law enforcement -- 'What do they do in small-town Iowa?' But they do a lot; and they do it really well," she said. "They just kind of illustrated this team mindset that I would want to be a part of."
'End of Watch'
Vander Berg's experiences shadowing and working with law enforcement officers have not only inspired her career path, but also her senior art show.
She said she first considered drawing portraits of military veterans, but then realized, "People who have given their lives aren't only soldiers. There's a lot of law enforcement officers who have done it."
Vander Berg discovered that 150 law enforcement officers died in the line of duty in 2018. After reading their obituaries, she selected 12 officers to draw.
Vander Berg began the project in December, simultaneously working on portraits of Kevin Keith Conner, a trooper with the North Carolina Highway Patrol who was fatally shot while conducting a traffic stop, and Greggory Casillas, an officer with the Pomona (California) Police Department who was shot and killed as he attempted to arrest a man following a vehicle pursuit.
The first thing Vander Berg did was mark out the shape of the officers' faces, denoting the exact location of their eyes, noses and mouths. If a nose is drawn just a quarter inch higher than it should be, Vander Berg said the finished product won't look as realistic as it could be.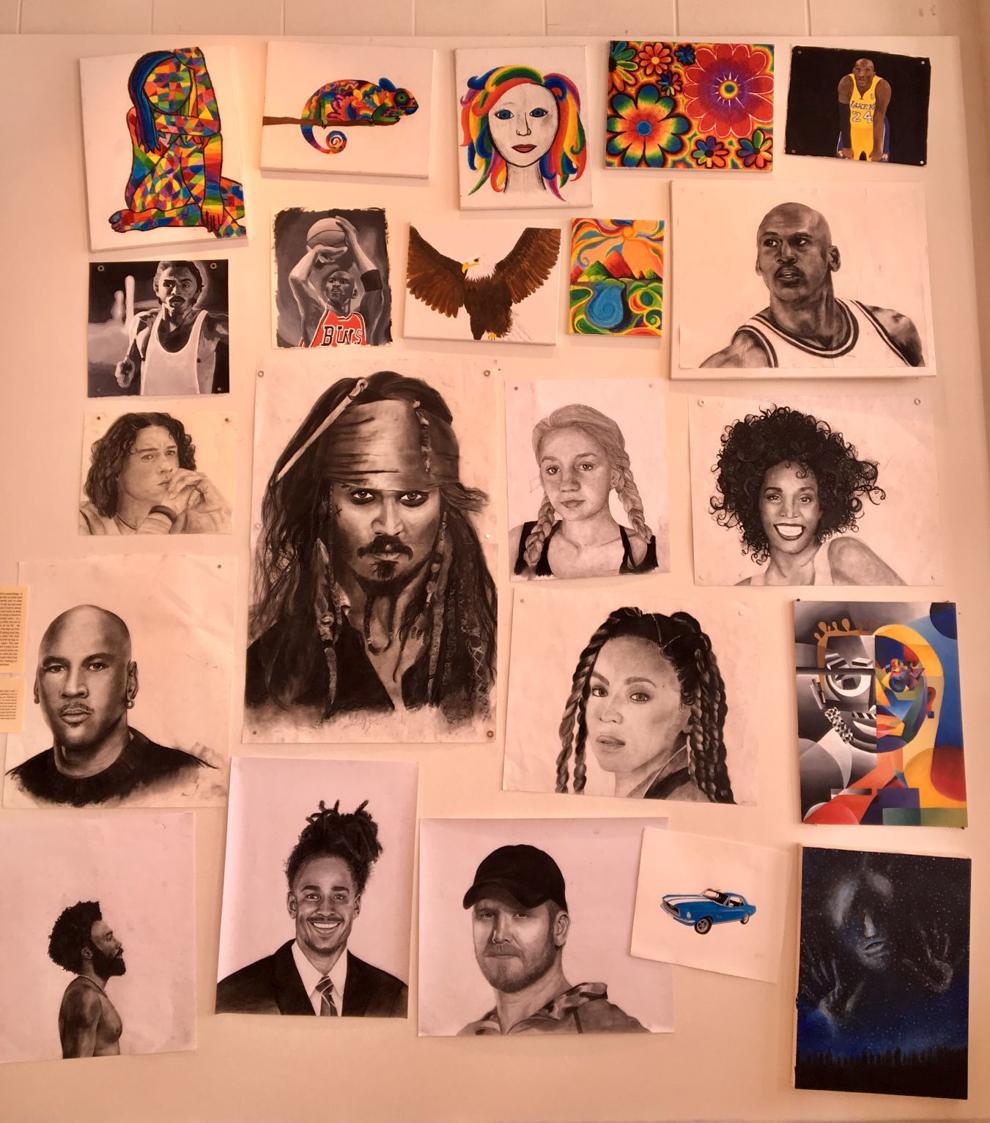 "For me, my challenge is to make it as realistic as possible," she said. "That's why I love charcoal drawing -- it's something to work at."
Vander Berg said she always finishes an individual's right ear first. With smudges of charcoal being placed everywhere, the right ear serves as a kind of anchor for Vander Berg.
"I always like to have that ear there to reassure me that this picture is going to end up looking realistic, versus just like having smudges and losing hope," she said. "Then I do my eyes next and I get those done, because that's a very important part of their face."
Vander Berg was particularly moved by the emotion in the eyes of Justin Taylor Billa, an officer with the Mobile (Alabama) Police Department. Billa was shot and killed while assisting in the apprehension of a man who had just murdered his ex-wife.
"Once I had finished his eyes, I became really excited about it," she said of the drawing.
Vander Berg plans to send the drawings, which took her about six hours each to complete, to the officers' family members.
"I figured it would mean more to them," she said.
Copyright 2019 The Sioux City Journal. All rights reserved. This material may not be published, broadcast, rewritten or redistributed.