ONAWA, Iowa | When Dwight Lamb, 83, walked into Washington, D.C.'s Library of Congress, the Moorhead, Iowa, native said he was overcome with emotion.
"Being in that great building was pretty awe-inspiring," he said. "It was very humbling, to say the least."  
A Danish button accordionist and Missouri-style fiddler, Lamb was one of nine recipients of the 2017 National Endowment for the Arts (NEA) National Heritage Fellowship, which is the highest honor given by the federal government for practitioners in folk and traditional arts.
Lamb and his fellow honorees took part in an award ceremony at the  Coolidge Auditorium on Sept. 14 and performed in concert at George Washington University's Lisner Auditorium on Sept. 15.
Past National Heritage Fellowship recipients have included blues guitarist B.B. King, bluegrass performer Bill Monroe and soul singer Mavis Staples.
"The National Endowment for the Arts is proud to honor individuals for artistic mastery as well as a commitment to sharing their tradition," NEA chairman Jane Chu said. "Our nation is a richer, more vibrant place because of these artists and the art forms they practice."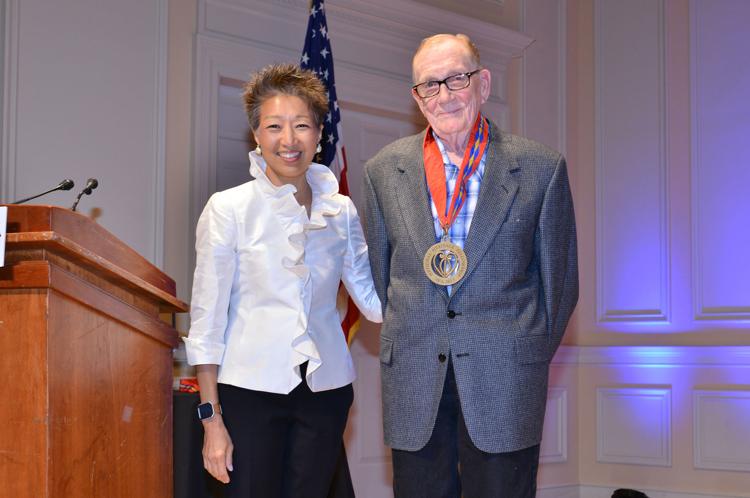 Chu lauded Lamb for mentoring younger accordion players and fiddlers on behalf of the Iowa Arts Council. She also praised him for being an inspiration for musicians at home and abroad.
This was all pretty heady stuff for Lamb, a fourth-generation musician who took up the accordion at age 12.
"My great-grandfather (Kraen Jerup) was a famous musician in Denmark but my grandfather (Chris Jerup) wanted a different life," he said. "My grandfather wanted to emigrate to America and become a farmer in Iowa."
However, Chris Jerup never forgot the music of his homeland.
"I had this wonderful opportunity to learn my grandfather's repertoire of Danish music," Lamb said. "And I took full advantage of that opportunity."
In addition to the accordion, Lamb took up fiddling. Over time, he developed a distinct Missouri Valley form of fiddling that combined the sounds of Scandinavia and the upper Midwest.
After winning numerous fiddle and accordion contests, Lamb became a recording artist for such prestigious labels as Rounder Records and a much in-demand musician at folk festivals throughout America.
It wasn't until 2010 that he toured Denmark, a country where his great-grandfather Kraen Jerup is still remembered as a well-regarded musician.
Following four successful tours through Denmark, Lamb is uncertain if he'll be able make a fifth.
"I'd like to do it," he said. "We'll just see if I still have the energy for it."
If Lamb's performance at the National Heritage Fellowship concert is any indication, Lamb isn't slowing down a bit.
"Oh, that was fun," he said, regarding a set that included musicians David Cavins, Amber Gaddy, Nate Kemperman and Bill Peterson. "We had at least two generations of musicians on that stage. That's always a good sign there is still interest in old-fashioned folk music."
Lamb said it was an honor to meet his fellow inductees, which included a buck dancer from Tennessee, a slack key guitar player from Hawaii and synchronized drummers from San Juan, Puerto Rico.
"The people from Puerto Rico were really nice," he said. "They've certainly been in my thoughts following (Hurricane Maria)."
Reflecting on his recent notoriety, Lamb is happy to be a part of music history as well as keeping a traditional genre alive.
"I especially loved sharing this experience with my grandson Rocky Skarin and great-grandson Xander Skarin," he said. "They were just as excited as I was by the honor."