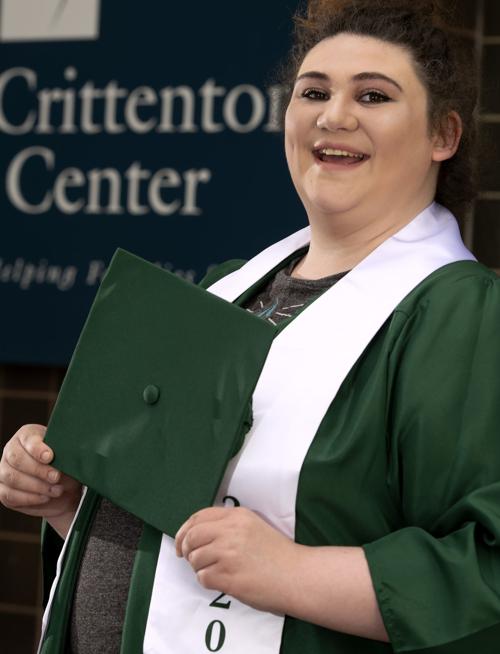 SIOUX CITY -- Shayanne Victoria described moving into her own apartment at age 17 as "scary," but, after some time, she began to enjoy the freedom of living on her own.
"Nobody was watching me 24/7," said Victoria, who transitioned from the Crittenton Center's emergency shelter to the nonprofit organization's Supervised Apartment Living (SAL) program in August.
SAL, which is funded through the Iowa Department of Human Services, teaches teens who are aging out of the foster care system to live independently. Through the program, Victoria, now 18, said she learned how to take care of herself, budget her money and use the Sioux City Transit System.
"She's doing great," said Melissa Holsinger, a case manager who worked with Victoria.
Victoria, who graduated from West High School earlier this month, has had to overcome numerous obstacles in her life, including abuse and an eating disorder.
At age 2, Victoria, who was born in Sioux City, walked through the doors of the Crittenton Center's emergency shelter for the first time, after being left by her mother. She would go on to live in several foster homes and shelters across the state of Iowa.
Victoria fondly recalled visiting the library and spending time outdoors with Crittenton Center staff members when she was 6 years old.
"The staff used to read me bedtime stories every night," she said. "They were nice."
After a stint at a treatment center for children in Council Bluffs, Victoria returned to the Crittenton Center's emergency shelter in June 2019. She was soon on the path to securing her own apartment through SAL.
Teens in foster care become eligible for SAL at age 16 1/2. They start out living in the west wing of the emergency shelter on Green Avenue, which is staffed 24/7.
Holsinger said Crittenton Center staff familiarize the teens with the Sioux City area, get them enrolled in school and help them explore employment options, while teaching them life skills and ensuring that their medical needs are being met. 
"Once they save up enough money and follow the rules, then they're ready to move out into the scattered site, which would be their own apartment," said Holsinger, who said the program serves between 30 and 40 teens per year. "They may be in the program a month or two, compared to some who have been in there for almost two years."
With Victoria's newfound independence came increased responsibility. The teen, who enjoys the outdoors and math class, also admitted that she likes to sleep. With no one watching, Victoria had to make sure she was waking up on time and getting herself to school. She also had to manage her own therapy appointments and medication regimen. 
"I was so used to staff being there 24/7. Then, all of a sudden, there wasn't staff," she said. 
Victoria has participated in Achieving Maximum Potential (AMP), a youth-driven group that seeks to unleash personal growth among foster and adoptive children in Iowa. In January, she and other AMP participants traveled to Des Moines to share their stories with lawmakers. Victoria said she persevered in spite of the struggles she faced during her childhood because she knew that one day her life would improve. She encourages other children in the foster case system to do the same.
"Right now, it's going to be bad. It will feel like it's the worst, but eventually it gets better," she said.
While her immediate plans are to work full-time, Victoria hopes to eventually enroll in classes at Western Iowa Tech Community College. She wants to study psychology and become a paraeducator at an elementary school.
"I like working with people who have special needs. They're a lot of fun," she said.
Be the first to know
Get local news delivered to your inbox!