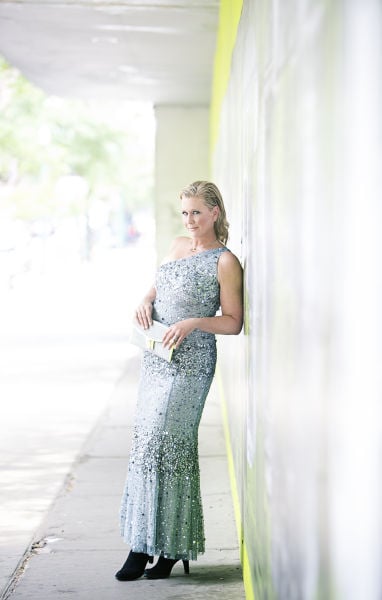 For the first time in its 70-year history, New York Fashion Week featured a plus-size collection. Designer Eden Miller debuted her line for spring, offering styles in sizes 12-24.
Fellow history-maker Emme, the first plus-size supermodel, watched Miller's show under the tents of NYFW, knowing she was witnessing something special.
"This was another big first in plus-size history," she said from Manhattan, while she briefly broke from preparing a keynote speech about body image for the upcoming Girls World Expo.
Emme offered her insight on women's plus-size fashion on the runway and in stores.
What difference does it make if all the models are a size 2, or if some of the models are a size 12 or 14?
Emme: Women want to see clothing on more realistic models so they can easily imagine the outfit on their body. Also, having only one shape on the runway or in ads, places unnecessary pressure on women to be something they may not be and will kill themselves trying to achieve a body completely unattainable for themselves.
For a long time, catalogs only had smaller models wearing plus-size clothes that were pinned in the back but had to start using larger models instead to wear the plus-size clothing lines because of their customers' complaints.
Do you think Eden Miller's presence at New York Fashion Week will start a trend or leave some other lasting impact?
E: I certainly would hope so. Things never just happen in the plus industry because it's a fad or a trend, and unless the public tell retailers they want more plus size clothes in the stores, nothing will happen. Beliefs and stereotypes run deep around supplying the demand in this size category.
When a plus-size or full-figure woman goes shopping, what are some common problems she may face despite the fact that the average American woman wears about a size 14?
E: With the average American women wearing a size 14-16, we're talking about approximately 63 million women, trying to find fashionable clothes, but can't. This is why – since most stores only buy one size 14, you can only imagine the competition to get that one 14 dress, pant, top, evening dress or skirt.
Once it's gone…more women leave unhappy, frustrated, upset and turn on themselves. Very low self-esteem and body image results from repeated frustration at stores for not loading in more 12's, 14's, 16's and cutting up to an 18 in a popular style, color or look within the misses department.
What are some obstacles you had to overcome to dress the body you have and love it the way it is?
E: I worked on accepting my athletic body with curves (and) not accept that what I had was something that needed to be changed or manipulated to fit in. I clearly was not the "normal" model nor would I ever be. That in itself was liberating.
I was just responsible for being consistent and making myself happy inside. I worked out regularly for overall tone maintenance, ate well so my skin would be clear enough for the amount of thick makeup every day and tried to balance work and private life well. I learned to wear more classic body-conscious clothing, not hide or wear clothes that were not cut well or too tight. (I learned) to mix and match knit pieces and try on jeans incessantly to find the right fitting pair.
What would you say to women out there with body image issues?
E: Learn what you're own personal style is, then see trends for what they are in color, hems, trims and overall design, not getting distracted by the shape or size of the models wearing the fashion.
Be your own media watchdog…You'll be healthier for it and probably watch less TV and read fewer fashion magazines that highlight singular ideals of beauty. Until all forms of media embrace a diversified array of beauty in skin color, size and age, we should be careful what we expose ourselves to. The power of suggestion will otherwise continue get the best of us.