SIOUX CITY -- Before it was possible to spend billions of dollars on TV and online campaign advertising, presidential candidates used political posters to get their names, faces and messages out to the masses.
During the 1844 election, candidates Henry Clay, leader of the Whig Party, and James K. Polk, a Democrat, used lithography, a method of printing, to campaign.
"They could stamp out a lot of these posters cheaply," Matt Anderson, curator of history, said as he stood in front of a long wall at the Sioux City Public Museum where matted and framed political posters hang. "In the early days, though, (the posters) were black and white when they stamped them out and they had to be hand-colored, which was largely done by female painters."
A bald eagle with outstretched wings sits perched above circular portraits of Clay and his running mate, Theodore Frelinghuysen, in their campaign poster. Below the portraits, products of agriculture and industry spill out of a cornucopia, portraying Clay as a protector of industry.
Polk insinuates in his poster that he's a "Young Hickory," akin to Andrew Jackson. The poster incorporates American flags, a bald eagle and an oak leaf motif to symbolize strength, courage and endurance. The sun's rays shining above portraits of Polk and VP contender George M. Dallas imply a bright future under their leadership.
As time passes, printing techniques advance, colors become bolder, candidates' heads float, famous artists apply their talents and political attacks become more brutal. 
You have free articles remaining.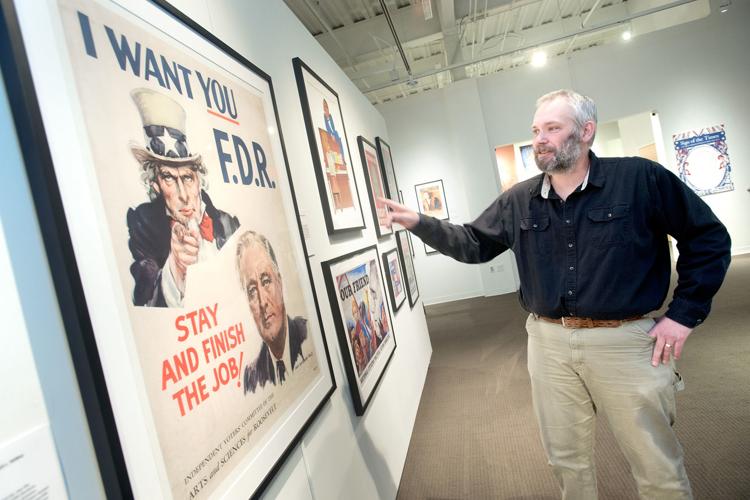 A poster from 1944 featuring the iconic image of Uncle Sam pointing his finger and the words "I Want You F.D.R.," is among the most famous in the exhibit. Another visitors are likely to recall is a 1968 black and white poster of Democratic Party hopeful candidate Eugene McCarthy standing alone among a field of flagstones.
"He actually was able to get James Montgomery Flagg, who became famous for the Uncle Sam poster during World War I for recruiting soldiers, to come and do this poster in 1944," Anderson said of Franklin Delano Roosevelt. "So really from FDR on you get more involvement of the celebrity artists."
Changes in style, design trends and printing technology will become evident to visitors as they make their way through the exhibit. Limited edition silk screen prints created by longtime political activist and artist Alexander Calder are sold to raise funds for candidates, including George McGovern. After 1972, political posters decrease in quality and number.
"I do think just the shear reach of mass media -- television, radio -- just had a much greater reach than something like a poster," Anderson said.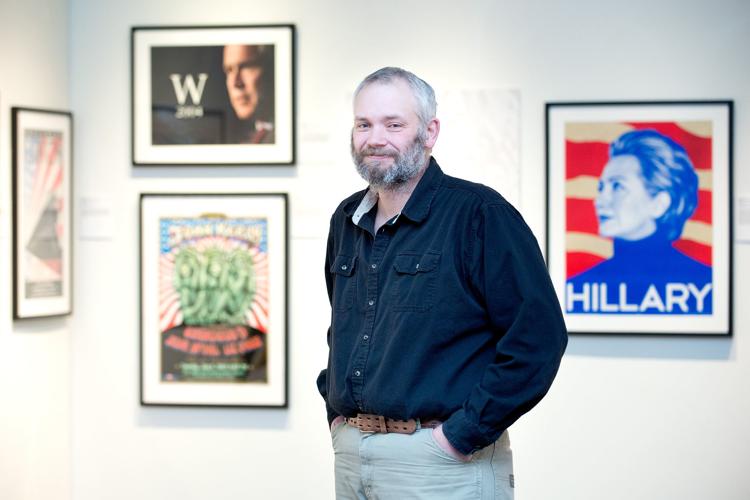 During the 2008 campaign, the political poster undergoes a Renaissance, led by famous artists. Barack Obama's image is superimposed on Abraham Lincoln's, while George W. Bush, who wasn't even running at the time, is reimagined with Frankenstein-inspired skin and hair in one print.
"At that point, Bush's unpopularity served as a pro-Obama message," said Anderson, who questions whether undecided voters would be swayed by such a poster. "Particularly the really negative ones seem to be made more for people who are already convinced one way or another. It seems to be more of a rallying call for the people who already support the candidate."