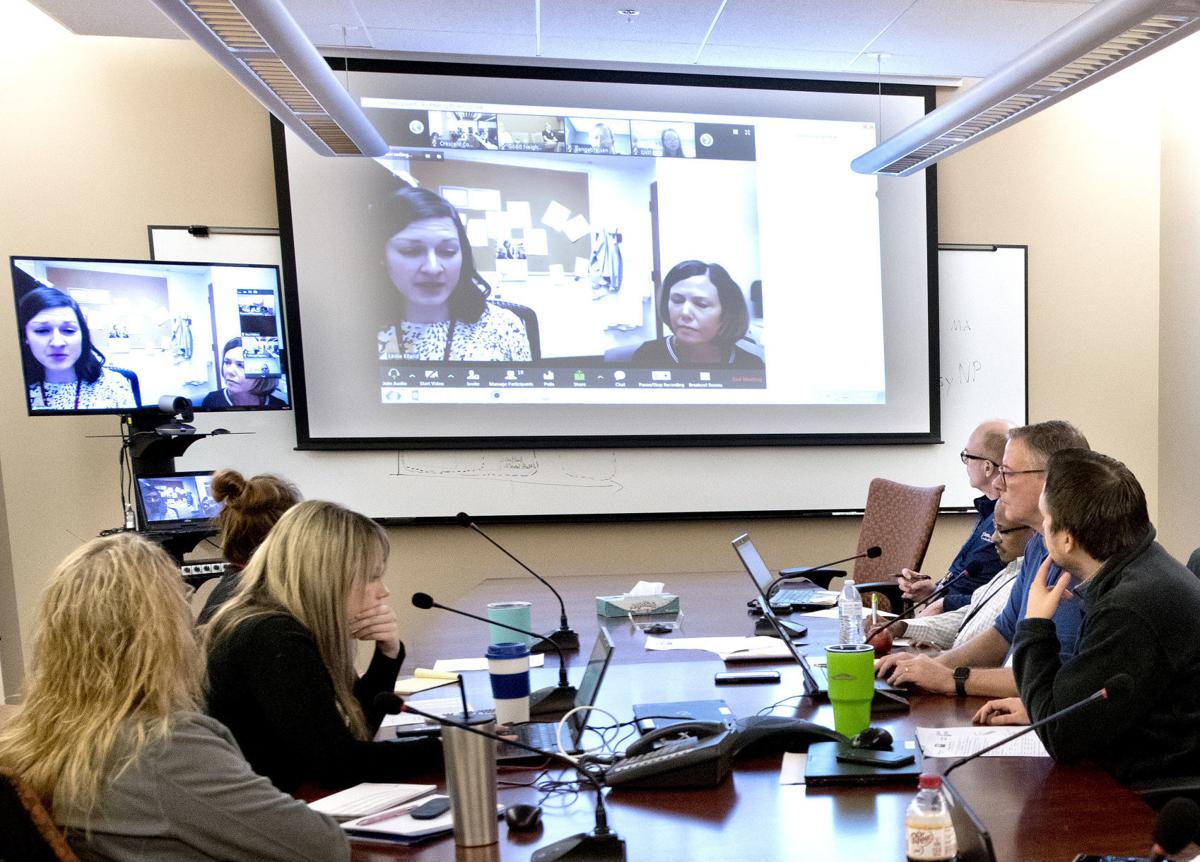 SIOUX CITY -- When Sioux City lost its lone endocrinologist a couple of years ago, Dr. Tyler Wendel and other providers at Siouxland Community Health Center saw an influx of patients with complex, high-risk medical conditions. 
"The majority of patients I took over were uncontrolled diabetics. Their sugars were all over the place," Wendel said. "It kind of falls on the primary care provider to manage them, but depending on what they have going on, I think we all have different levels of comfort taking care of certain conditions."
Instituted locally through Siouxland Community Health Center (SCHC) last October, Project ECHO (Extension of Community Healthcare Outcomes) is a hub-and-spoke model of care that brings health care providers and staff members together to talk to Leslie Eiland, an endocrinologist at University of Nebraska Medical Center (UNMC). Project ECHO allows participants in Iowa and Nebraska to share knowledge and resources so that patients can be managed close to home, rather than traveling more than 230 miles round trip to a specialty clinic.
Wendel was among 10 SCHC staff members who sat at a long table in a lower level conference room on a Tuesday morning in April discussing patient case histories with Eiland and several participants from other health centers, who were visible on a monitor and large projection screen.
"Even if you have a local specialist, sometimes health center patients just have a lot barriers to accessing care outside the walls of our clinic," said Dave Faldmo, SCHC's medical director, who noted that a lack of transportation, access to translators and insurance keeps patients from getting the treatment they need.
Last March, Faldmo and Wendel attended an immersion training in Albuquerque, New Mexico, to learn how to bring Project ECHO, which was first launched in 2003, to Siouxland.
Dr. Sanjeev Arora, a liver disease specialist in Albuquerque, was frustrated that thousands of New Mexicans with hepatitis C couldn't get treatment because they didn't have access to local specialists. He created Project ECHO so primary care doctors, nurses and other clinicians could learn to provide specialty care to patients in their own communities, thereby reducing health disparities. 
SCHC serves as a hub site, a role usually reserved for academic medical centers, by facilitating a monthly, two-hour long video session for "spokes," or community clinicians. Currently, Faldmo said eight health centers and two Iowa and Nebraska primary care associations participate as spokes. The only equipment spokes need to connect to a hub site is a computer equipped with a camera.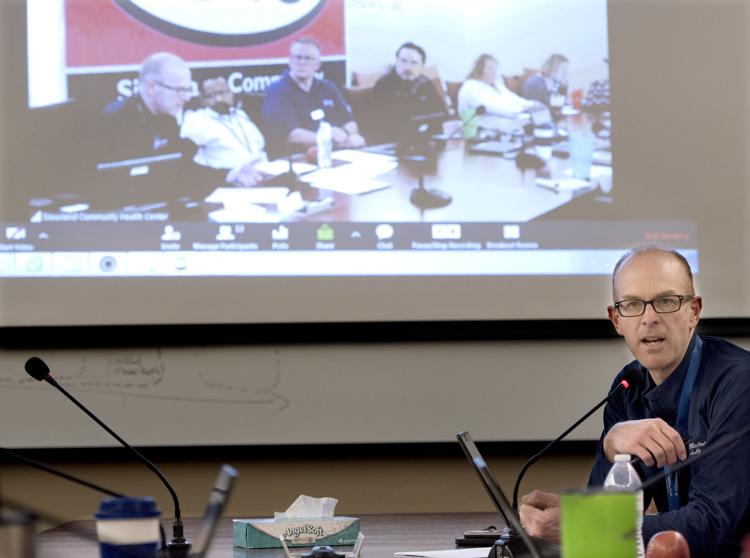 "We couldn't really find a hub to connect with, so we thought, why don't we just be the technical hub and contract out the specialty services," Faldmo said.
SCHC has also participated as a spoke in Project ECHO teleconferences that focused on reducing the prenatal transmission of Hepatitis B and using medications that help patients withdraw from opioids.
"We're looking at a geriatric ECHO that we may participate in again as a spoke, and there's an asthma one that I just got some information on," Faldmo said. "We would like to continue to expand the use of this learning model."
You have free articles remaining.
During Project ECHO sessions hosted by SCHC, providers present brief patient case histories.
Since identities are kept confidential, Faldmo said patients don't always know that their cases are being presented. But when Faldmo does inform patients that their conditions will be discussed in a session, he said their reactions are positive.
"They like it. They think, 'That's cool that there are going to be 30 people talking about how we can better my care,'" he said.
After each case history is presented, the providers pose a question, "Should we change the patient's medicine?" or "Should we do an additional CAT scan or ultrasound?" Wendel said the question helps guide the discussion that ensues.
In April, Wendel presented the case of a patient with type 2 diabetes and a host of other chronic medical conditions. While the patient goes to his medical appointments and reports that he takes his medications, his A1c just keeps rising. Wendel asked the group for input regarding the patient's medication and his social well-being.
Faldmo said social aspects of health play a big role when it comes to managing diabetes.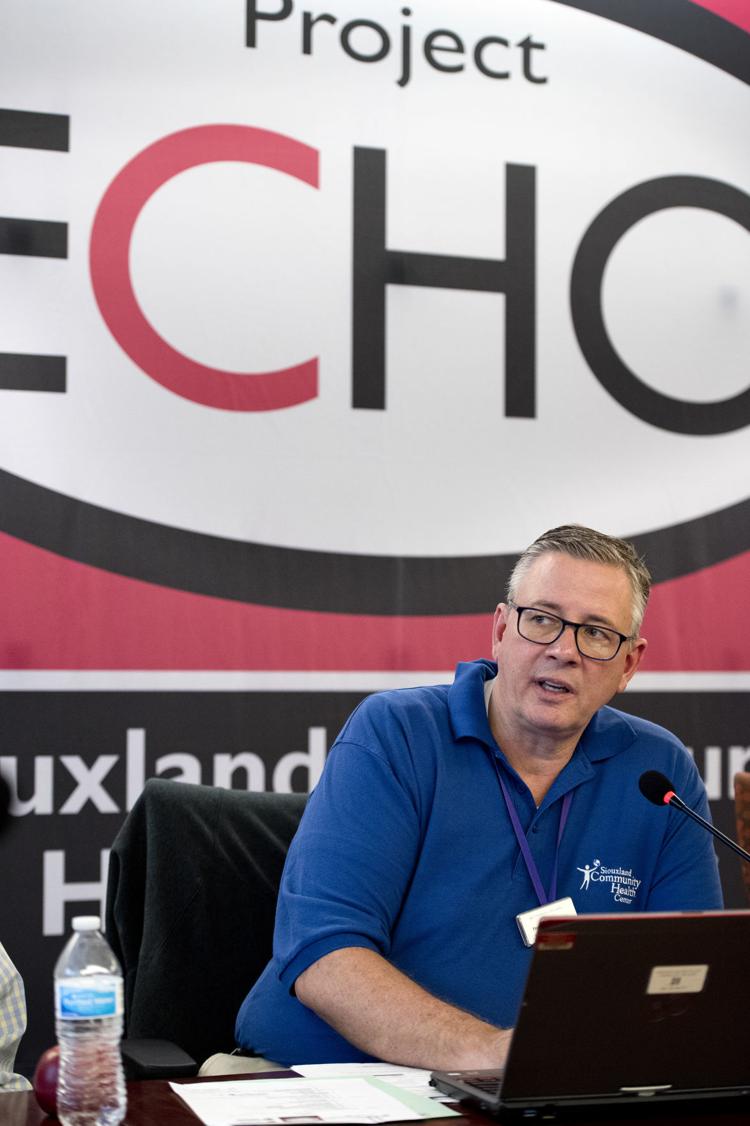 "You can have all the right medicines to provide for the patient, but maybe they're fearful of taking it. That's where the behavioral health specialist can help out in finding out how we help patients be compliant with the treatment plan," he said.
Glen Houts, a behavioral health case manager at SCHC, said research has shown that providers can have a greater impact on a patient's health outcomes by addressing social determinants of health -- the structural determinants and conditions in which people are born, grow, live, work and age.
"Having access to the kind of foods that someone with a diabetes diagnosis needs to live a healthy life -- that's a huge one that we talk to patients about frequently," he said. "Just the food that they can get at a food pantry, many times, is contraindicative for their diagnosis."
Houts said he looks at the entirety of the patient's financial situation to solve the problem of access to nutritious food. He might recommend that the patient make use of a personal care pantry to save a few dollars on household cleaning items or apply for housing assistance if they haven't and are eligible. 
"If they can save money in another area of their life, then they can shift over to their food budget," he said.
Copyright 2019 The Sioux City Journal. All rights reserved. This material may not be published, broadcast, rewritten or redistributed.