From all outward appearances, Mark LaMaster was a good husband to his wife Jen and a good dad to their children Hannah and Lincoln.
But still, the Sioux City native said he didn't feel like the dad he wanted to be. 
"When my (now 11-year-old) son Lincoln was 8 years old, we shared a love of football, buffalo wings and superficial things like that," LaMaster remembered. "As a dad, I wanted a relationship that was more intentional and more purposeful than that."
This was why LaMaster, now a registered nurse and motivational speaker living in Rochester, Minnesota, devised a game plan that would coach good dads into becoming great dads through a series of bonding exercises.
LaMaster has complied these goals in the book "Friday Night Lights for Fathers and Sons."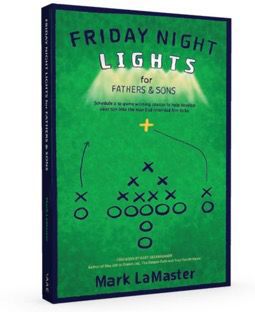 Each game day includes a theme, a Bible verse, a "scouting report" for dads, a pregame planning session, a joint activity for both fathers and sons and, finally, a post-game day analysis and press conference.
A 1993 Sioux City North High School graduate, LaMaster will be signing copies of "Friday Night Lights for Fathers and Sons" from 1 to 3 p.m. April 15 at Barnes & Noble Booksellers, 4400 Sergeant Road.
In addition to reading from his book, LaMaster will also be sharing updates on "Friday Night Lights for Fathers and Daughters," which is slated to be released later this year.
"Every parent has the potential to become they best parent for all of their children," he said. "It's just a matter of equipping them with a game plan."
I'm guessing every parent wants to have a good relationship with their children. What are the factors that get in our way?
"We want to provide for our families but our ambitions sometimes prevent us from being the parents we want to be. We wouldn't blow off a meeting with our boss or a date night with our wives. We shouldn't be blowing off time with our kids. Schedule some quality one-on-one time with your son. It could be something as simple as an hour of playing catch or laser tag. Put it on your calendar and stick to it."
This schedule of one-on-one time seems like it would be beneficial for both father and son, right?
"I think so. Dads have an innate responsibility to raise their sons to be successful young men with character and integrity. Also, sons have a desire to spend more time with their dads. It is beneficial for all of us. Plus you can learn a lot about yourself through your relationship with your kids."
Let's talk about your book. Would it be safe to assume you wrote it specifically for busy dads?
"Well, guys like game plans, plus they don't always like to read. Well, maybe that's overstating things a bit. Guys just don't the time to read a long book cover-to-cover. This is why I chose a guide book format that could be read one game day at a time."
Tell me a bit about your upcoming book, "Friday Night Lights for Father and Daughters." I'm guessing father-daughter relationships can be just as dicey, don't you think?
"Absolutely. In my first book, I was dealing with a tween son. Since my daughter Hannah is 13, I am now the dad to a teen. Things don't get easier when your kids become teenagers."