SIOUX CITY -- People who thought "coffee culture" was a concept that was brewed up by baristas at Starbucks may be startled to discover Sioux City's interest in the caffeinated bean goes back nearly 150 years.
"More than a dozen wholesale grocery dealers were based in Sioux City from the 1870s all the way up to the 1970s," Sioux City Public Museum history curator Matt Anderson explained. "Many of these companies imported, roasted, ground and packaged their own coffee brands, distributing them to stores across the Midwest."  
Many of these businesses left behind a trove of colorful tin containers, wooden shipping crates and promotional displays featuring logos and brand names of long-forgotten coffees.
Such vintage coffee merchandising memorabilia will be on display at the Sioux City Public Museum, 607 Fourth St., between now and Feb. 28.
"These artifacts are tangible evidence of a food distribution business that was a major driver of the local economy for a century," Anderson said of the exhibit, which draws from private collectors as well as the extensive collection of the museum's.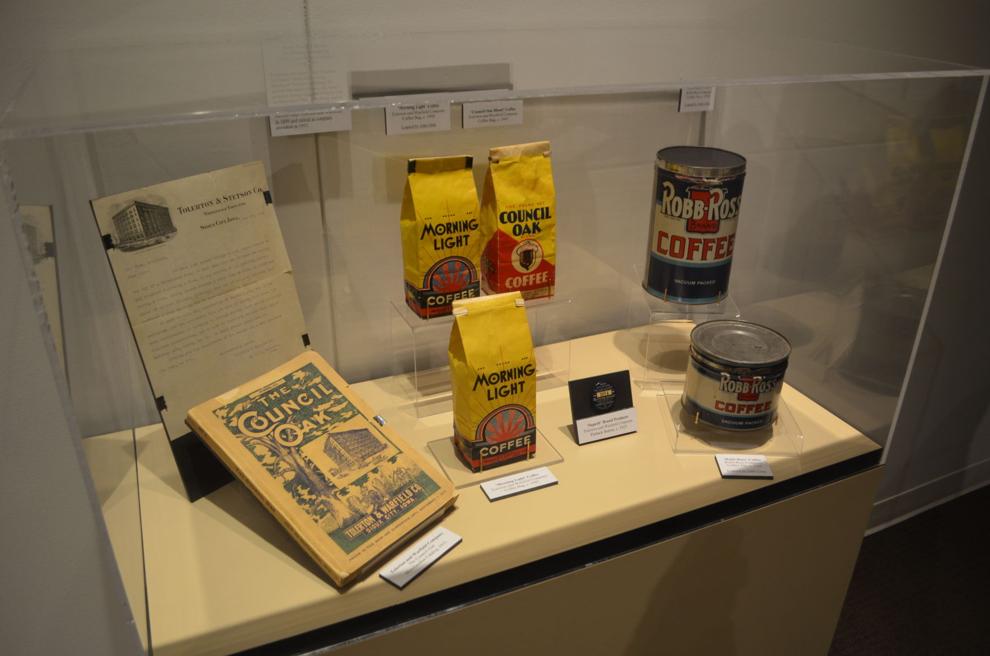 Even more than that, the exhibit tips its hat to grocery wholesalers like William Tackaberry, C. Shenkberg, O.J. Moore, Tolerton and Warfield, Pratt-Mallory, and Robb-Ross, which were situated on or around Third Street in downtown Sioux City.
"The main mode of transportation was by train," Anderson said. "This is why wholesale operations were located near the railroad."
Items like flour, sugar and coffee would then be distributed to dry goods stores.
"A dry goods store is what many would think as being an old-fashioned general store," Anderson explained. "Back in the day, a person would buy perishable foods like meat from a butcher and products with a longer shelf life, like coffee, from a dry goods store."
Beginning around 1930, dry goods stores were gradually replaced by small, independent grocery stores or slightly larger ones like Council Oak.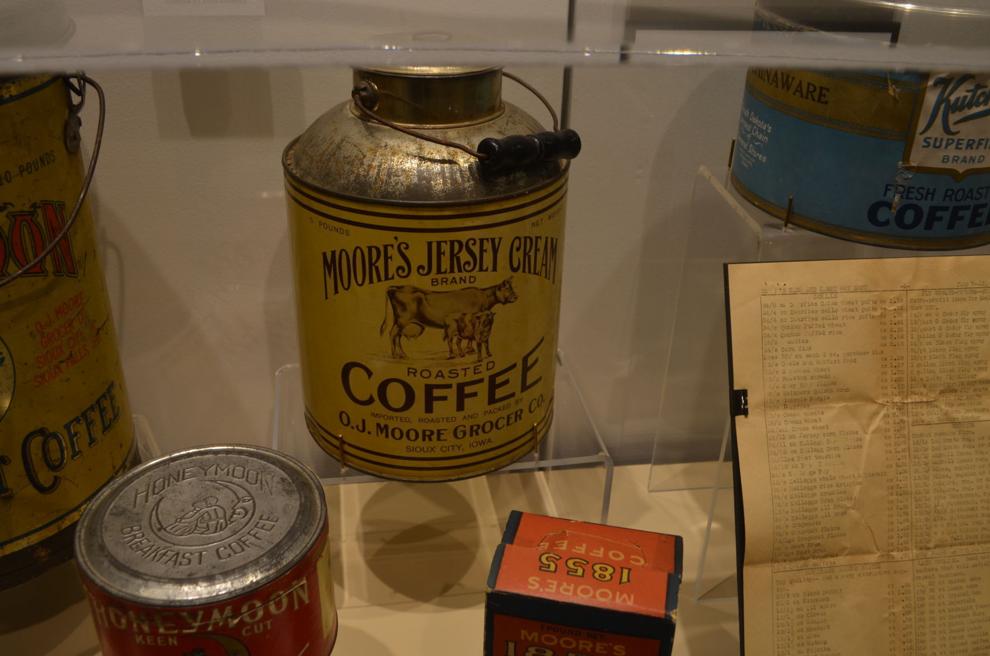 "At one point, Sioux City literally had hundreds of mom-and-pop grocery stores," Anderson said. "Each one catered to a different neighborhood."
While such shoppers could pick up a can of Folgers or Maxwell House, they would more than likely go with a locally roasted brand like C. Shenkberg's "Saturday Evening Host" Roasted Coffee, Council Oak's "Morning Light" Coffee, or O.J. Moore's "Honeymoon" Keen-Cut Morning Coffee, which featured the silhouette of young lovers lounging on a half moon.
"Some of the coffee branding is remarkable," Anderson noted. "O.J. Moore's Jersey Cream Coffee was sold from a can that was shaped like a milk jug, which was pretty clever."
After all, then as well as now, packaging mattered.
Starting as early in the 1950s and gaining steam in the 1970s, small grocery stores gave way to supermarkets like Safeway and eventually to Hy-Vee and Fareway.
This also spelled the end to wholesale grocery dealers.  
Despite that, interest in vintage coffee memorabilia continues to percolate. Anderson thinks he knows why.
"Coffee is such a part of our lifestyle," he said. "It is something most of us have in our homes and something that we drink on a daily basis."
Because of that, artifacts from former coffee brands can conjure up fond memories.
Maybe a Starbucks mug might hold as many memories as a tin canister that once contained Honeymoon Coffee?
"You never know," Anderson said. "You never know."