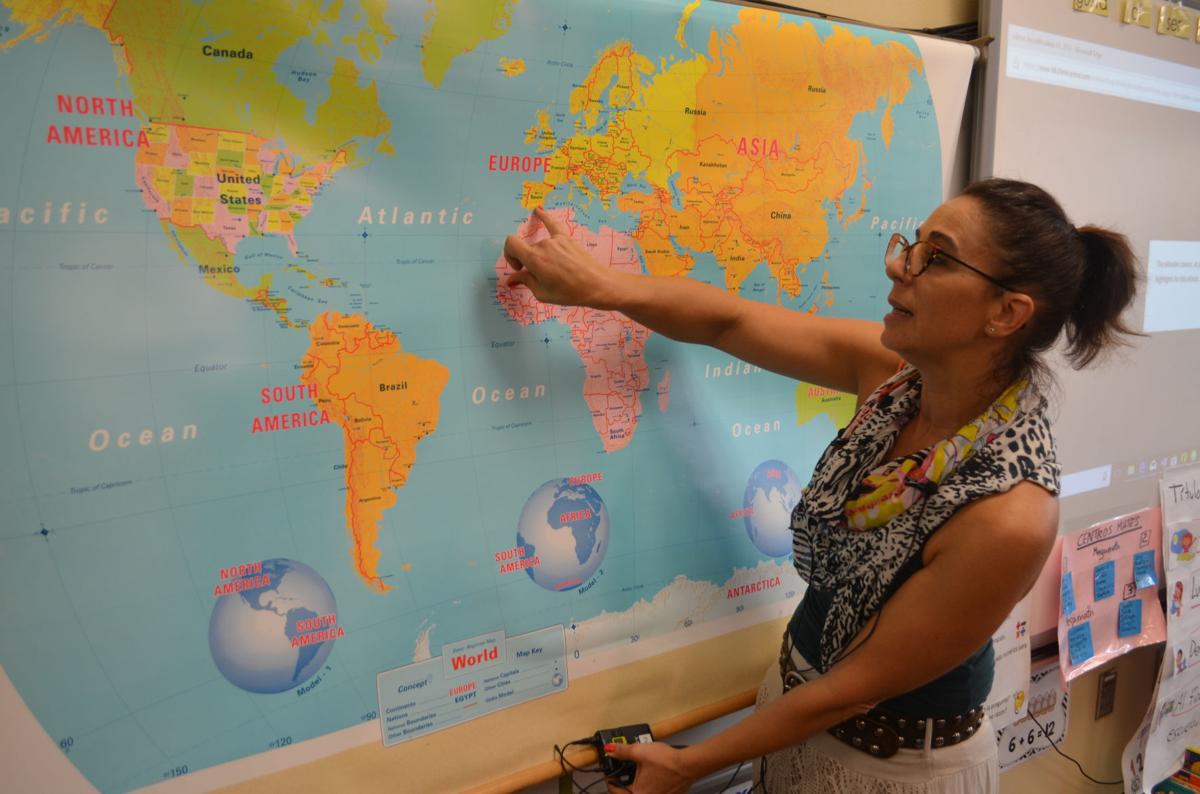 SIOUX CITY -- First-graders in Helen De La Plaza's Irving Elementary School dual language class were conducting interviews with unusual toy microphones made of empty paper rolls and aluminum foil.
"The children are pretending they are reporters," she said, explaining that the students also must utilize common Spanish words like "que" (what) or "hola" (hello).
Originally from southwest Spain, De La Plaza is beginning the third year of her three-year commitment with a visiting teachers program that partners Iowa schools with Spanish teachers.  
She's taught at Irving for the entire three years.
"Teaching and living abroad was a dream of mine," she said, inside a bustling classroom. "I'd like to extend my stay in the United States."
This year, Iowa has 18 educators through Spain's visiting teachers program, with four teachers (including De La Plaza) providing instruction in Irving's dual-language classes.
"Irving is very unique in that I will teach my class in Spanish in the morning while another teacher will teach her classes in English in the afternoon," she said. "That gives the students a unique perspective."
It has given De La Plaza an equally unique perspective.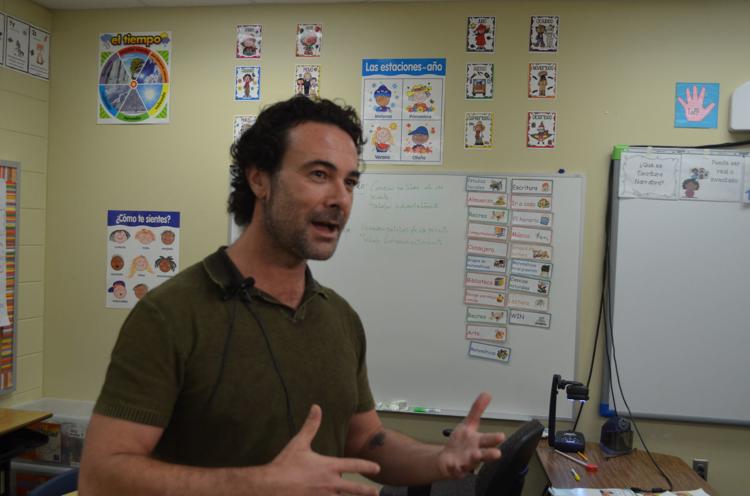 "While Spanish is Spanish no matter where you go, there are some variations in American terms," she explained. "In Spain, what we call 'secondary schools,' you call middle and high schools."
Despite that, De La Plaza is a big proponent of a dual-language curriculum.
"Ideally, dual languages should be taught to children as early as possible," she said. "And it should be practiced continuously. That's the only way you can retain it."
You have free articles remaining.
First-grader Mia Miller already has a favorite Spanish word, and that is "gato" (cat).
"I love cats," she said, pointing to her baseball cap, which shows off a friendly feline in a tropical setting. "I'm not crazy about dogs though."
Those were fighting words to Mia's classmate Fernando Estrada, who also had a preferred Spanish word: "perro" (dog).
"I like perros and lions and cougars," Fernando said. 
"No, I don't like cats," Fernando said, shaking his head.
We don't know if Javier Gomez is a gato person or a perro person. We do know that the Spain native is game for any new adventure.
This is a good thing since he is still getting acclimated to America after little more than a month in the country. 
Like De La Plaza, Gomez is part of the Spanish visiting teachers program at Irving. Unlike De La Plaza, this experience marks Gomez's first American teaching experience.
"I originally signed up to teach because I thought I'd be in Colorado," Gomez said. "I love mountains."
So, what's Iowa like? No mountains here, right? 
"No mountains," Gomez said. "Nice people though."
Indeed, he credited Irving Principal Maria Ruelas for attracting him to the school.
"The staff has been wonderful and so are the students," Gomez said. "The year is just starting but you know it will be good."