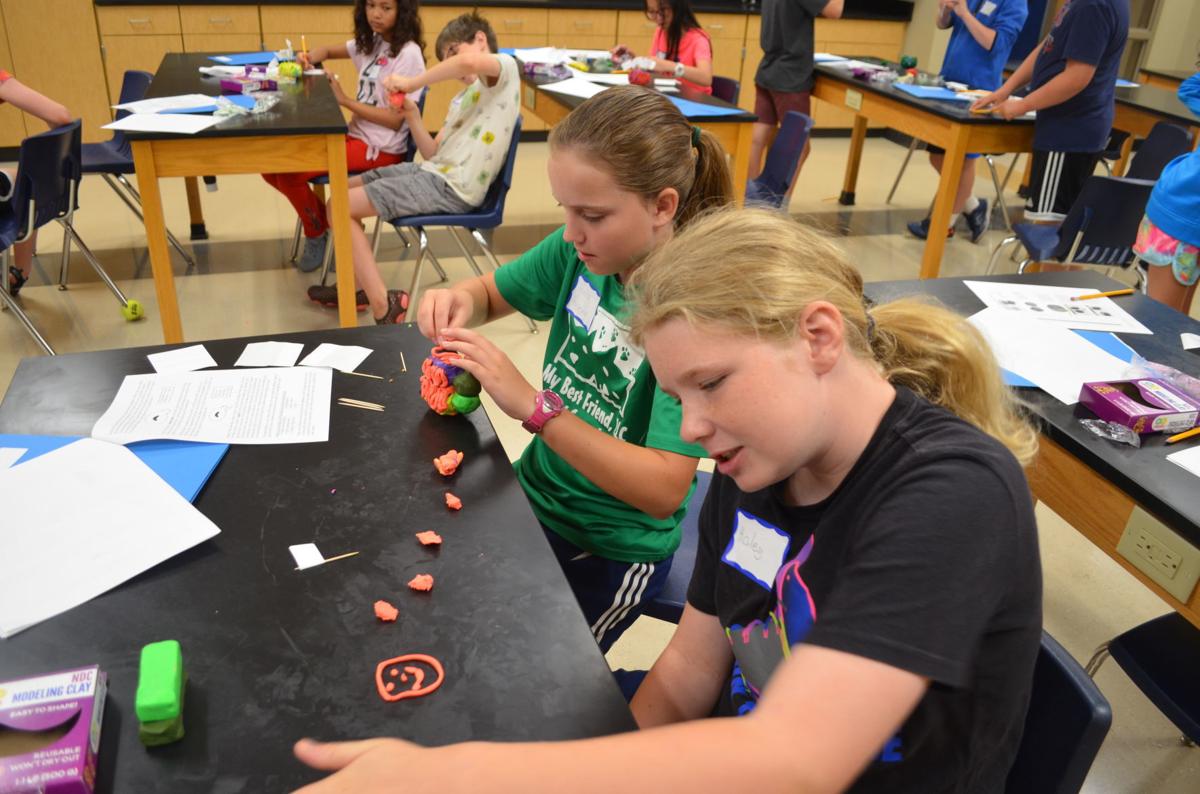 SIOUX CITY -- In a Bishop Heelan Catholic High School science classroom, Grace Roerig carefully molded a human brain out of colorful pieces of Play-Doh.
At the same time, Grace's lab partner Haley Grimsley used the modeling clay to create smiley faces on their shared desk.
"I'm gonna need more clay," said Grace, a Holy Cross Middle School sixth grader, as she grabbed some extra Play-Doh. 
"You're ruining my art," said Haley, a Mater Dei Nativity Center sixth grader, in mock protest.
Grace and Haley were among the kids who attended a four-day CNOS Foundation Science Classic, in which middle school students had the opportunity to experience chemistry, physics and anatomy in a hands-on way.
Held every summer since 2012, the specialized camp -- which took place this year at Heelan July 8-11 -- regularly attracts science-minded students from school districts in Siouxland and beyond, according to the CNOS Foundation's Beth Noel.
"The Science Classic is dedicated in the memory of my late husband Stephen Noel," she explained. "Steve wanted to create a summer program in which students could experience science in a way that wouldn't be feasible during the school year."
That hands-on approach to learning was what motivated John Jorstad, a Heelan High School advanced biology teacher, to conduct an Anatomy and Physiology of the Human Brain class for sixth graders.
"I usually teach the older students but these kids have been great," he said as the sixth graders used a diagram of a brain to sculpt Play-Doh models. "The students are learning about the parts of the human brain before they learn how to dissect a sheep's brain."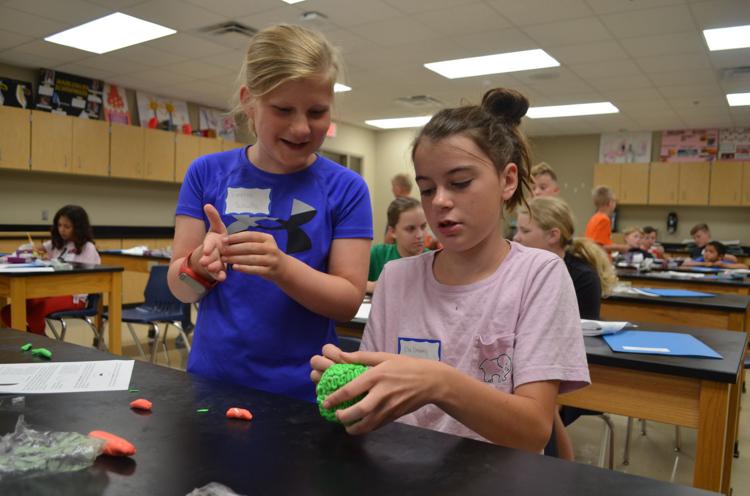 Hmm, dissecting the brain of a sheep sounds kinda gross, right? Well, don't tell that to Sacred Heart students Emma Schultz or Elle Delaney.
You have free articles remaining.
"I'm really excited," Emma, who is undecided about career choices, said. "I've never done anything like this before."
"Doesn't seem gross to me," said Elle, who wants to be either an astronomer or a dermatologist when she grows up. "Actually molding a brain before probably helps."
Elk Point-Jefferson Middle School sixth grader Connor Saylor agreed.
SOUTH SIOUX CITY -- Somarah Watts, 10, either wants to become a neurosurgeon or a homicide detective when she grows up.
"A real brain actually feels like a Play-Doh brain," he said, poking a plastic-covered sheep's brain with his finger. "They're both sorta squishy."
While Jorstad was teaching anatomy to sixth graders, Siouxland Christian School science teacher Michelle Ball was teaching physics to eighth graders by using a common household appliance.
"I like teaching centrifugal and centripetal forces by using a salad spinner," she said as students took turns placing cardboard pieces featuring Rorschach test-style ink blots while cranking the cord of the kitchen tool.
"Not only will the students learn about kinetic energy, they'll also get to take home a piece of art," Ball said as kids took out cardboard that now featured a cool, tie-dye-like design.   
Noel couldn't help but smile at Ball's ingenuity.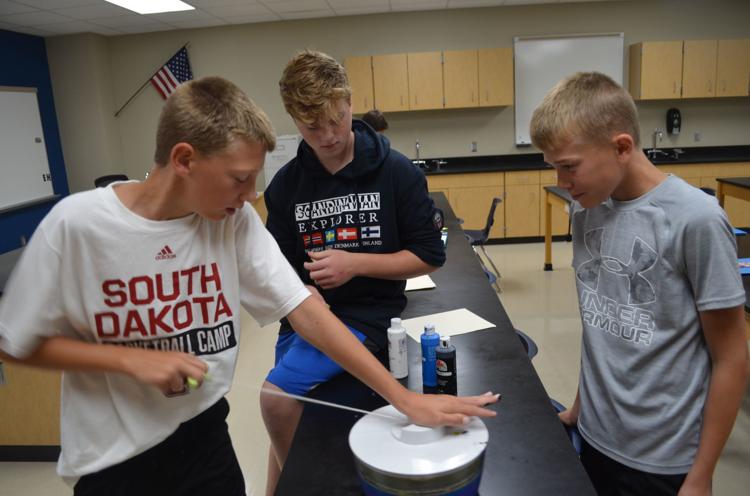 "I think I have that same type of salad spinner at home," Noel remarked. "I had no idea you could learn physics from it."
Walking from classroom to classroom, she is pleased at how well the CNOS Foundation Science Classic has been received.
"My husband Steve had a passion for learning and he wanted to share it with the younger generation," she said. "Through this camp, we are allowing students to exercise their scientific curiosity, spark their interest in new things while having a good time."