SIOUX CITY -- A teacher at Emerson Elementary School in Sioux City noticed 28 years ago how fast 8-year-old Jesse Pease could run during recess and physical education class. At the time, Jesse won races against all the children in his class, this despite the fact he suffered epileptic seizures, which began affecting his speech and short-term memory at the age of 9 months.
The Special Olympics program was mentioned to Jesse's parents, Keith and Joelle Pease, and they took their son to Ames that year. Jesse won a 50-meter sprint and has continued winning ever since, piling up a treasure trove of medals, trophies, plaques and ribbons while competing in track, golf, bowling, basketball, softball and more.
His athletic prowess has taken him all over the United States and overseas, where he's golfed in Dublin, Ireland, for example, as part of the World Games in Special Olympics. The activity culminated this month as Sioux City's quiet Special Olympic marvel was inducted as one of three members in the inaugural class of the Special Olympics Iowa Hall of Fame at the Iowa Hall of Pride in Des Moines.
It was quite the honor for a 36-year-old still representing the Sioux City Knights Special Olympics organization and its 170 athletes who participate in 14 categories. Jesse also takes great pride in representing the 14,000 athletes who compete under the Iowa Special Olympics and Unified Partners banners.
Jesse's parents note that the hall of fame plaque bearing his name has no mention of an athletic performance or event. Rather, the inscription cites the "recognition of our deep appreciation for your outstanding leadership and dedication you have generously shared in the true spirit of Special Olympics. Your compassion and commitment are truly and inspiration to all of our athletes, coaches and volunteers."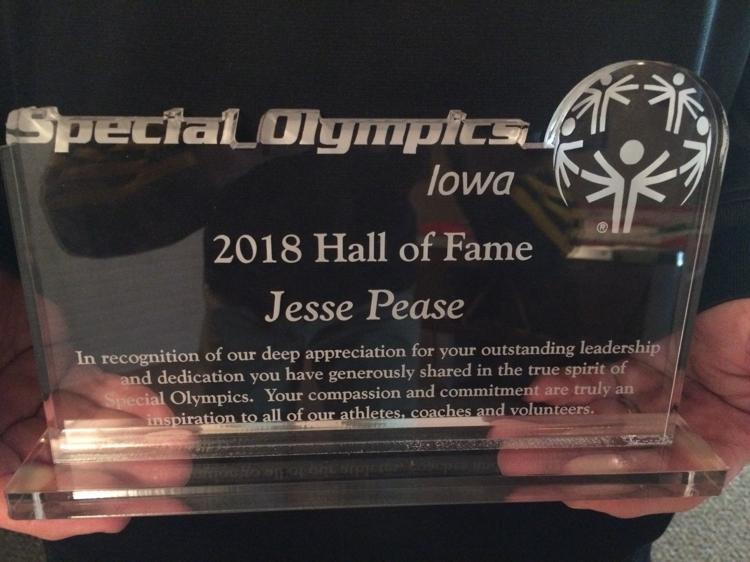 "His athletic abilities have gotten him noticed," says his father, Keith. "His versatility stands out."
Jesse, for example, ended back-to-back innings at a state softball tournament in Special Olympics by turning unassisted double-plays. (A teammate turned the trick to end the third consecutive inning that way.)
Jesse ran a 57-second 400-meter dash in 2003 at the World Games and recorded a 2:22 effort in that competition in the 800-meter dash, both personal bests. He would finished fourth in the 800 and fifth in the 400.
At 36, he can still pound out a 60-second 400-meter time.
He also earned a bronze medal in the National Special Olympics Golf Invitational in 2007, covering 54 holes in a solo effort.
He's bowled a high-game of 232 and has picked up a 7-10 split. He's got two golf aces to his credit and, for years, golfed men's league with his father in Akron, Iowa, touring the 9-hole layout there when not fine-tuning his game at Green Valley in Sioux City.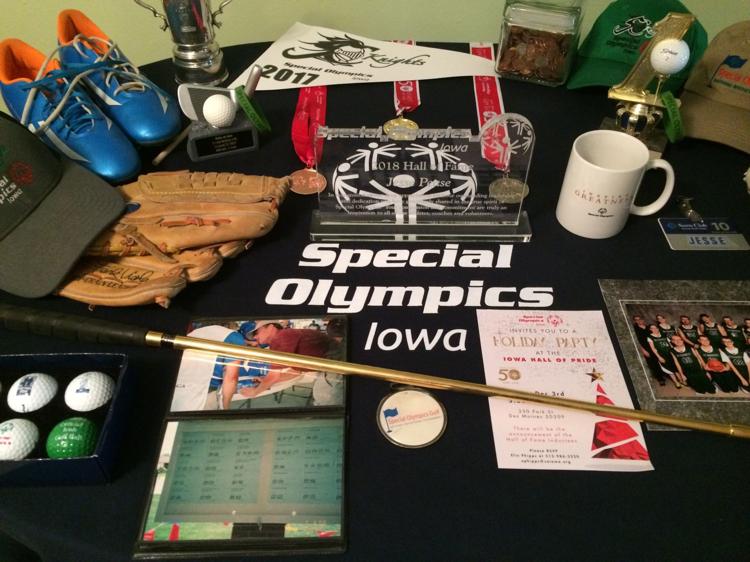 Jesse Pease also scored a point for West High in the City Track Meet in the spring of his senior year in 2001, helping the Wolverines claim the title.
And, with 12,000 people gathered inside Hilton Coliseum on the campus of Iowa State University a few years ago, Jesse stood on stage while accepting an award for golf. In doing so, he gave the emcee, National Football League Hall-of-Famer Kurt Warner a lesson on how to hit from a sand trap. Jesse and his brother, Jason, earned a silver medal that week in the National Invitational Special Olympics Golf Tournament for their tandem performance.
"We have truly been blessed," Keith Pease says as Jesse smiles.
While the natural reaction in raising a child who faces learning disabilities and faces challenges in communicating might involve asking, "Why?" the Peases count their gifts. "Our lives could not have been any more special," Keith concludes.
"My favorite sport is golf," Jesse says as he looks over a few dozen medals hanging in a pair of cases in his bedroom. "Golf is the most fun to practice."
He also enjoys his work as he's celebrating his 11th anniversary as an associate at Sam's Club in Sioux City. His parents quickly note he is not the lone Special Olympian on the payroll at Sam's, a detail they credit not only to the corporation, but to the Special Olympics group and the tens of thousands of volunteers who have helped these participants become contributing members of the workforce and society.
The Sioux City Knights, it was said, began as a group of four athletes participating in two events. It's now a group of 170 children and adults seen throwing balls, hitting shots, running races and working, either independently or via assisted employment programs.
The Peases concluded: "It's taken many years of support from physicians, friends, family, peers, business, and support from a tremendous staff at Special Olympics of Iowa, but it appears the ideals of that program are being realized here in Sioux City."
And the face -- and the athletic legs, arms and more -- of that effort, at least in this first Special Olympics of Iowa Hall of Fame class is the sprinter who outran his class at Emerson Elementary School in 1990. And has run and competed ever since.