LAWTON, Iowa -- Amy Lahrs first heard about radon, a radioactive gas that has been linked to lung cancer, when her mother-in-law was diagnosed with the disease nine years ago.
Doctors suspected radon, which is odorless and tasteless, could have been lurking in Babette Lahrs' childhood home. 
"Although we couldn't test the house she grew up in, we thought we'd test ours to see if we had radon," said Amy Lahrs, who picked up a radon test kit at Siouxland District Health Department. 
After placing the test kit in a playroom in their basement, Nate and Amy Lahrs learned that their ranch-style home in Lawton had a radon level of 6 pCi/L, or picocuries per liter. The Environmental Protection Agency recommends corrective action be taken when radon in the air is 4 pCi/L or higher.
"Our neighbors down the street were at 8 (pCi/L), but my uncle who lives about an hour from here was at 15, so we started sparking people all around talking about it," she said. "The house my father-in-law lives in hardly had any."
Radon, which is produced by the decay of uranium, is usually found in soils, rock and water. When radon enters homes and other buildings through foundation or basement cracks, it becomes trapped and accumulates in the lowest level, usually basements. Breathing in radon at high levels over a long period can cause lung cancer. Babette Lahrs lost her battle with the disease in 2011.
The EPA estimates 6 million to 8 million U.S. homes have elevated radon levels. The Iowa Department of Public Health reports that as many as five in seven Iowa homes have radon levels above 4 pCi/L.
Over the last two years, Siouxland District Health Department has seen a spike in sales of radon test kits during the month of January, which has been designated National Radon Action Month. 
In January 2017, 644 test kits were sold by the health department, up from 524 in 2016 and 181 in 2015.
"I think with more advertising, more people are becoming aware of radon in our area," Alicia Sanders, an environmental specialist for Siouxland District Health Department, said of radon, which is the second-leading cause of lung cancer behind tobacco. "You can't tell if you have radon in your home unless you test for it."
Reducing radon
The EPA first became aware of the extent of the radon problem in the United States in 1984, when radiation detectors detected radioactivity on a Pennsylvania nuclear plant worker's clothing. The radon decay products found on the man's clothes were later traced to his home.
The discovery prompted the EPA to conduct short-term radon testing in homes and basements in 42 states over four years.
Pennsylvania's radon levels were among the highest in the nation at 60 percent, but the state didn't have the greatest percentage of homes with elevated radon levels. Iowa led the way with 72 percent, followed by North Dakota at 63 percent and Nebraska at 54 percent.
Property owners can reduce radon levels in their homes by having an active radon mitigation system installed. Systems consist of 4-inch PVC pipe that extends from a hole in the basement floor through the roof. A fan sucks the radon gas from below the slab up the pipe and vents it outside.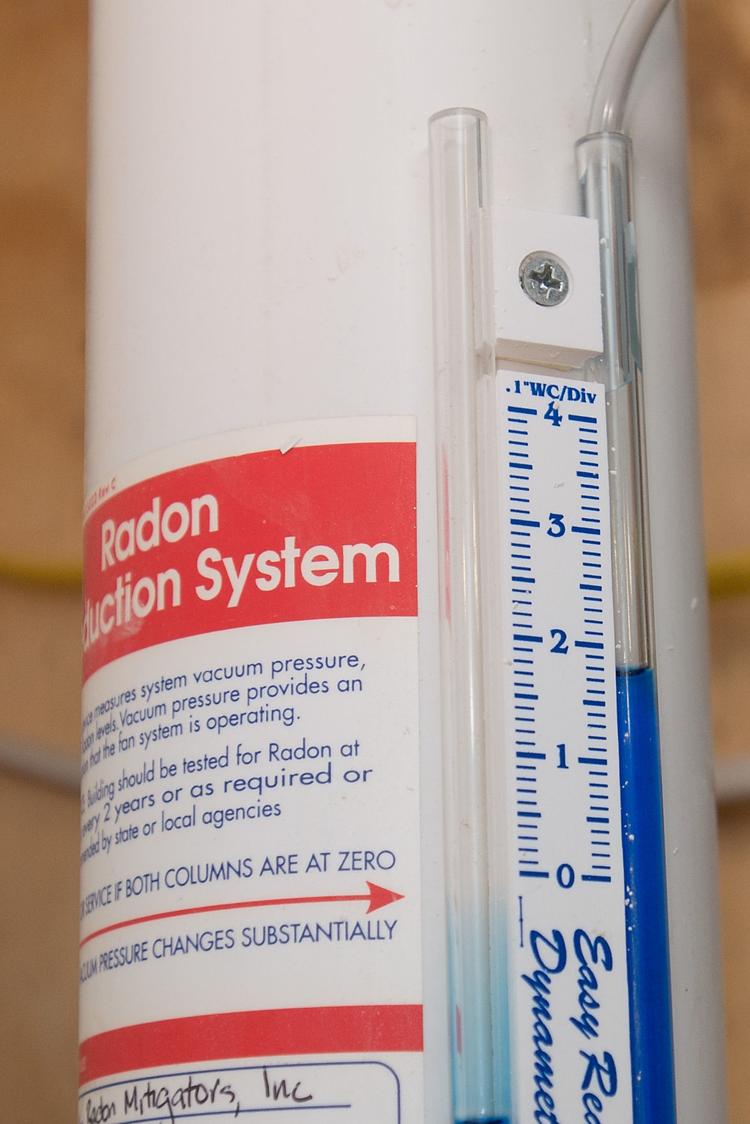 The Lahrses didn't wait long to have a mitigation system installed. They attended the Siouxland Home Show a few months later in February, where they talked with radon mitigation specialists. The couple decided to have Radon Mitigators Inc. install their system.
"We have two pipes and they run a fan up through our ventilation system to go up to the roof," Amy Lahrs said. "We tested right after we put it in. It was at 0.6 (pCi/L)."
Sanders said more home builders in Sioux City are automatically installing passive radon mitigation systems in new homes. Iowa law requires radon mitigation system installers to be certified by the Iowa Department of Public Health.
Test first
The first step in combating radon is testing your home.
Siouxland District Health Department offers short-term radon testing kits to homeowners year-round. The $7 fee includes the cost of postage and laboratory analysis.
The kit contains a packet with a paperboard insert inside. The packet is hung at breathing level to collect the air in the home's lowest level. After three to seven days, the homeowner removes the paperboard insert, seals up the packet and mails it in for testing.
"The instructions are very specific on what they need to do and how they need to seal it properly to make its way to where the testing is," Sanders said. "Since our kits are short-term test kits, we suggest doing two separate short-term test kits and averaging that out. That will give you a better idea of what the radon potential in the home is." 
The first 200 test kits sold at Siouxland District Health Department this year are just $1, thanks to funding provided by Mercy Medical Center -- Sioux City. Sanders said the $1 test kits, which are still available, are limited to one kit per person.
"My advice is to not wait until you have a scary situation at hand," Lahrs said. "Hopefully learning about radon now will prevent a bad situation."
Be the first to know
Get local news delivered to your inbox!