SIOUX CITY -- Riley Ebner began playing hockey, his favorite sport, at age 8, but during his second year skating for the Sioux City Junior Musketeers, the Sergeant Bluff boy began experiencing an aching and stabbing pain in his feet.
Ambur Ebner noticed her son was kneeling on the ice in between drills during hockey practice.
She asked him, "Why were you out there kneeling?"
Riley responded, "My feet. My feet hurt so bad."
Riley, now 14, had one of the worst cases of flat feet that Dr. Kosta Antonopoulos, a podiatrist with UnityPoint Clinic Foot and Ankle, said he has ever seen.
"(Hockey skates) are not very flexible, so his foot wasn't allowed to go where it wants to go. It was kind of preventing his motion there and was leading to him having a significant amount of pain," Antonopoulos said.
People with flat feet have a deformity in which the arches of their feet collapse and come into complete contact or near-complete contact with the ground. Having flat feet puts increased strain on a person's lower back, hips and knees. If the condition goes unaddressed, Antonopoulos said arthritis could develop later on in a person's life and lead to the need for a hip or knee replacement.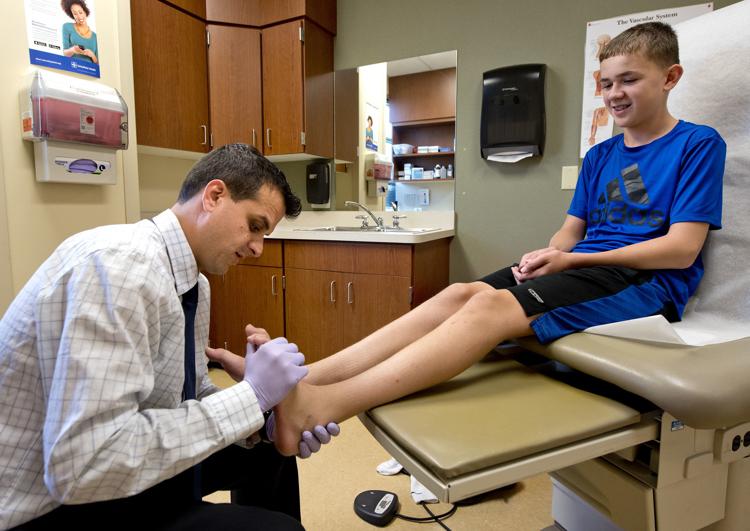 Flat feet is a very common condition in children, according to Antonopoulos. Since symptoms can often be relieved with special braces and inserts, he said the majority of kids with flat feet don't need surgery. That wasn't the case for Riley, who also struggled getting down into a football stance, so he gave up the sport. 
"Parents see their kids walking strangely from behind and they get scared. Most of the kids will outgrow it when they're young," Antonopoulos said of flat feet. "Where you get to be a little more concerned is when they start having pain or they start withholding themselves from activity. That's exactly what Riley was doing."
You have free articles remaining.
After examining Riley's feet, Antonopoulos said he knew Riley would eventually need surgery. Ambur and Joe Ebner talked with Antonopoulos about potentially waiting until their son's growth plates had closed, but Riley was in too much pain to do that, so on June 2, 2017, he had a minimally invasive, outpatient procedure to first correct the deformity in his right foot. Riley said the only concern he had about surgery was, "It not working."
With Riley under general anesthesia, Antonopoulos made two tiny incisions in the back of Riley's leg. He inserted a camera and cut a small, thin sheath to lengthen the Achilles tendon.
"Whenever you have a flat foot, you always have a tight Achilles tendon; and it can be a deforming force if you correct the foot but don't address the Achilles tendon," Antonopoulos explained.
Through another tiny incision on Riley's ankle, Antonopoulos placed a metallic implant, which is shaped like a trapezoid, into the subtalar joint to realign and stabilize the hind foot.
"It prevents the abnormal motion that he was getting. It allows his muscles, his ligaments and his tendons to function how they're supposed to, to help recreate that arch," he said of the implant. 
Riley stayed off his foot for three weeks, spending most of his time playing Xbox. Then, he started walking in a boot for a week or so, before wearing normal shoes again. On July 21, Antonopoulos performed the same 30-minute procedure on Riley's left foot.
Riley attended physical therapy sessions, where he performed exercises to strengthen his ankle and worked on balancing and stretching. Antonopoulos said one of the biggest hurdles patients like Riley have to overcome is mental in nature. He said the brain has to be retrained to walk the correct way. 
"It was hard at first. He wasn't used to walking normal," Antonopoulos said. 
Roughly two months after his second surgery, Riley had returned to the ice.
"It took a little bit for him to get comfortable skating with his new feet," Ambur Ebner said. "It definitely improve his skating and improved his game. He's come a long way."
Hockey Sioux City Musketeers vs. Tri-City Storm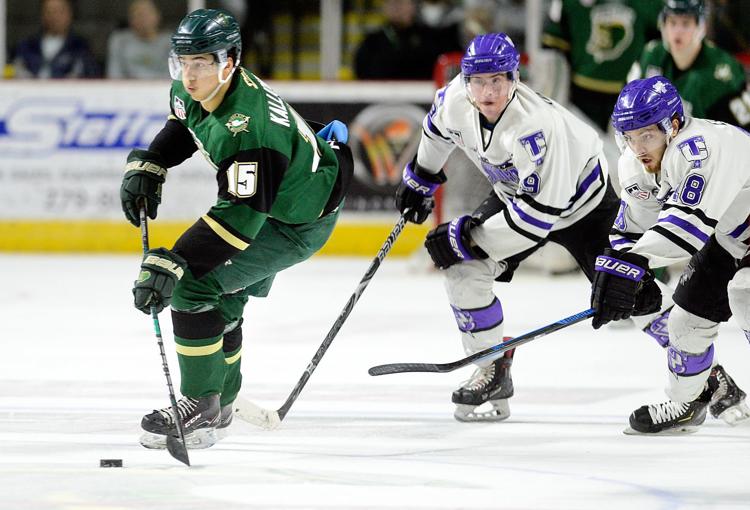 Hockey Sioux City Musketeers vs. Tri-City Storm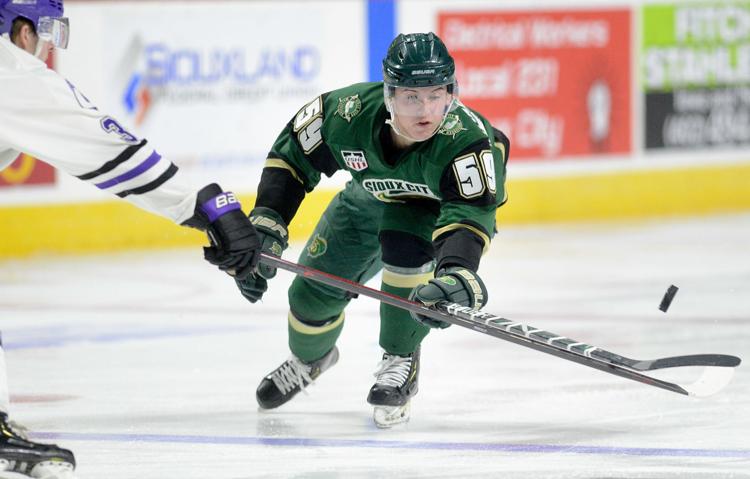 Hockey Sioux City Musketeers vs. Tri-City Storm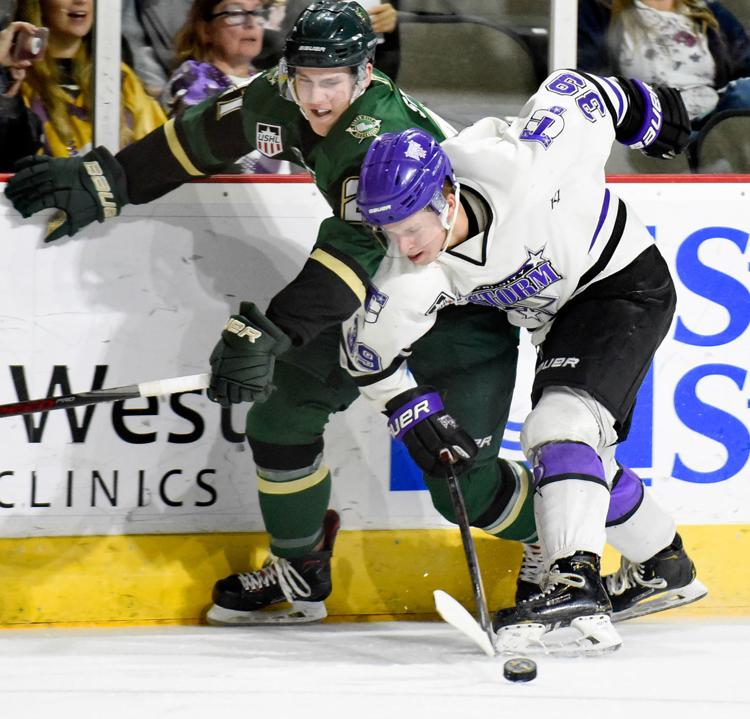 Hockey Sioux City Musketeers vs. Tri-City Storm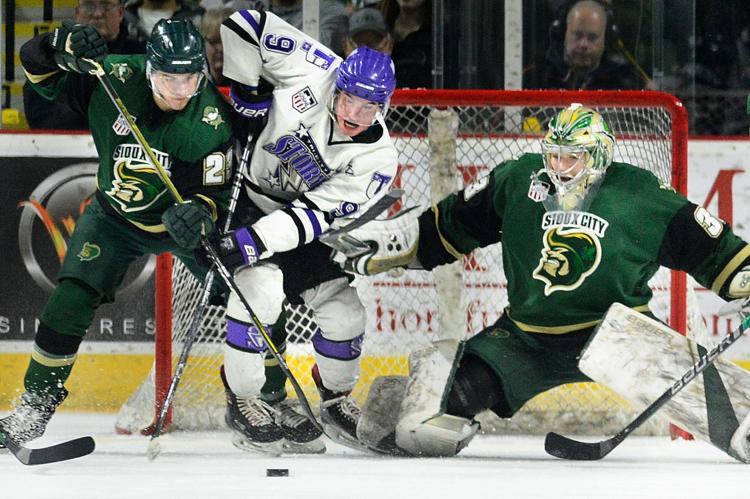 Hockey Sioux City Musketeers vs. Tri-City Storm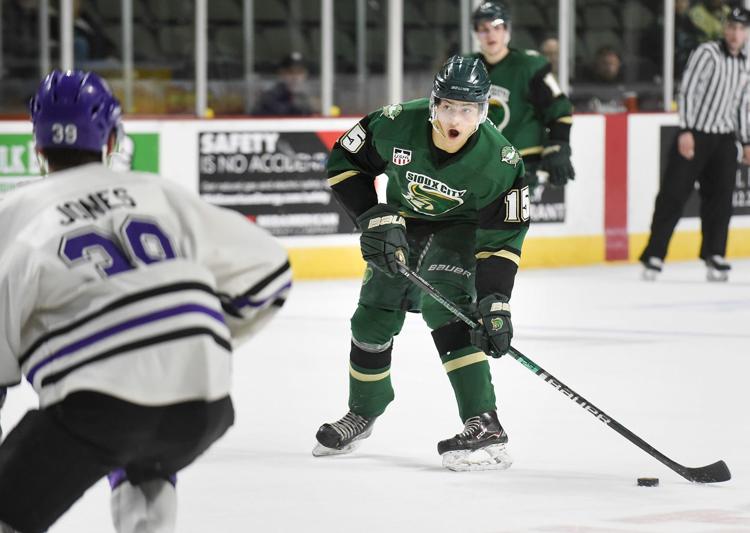 Hockey Sioux City Musketeers vs. Tri-City Storm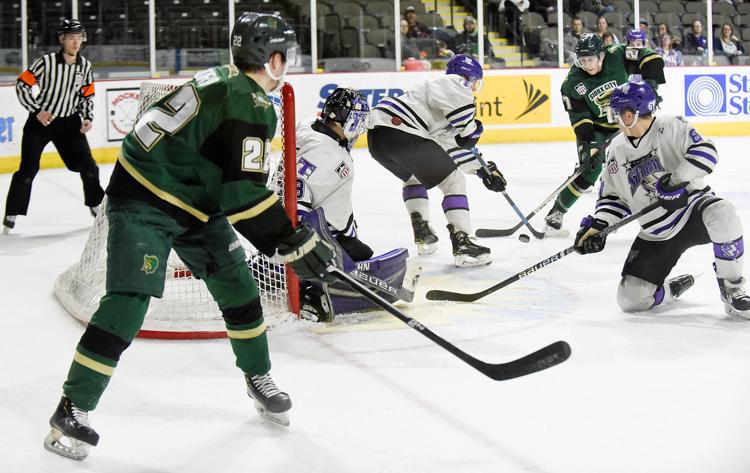 Hockey Sioux City Musketeers vs. Tri-City Storm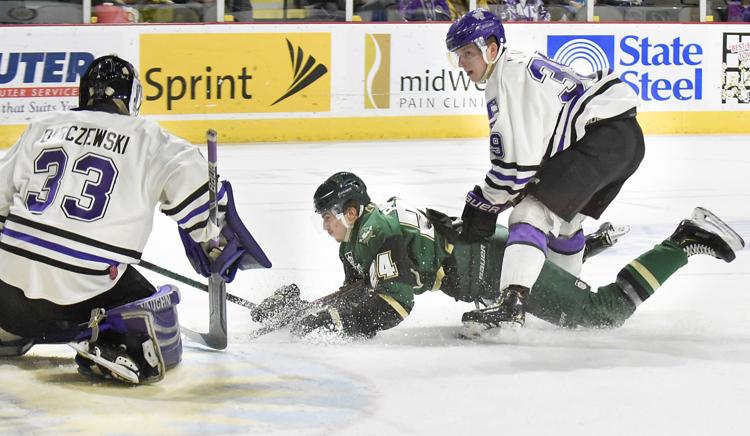 Hockey Sioux City Musketeers vs. Tri-City Storm
Hockey Sioux City Musketeers vs. Tri-City Storm