SIOUX CITY -- If you want to take in the warm hues of fall foliage on a scenic drive or hike through a state park, Western Iowa Tourism executive director Shirley Phillips said you shouldn't wait.
Looking out her Sac City office window, Phillips said she could see leaves on some trees that had changed color, while others had already fallen to the ground.
"I'd go now, because if we get more rain and we get wind, it's not going to be long and they're going to be gone," she said.
According to the Iowa Department of Natural Resources, peak autumn colors usually last from the end of September until the second week of October. Green ash trees turn yellow. White ash trees have a purplish cast. Elm trees feature yellow leaves. Red oak trees are a brilliant shade of red, while white oak trees are a soft shade of purple.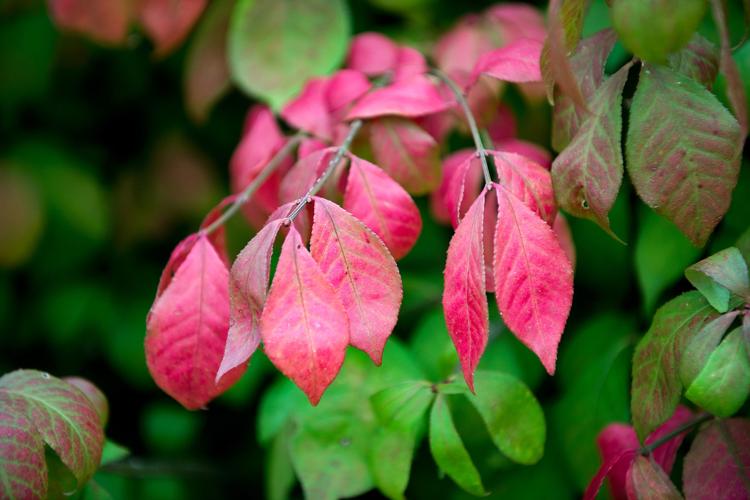 Park ranger Jason Dykstra said the leaves on some of Stone State Park's trees are starting to yellow a bit. He said oak is the predominant tree species in the park, which is nestled in the Loess Hills in the northwest corner of Sioux City.
"We're just a little bit behind yet," Dykstra said. "We are losing a lot of leaves. A lot of the ash trees are turning yellow. Some of the hackberries and walnuts are starting to drop, but they don't have quite the color of the oaks or the maples."
Dykstra said the park's Mount Lucia overlook is a "great spot" to see vibrant fall colors, but you'll have to get there on foot. For those driving through the park, Dykstra recommends traveling from Elk Point to Dakota Point.
"There's a couple places you can pull your car off and see a couple miles of mostly forested area," he said. "Our park is perfect for just a drive through. We have some nice park loop roads that take you through the timber and the bottoms and up top. The road from our office to our Dakota Point overlook runs right along a ridge top and offers a great view from up there."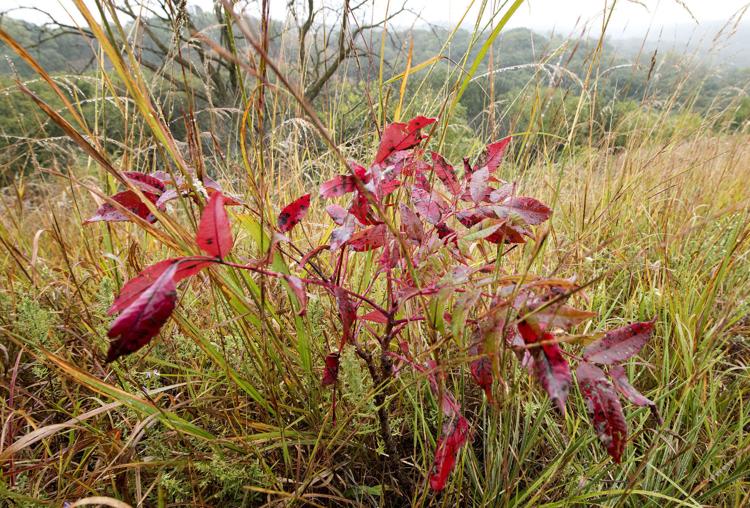 Adams Homestead and Nature Preserve near McCook Lake, South Dakota, is another prime location to see fall foliage. The nature preserve offers nearly 10 miles of limestone trails that wind through prairie, forest and along the Missouri River.
Jody Moats, Adams Homestead and Nature Preserve park manager, said she's seeing "small changes" in color to leaves, but nothing too vivid at this point. Moats urges those picking up leaves on the trails to be cautious. She said poison ivy leaves can be bright red in the fall.
"We're seeing a lot of yellows and browns and a little bit of reds right now," said Moats, who said the best weather for brilliant fall color is ample moisture followed by dry, sunny days and cool, frost-free nights.
For those looking to venture farther, Phillips said the overlooks at Hitchcock Nature Center in Honey Creek, Iowa, shouldn't be missed. She also recommends checking out the Loess Hills Lavender Farm just north of Missouri Valley, Iowa, as well as Murray Hill Scenic Overlook, which is located two miles northeast of Little Sioux, Iowa.
"They keep telling us that the North Raccoon River, which would be Buena Vista County/Sac County, is one of the prettiest rivers in the state. That might be an option too," she said.