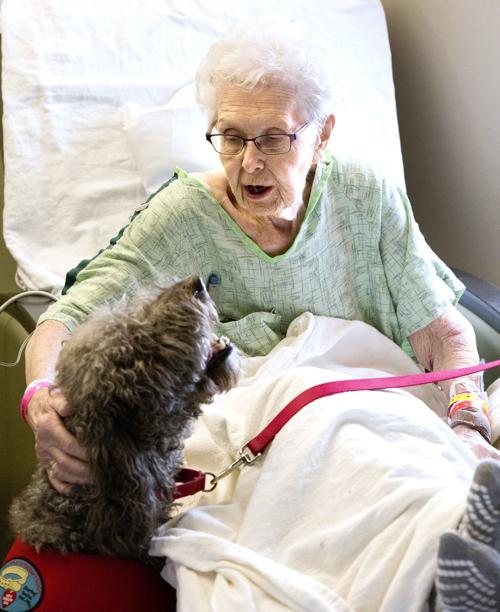 SIOUX CITY -- On a Wednesday afternoon, Jimi, a 7-year-old golden retriever, calmly sat upright on a padded table at UnityPoint Health -- St. Luke's wearing a costume lion's mane adorned with colorful hair clips. Across from him, a female patient in a wheelchair slowly picked the clips from his fake mane.
Of the therapy dogs that visit the hospital on a weekly basis, Jimi is the only one assisting in patients' rehabilitation.
"The patients choose to work with a dog in rehab. He's used as part of their equipment to make them feel good and to motivate them," said Jane Berger, Jimi's owner.
Five years ago, Jimi, who is Berger's fourth therapy dog, began working with patients. Jimi participates in competitive obedience and is an expert at impulse control.
"At an obedience competition, I might throw a dumbbell and he has to wait until he's sent to get it. Here, they might kick a ball to him and the ball might go someplace where I don't want it to, so then I release him. He has to pick up things. He picks up rings," Berger, of Sioux City, said. "A lot of it transfers from what he already knows."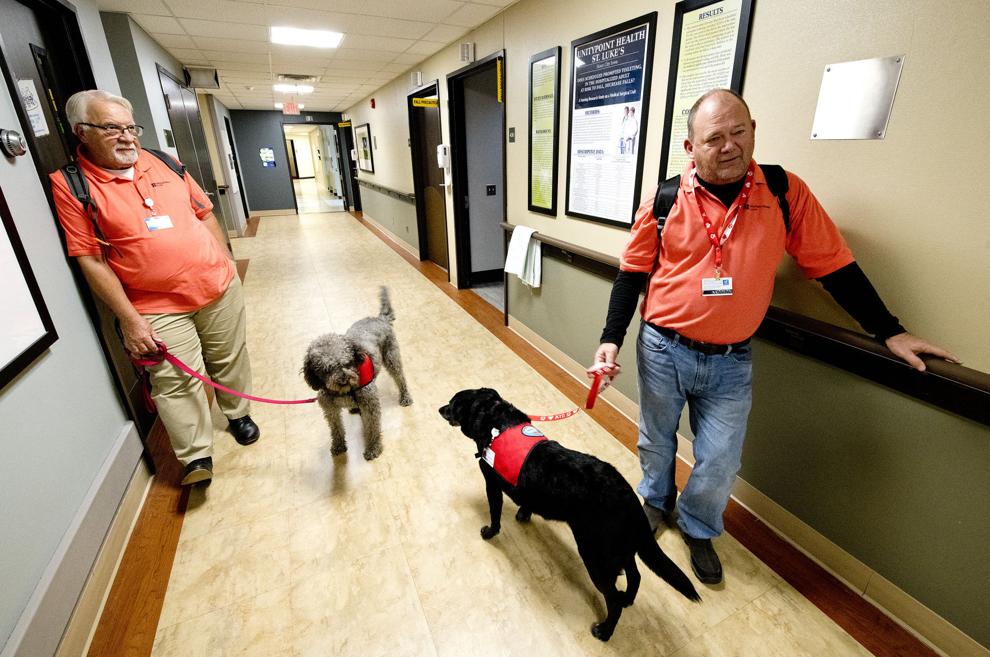 On another floor of the hospital, Gracie, a 10-year-old border collie and golden retriever mix, and Jetta, a 5-year-old labradoodle, patiently waited in a hallway with their owners. They were dressed in red vests stitched with the words "I am a therapy dog."
When Gracie walks through the hospital's doors, Ran Newberg, of Sioux City, said she knows that she has to be "cool, calm and collected."
"They learn that it's a job; and their job is to make people happy," said Newberg, who has been bringing Gracie to the hospital since she was 2.
Bob Clem, of Sioux City, remarked, "You're a nice dog," from a chair in his room at St. Luke's as he petted Gracie's shiny black coat. Clem said he requested a visit from a therapy dog because it seemed to really cheer up his late wife when she was hospitalized.
"Most people love dogs," Clem said. "It's a good program. It's fun."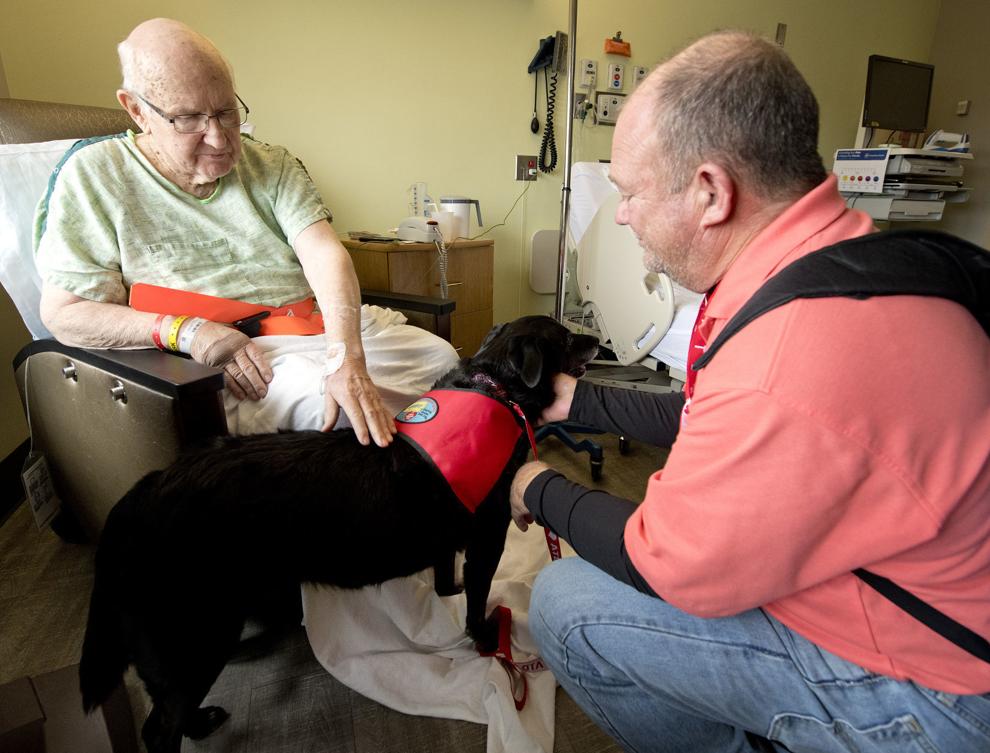 Gracie loves to play Frisbee and participate in agility when she's not comforting patients, but after a trip to the hospital, Newberg said his pooch is worn out.
"You would not imagine how much energy she's burning by being this calm. When we leave here today, she'll curl up in the front seat and go sound asleep," he said. "That's how I know she's had a good day at the hospital."
John Street, of Ponca, Nebraska, thought he needed something to keep him busy when he retired from teaching. Street took a job in Ponca's school library and got Jetta, a happy-go-lucky pooch with a silky-soft gray coat.
Street found Jetta by placing an ad seeking a labradoodle or goldendoodle puppy to train as a therapy dog. A Brookings, South Dakota, breeder contacted Street about a puppy he had that was "really laid-back."
"I always said she was born to be a therapy dog," Street said.
Jetta wagged her tail as she trotted into Mildred Richards' room and sat down at her side. Jetta looked as if she was smiling with her wide open mouth as she soaked up the attention from Richards, who cooed, "You're a nice puppy, aren't you?"
"Her trademark is, probably, she offers her paw," Street said of Jetta. "It just makes me feel so good. It's really an emotional experience to be here and see how we can brighten the day of these people."
Aalfs Manufacturing historic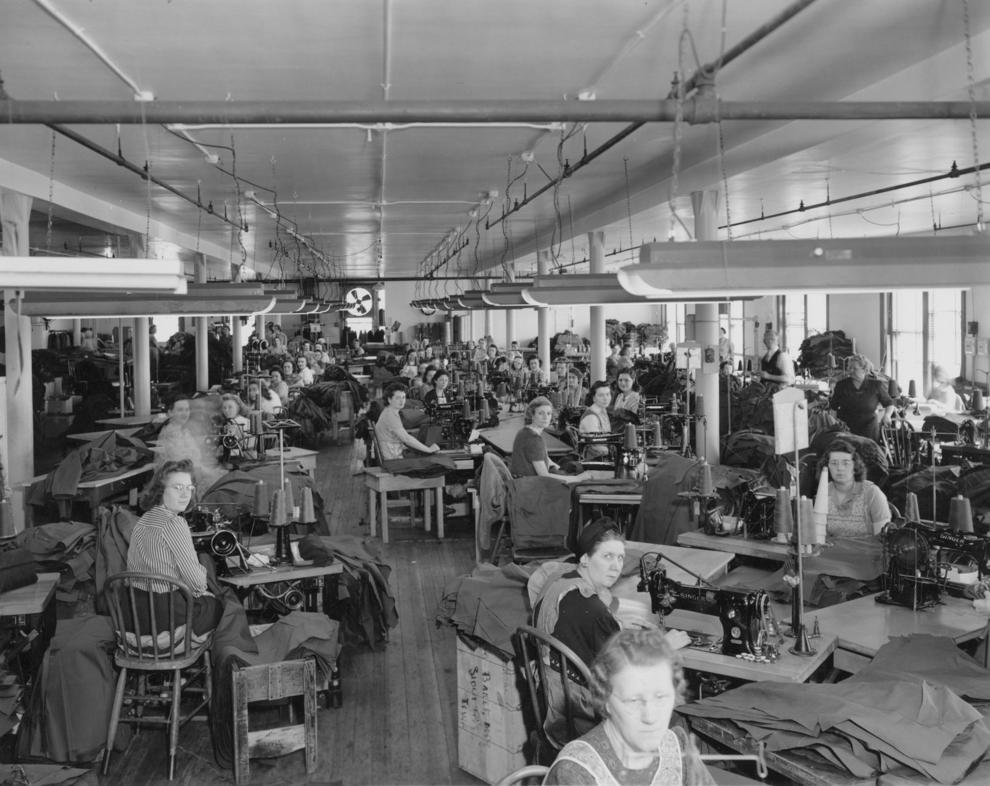 Capital Theater 1940-1959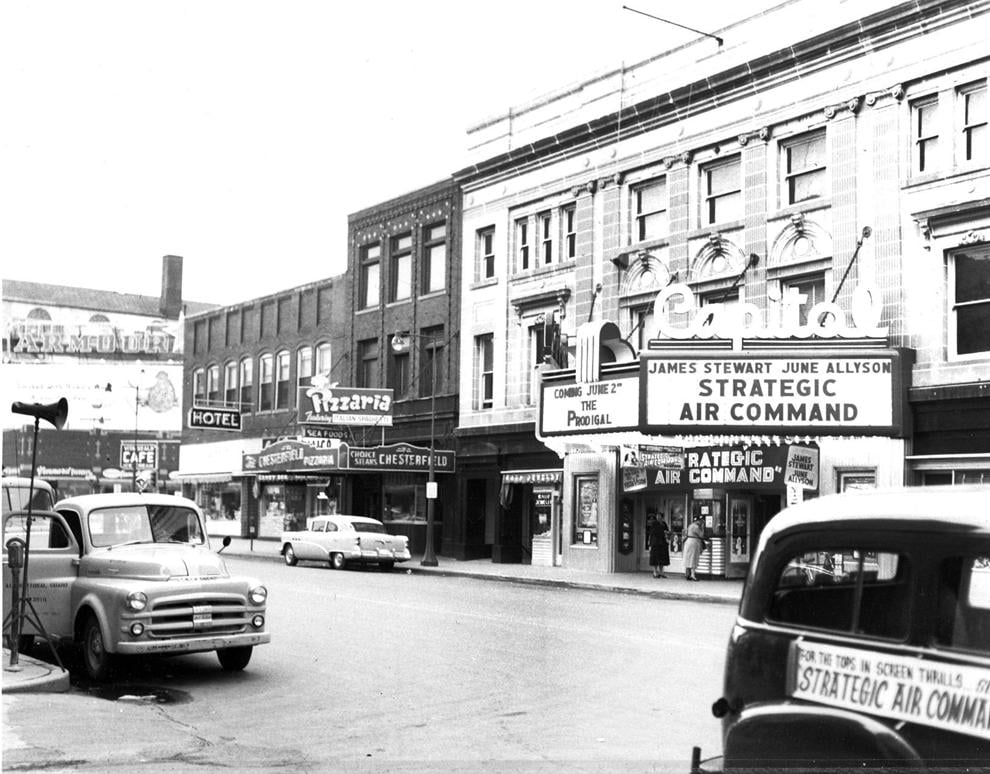 Badgerow Building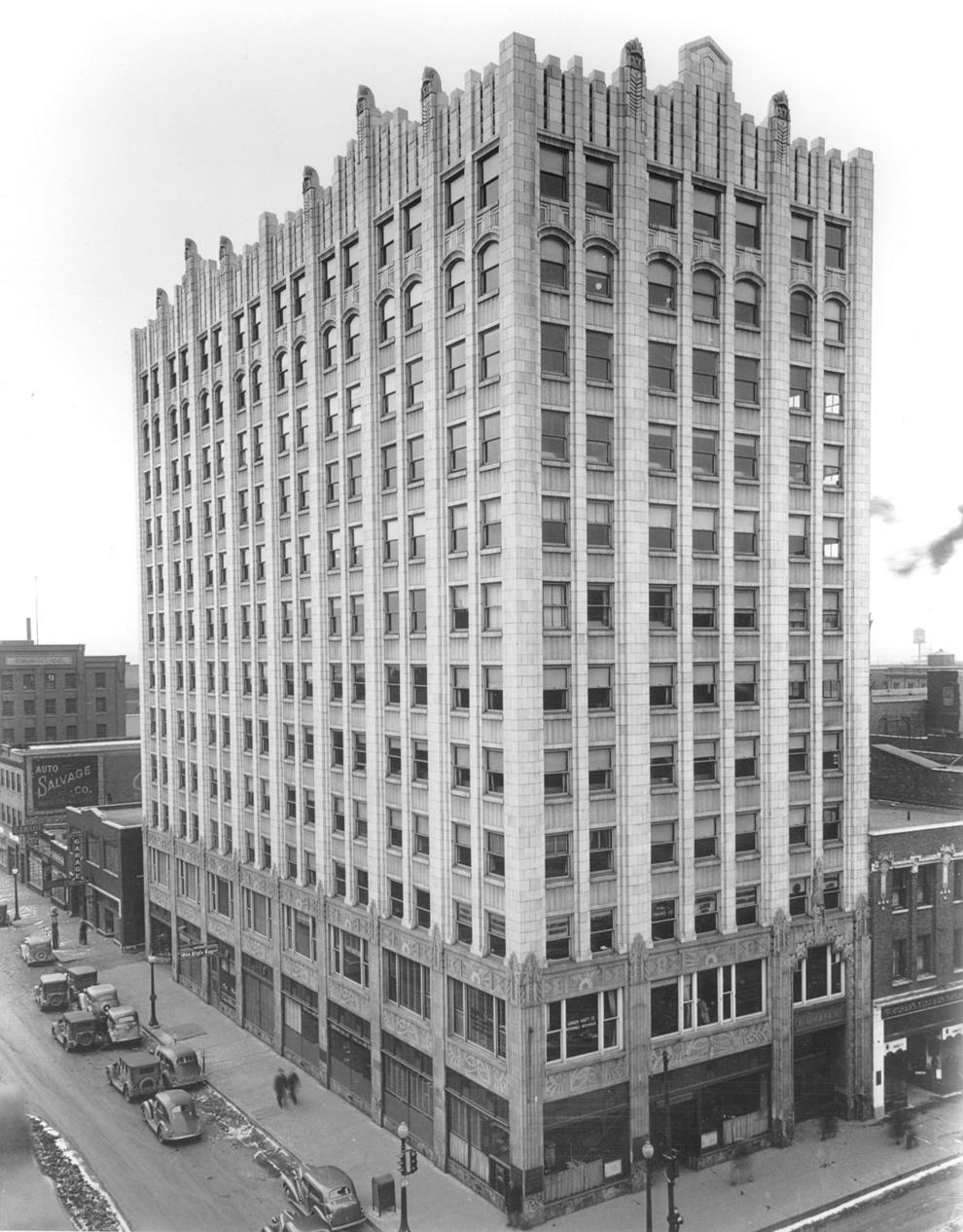 Salvation Army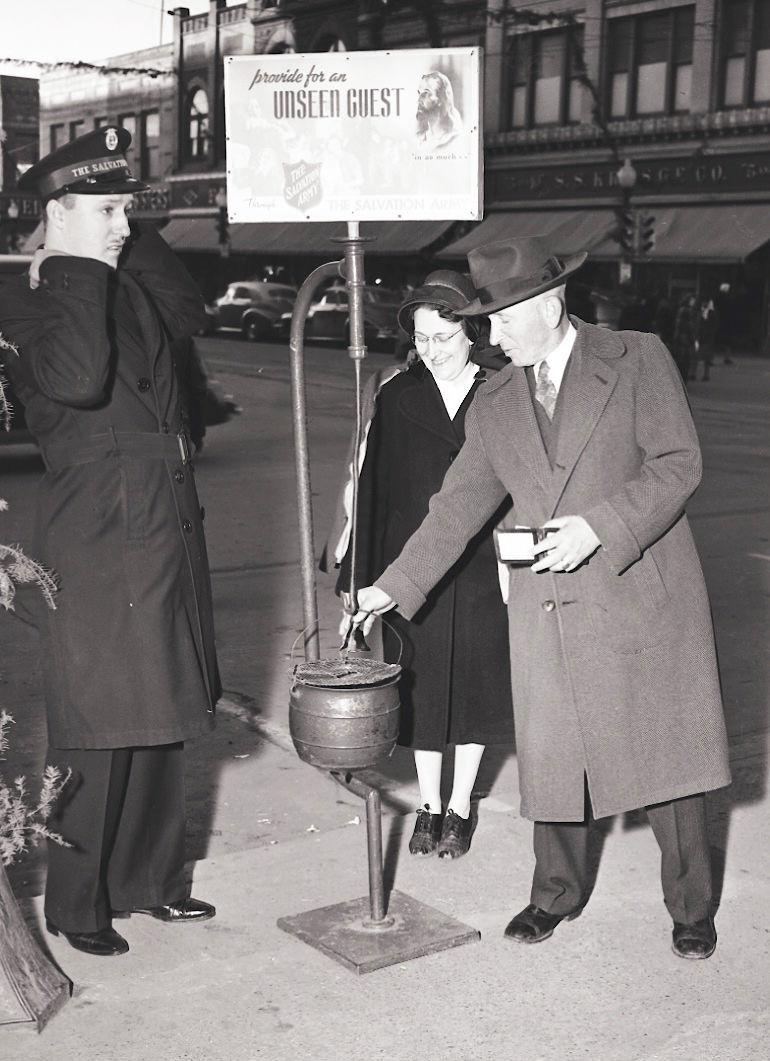 Chesterfield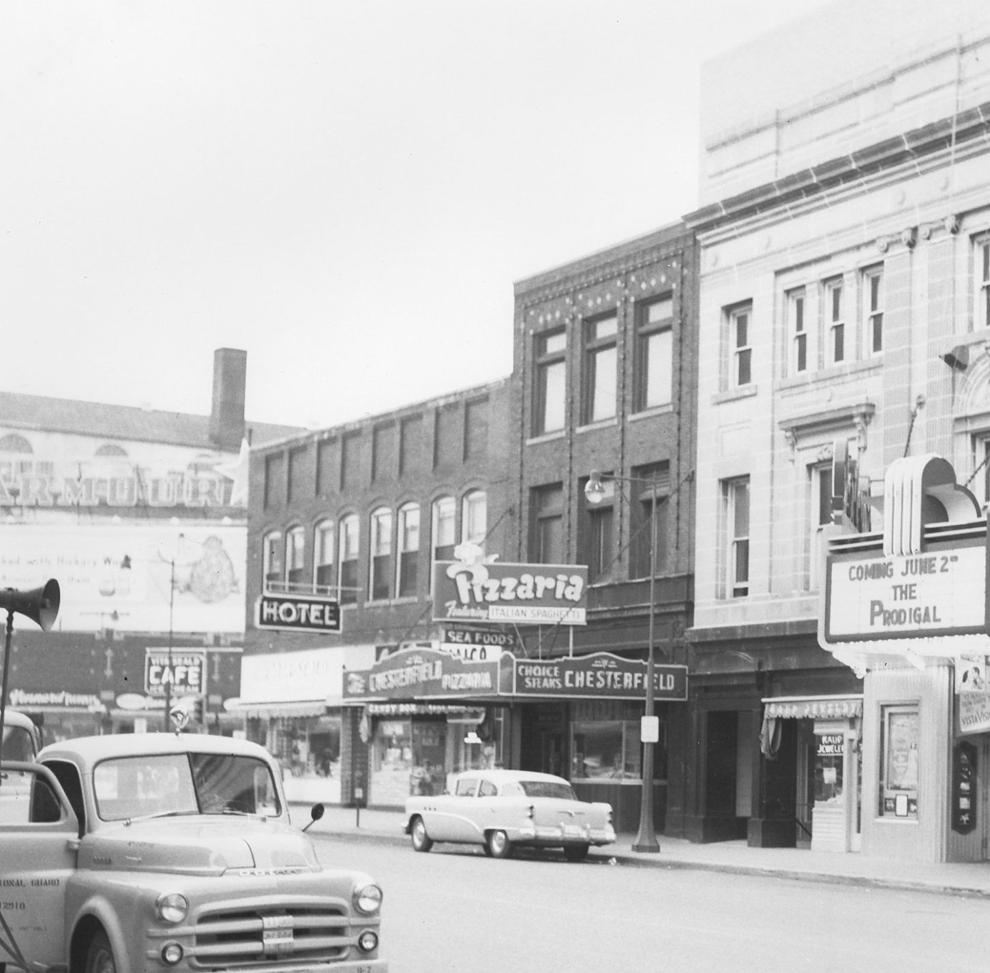 Morningside Avenue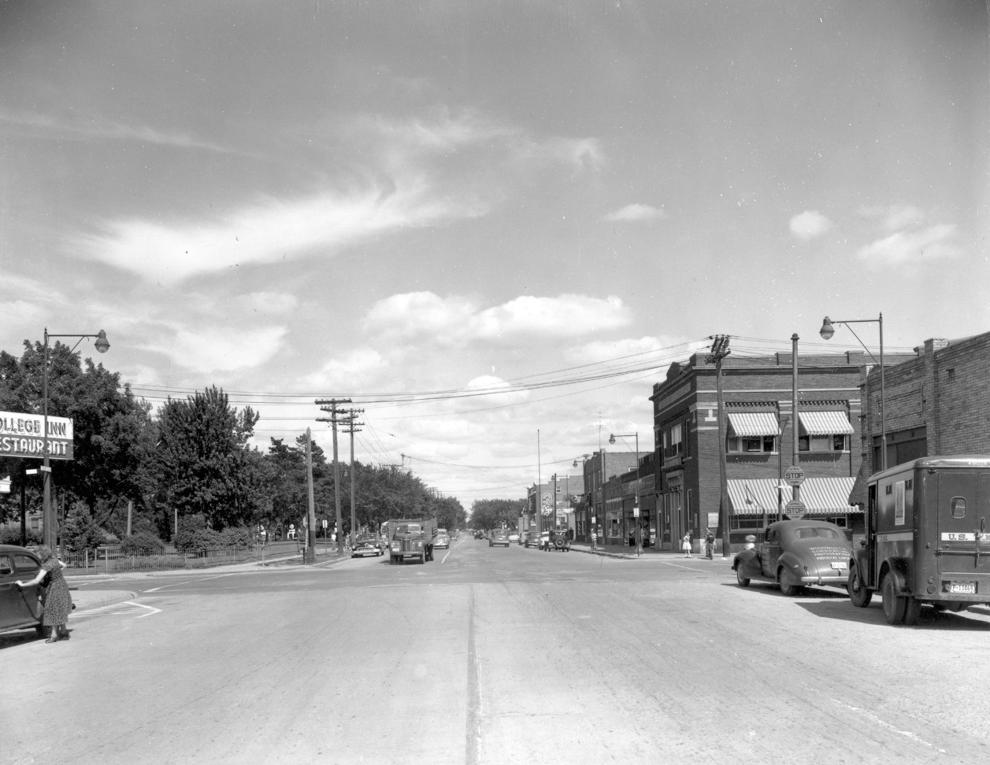 Pierce Street 1941
Bishop Cafeteria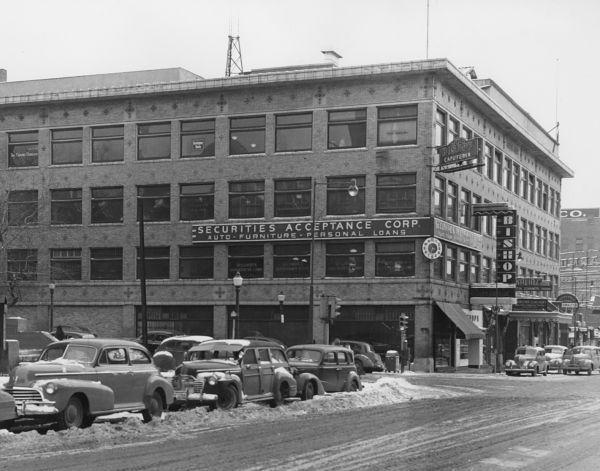 Blizzard: 1940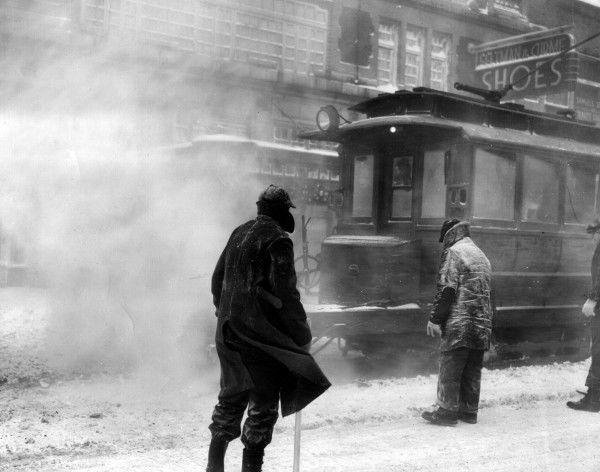 Sioux City's Memorial Drive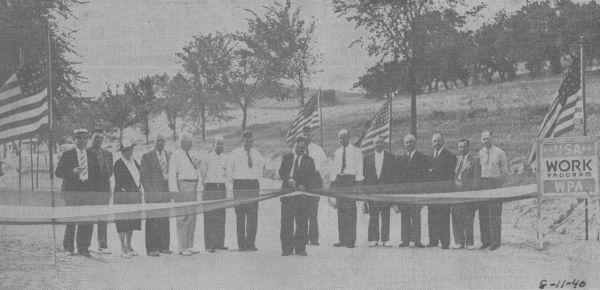 Jennings street house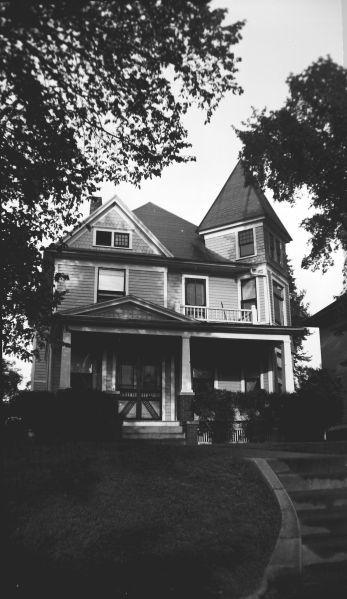 Reservoir Park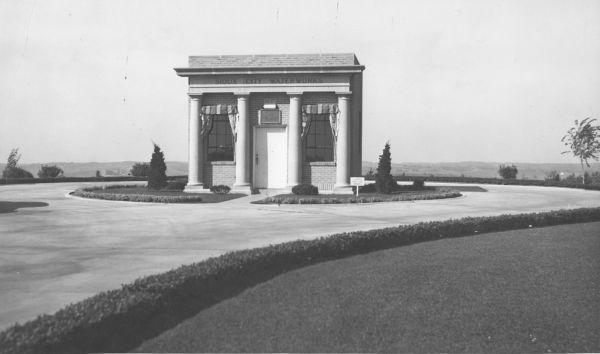 Battery Building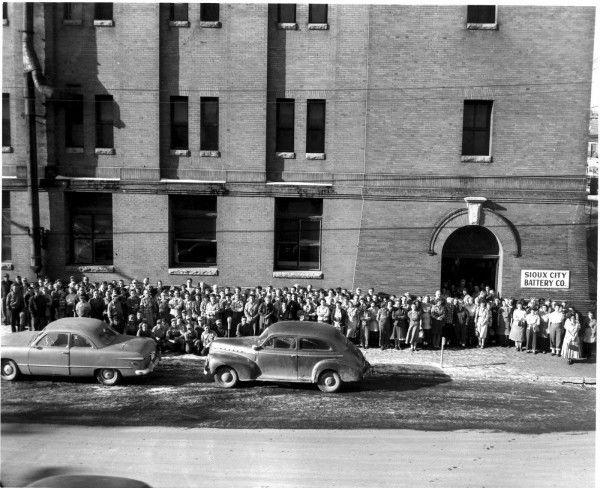 Savoy Supper Club/Historic Fourth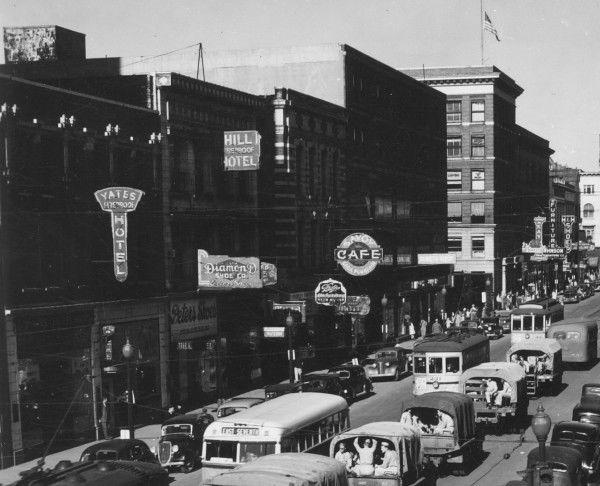 Sadoff's Men's Clothing store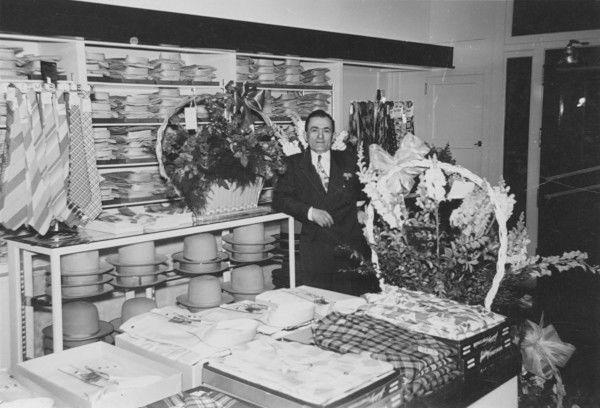 Sioux City circa 1940-1959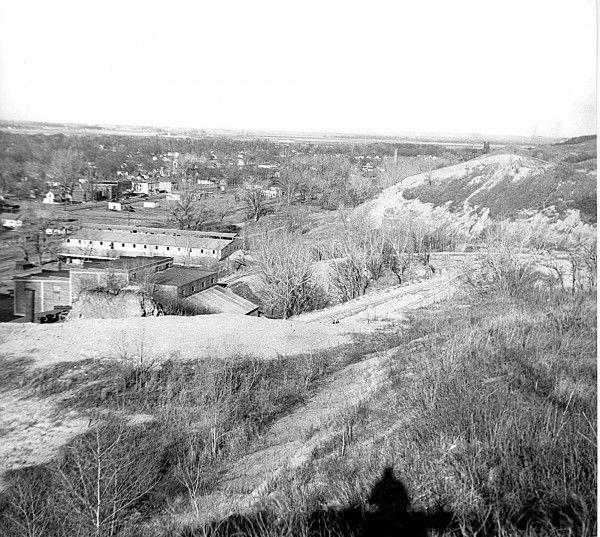 Leif Erikson Pool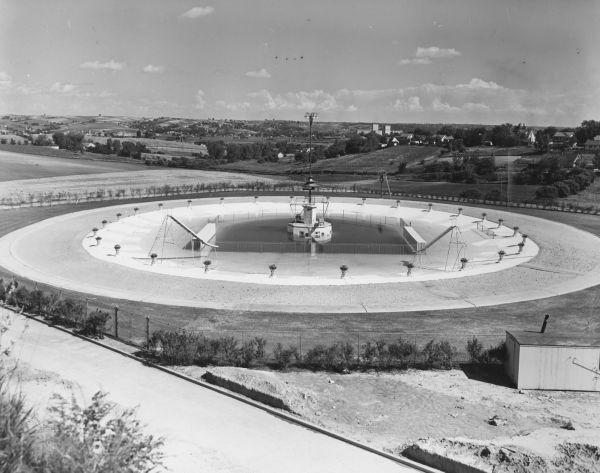 Sioux City Journal history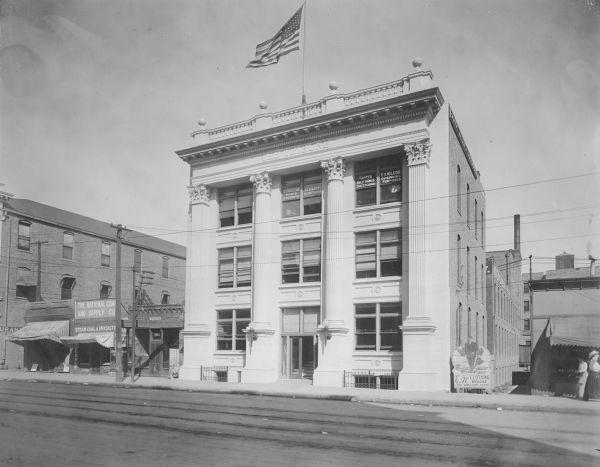 Morningside drama department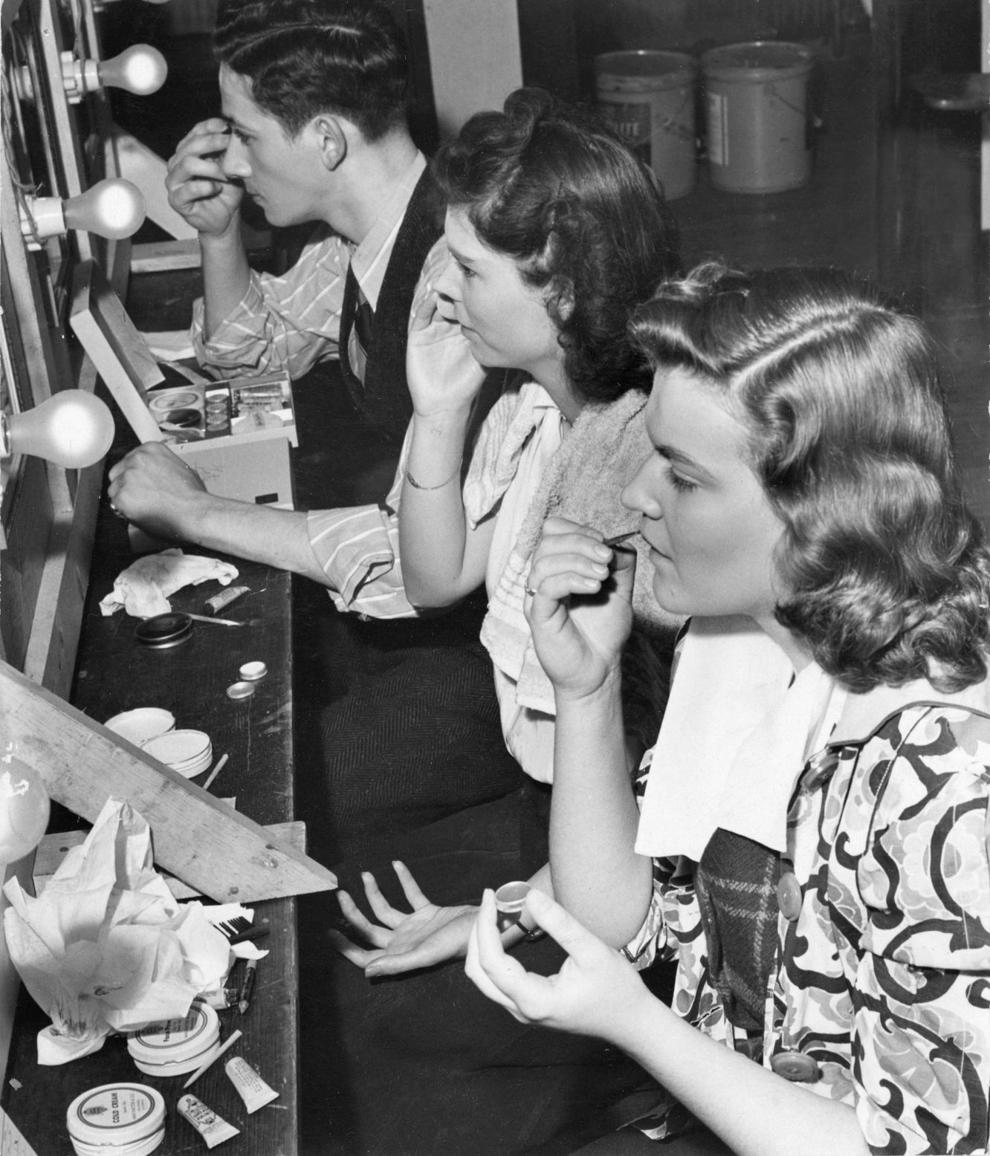 Elevated railway piers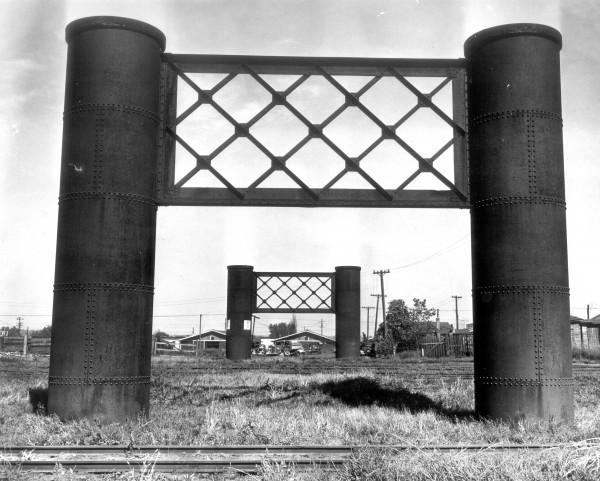 First World War Cannon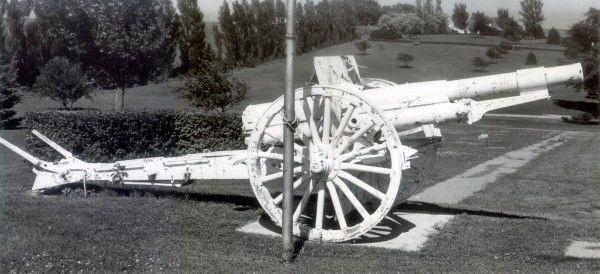 Louise Sammons Freese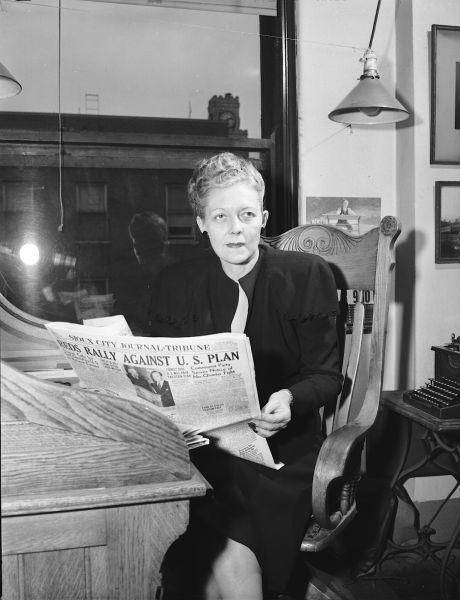 City Hall 1948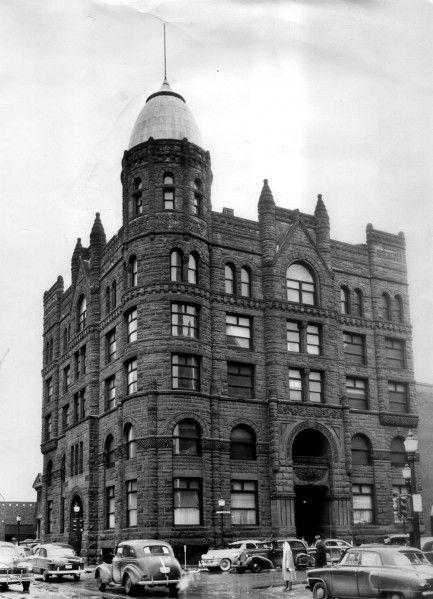 Judas goats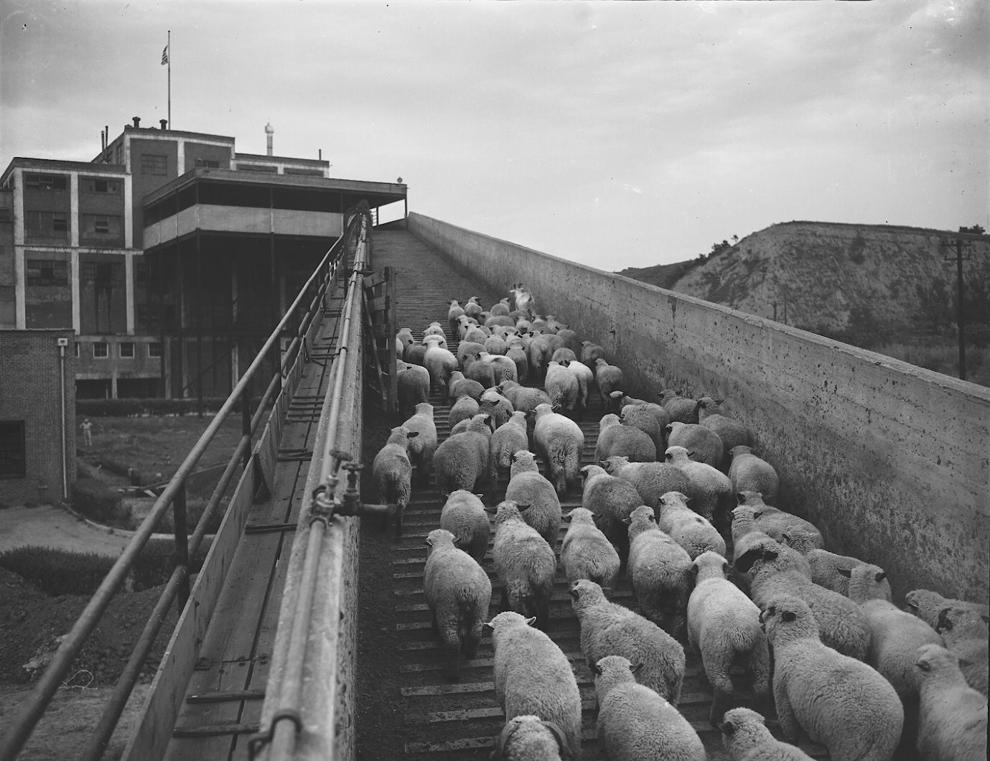 Judas goats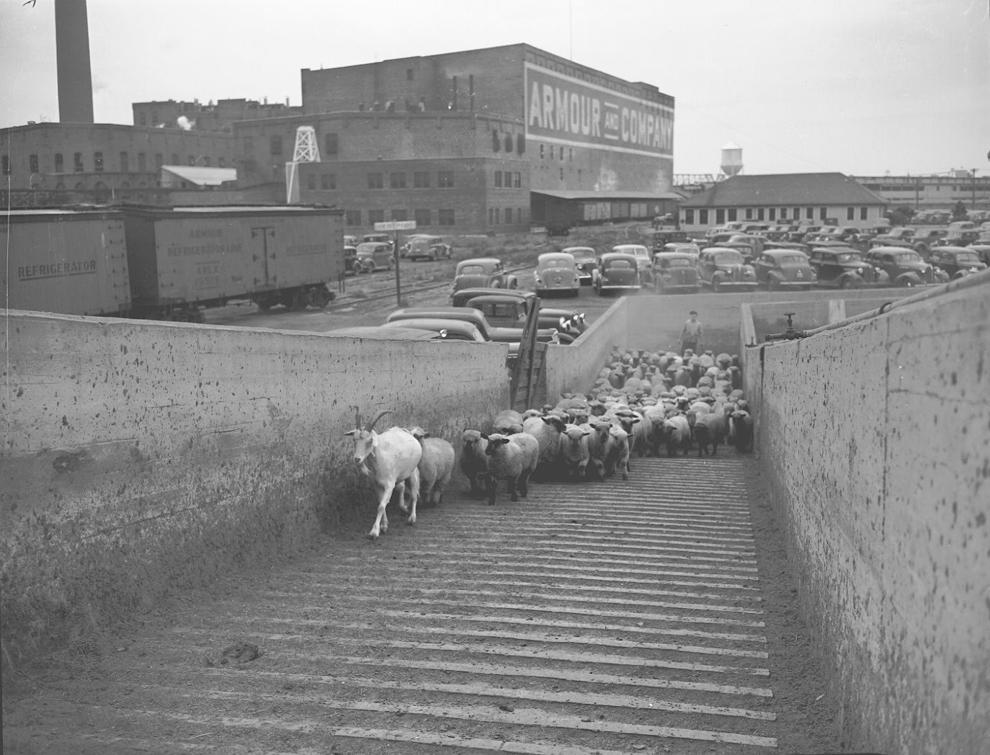 Labor Day Parade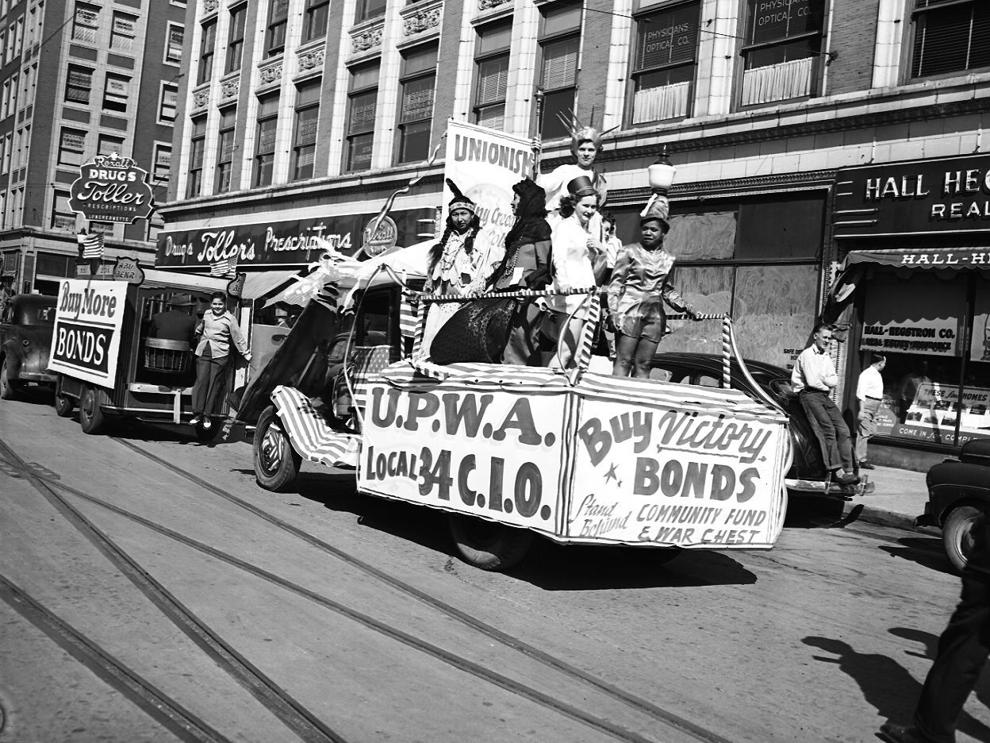 Labor Day Parade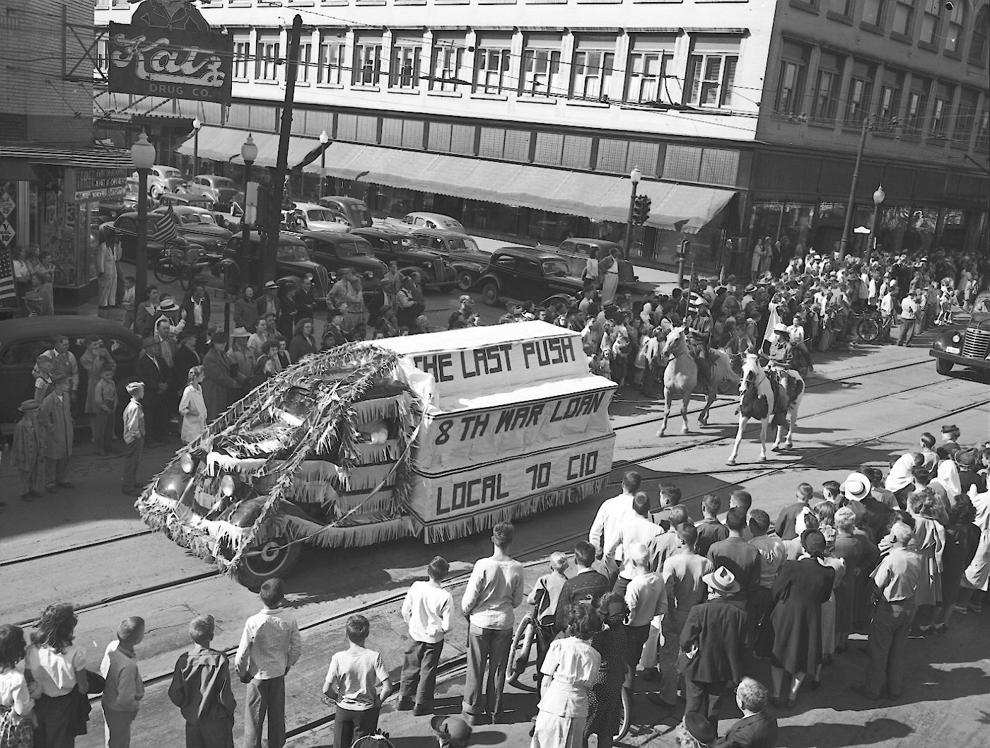 Sioux City Air Base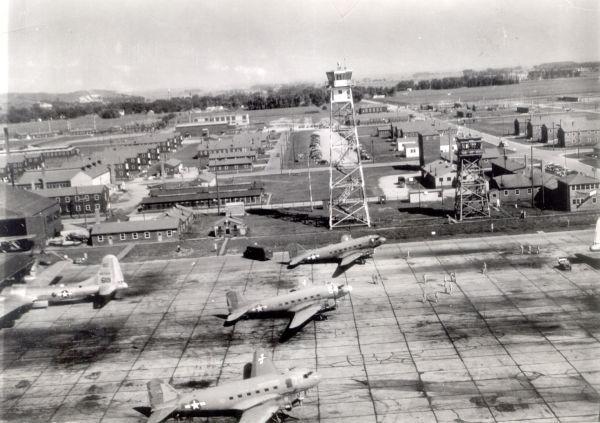 Condon Motor Co.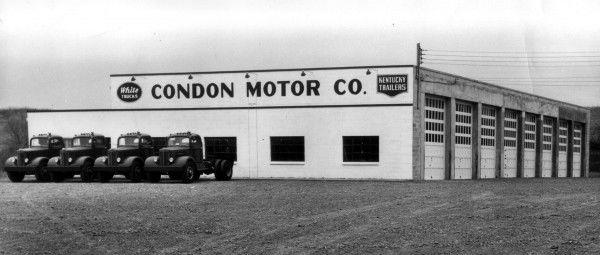 Combination bridge, 1945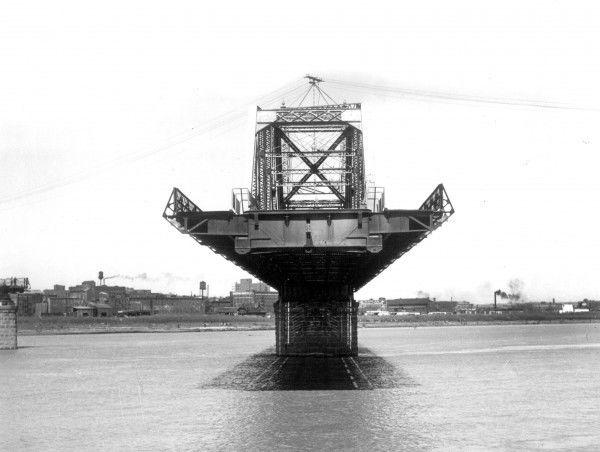 1945 Christmas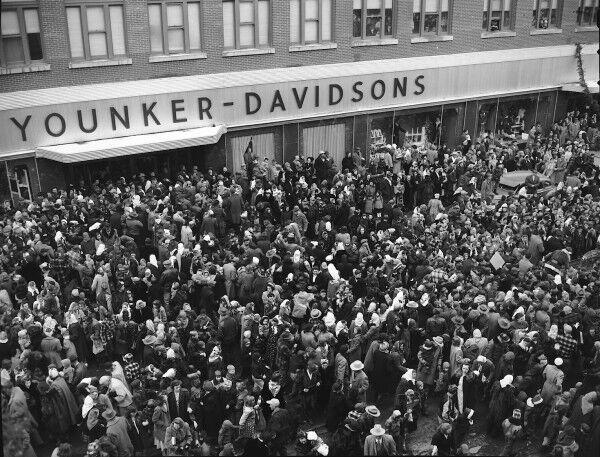 Sioux City Sue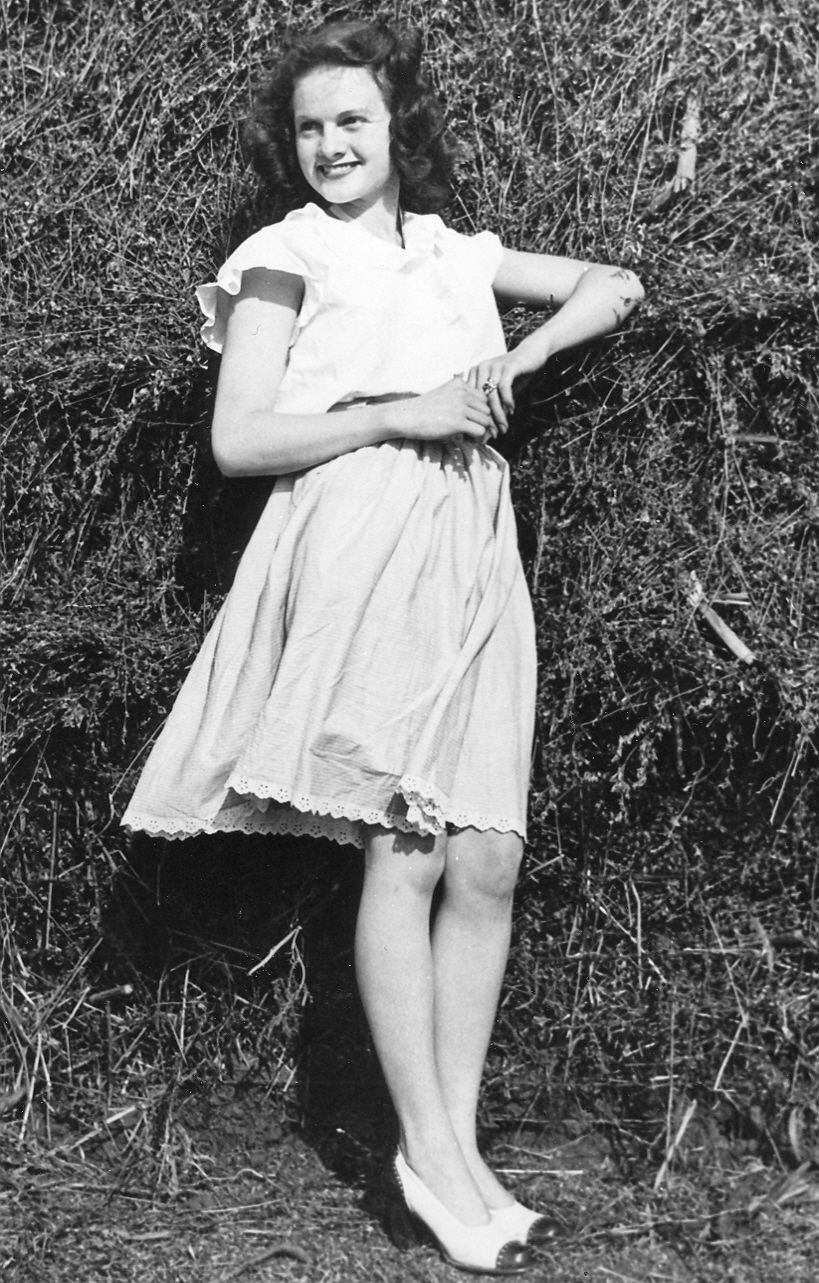 Labor Day Parade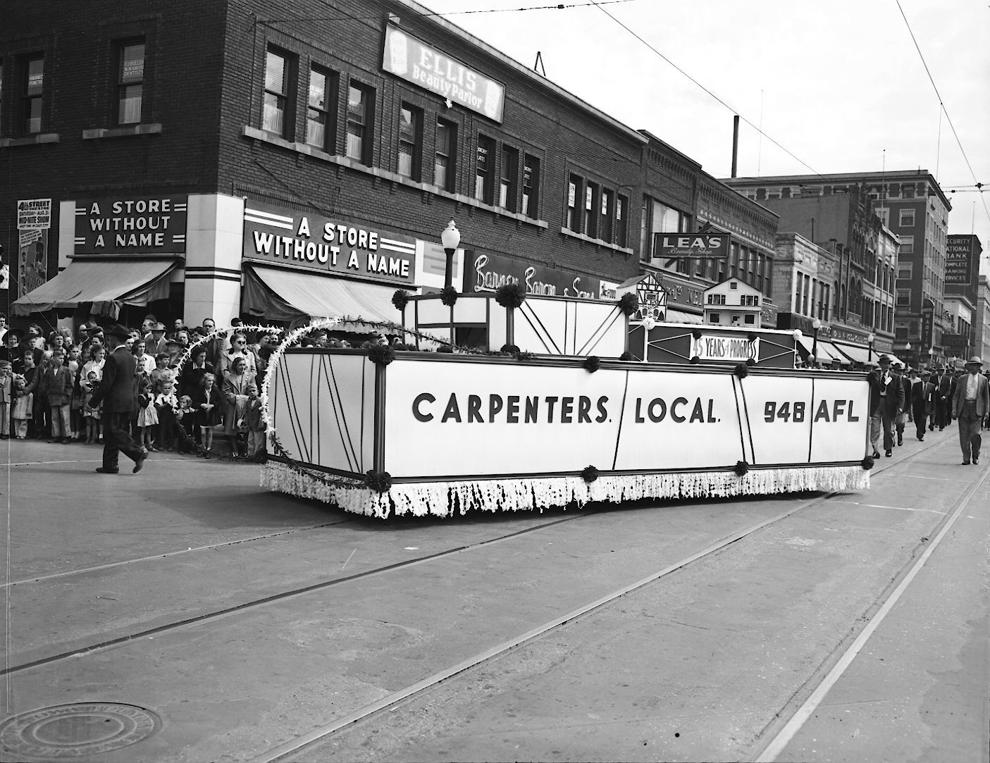 Labor Day Parade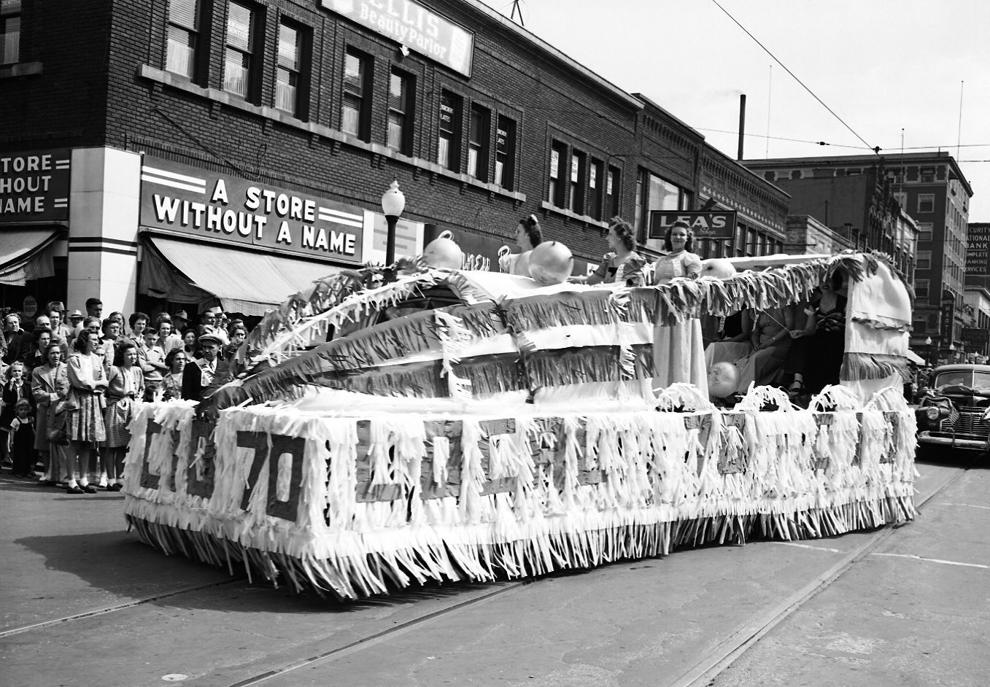 Baber's Vis-Vita Sales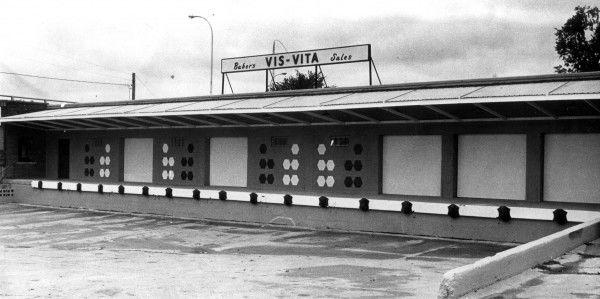 International Milling Co., 1947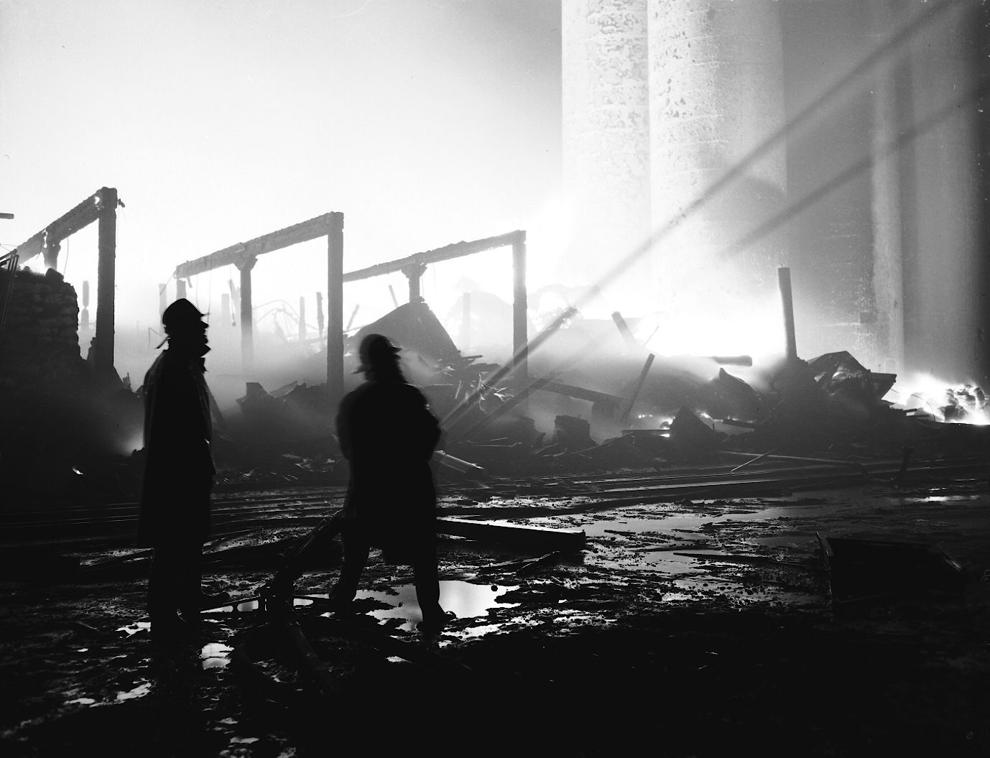 Vigen Motor Company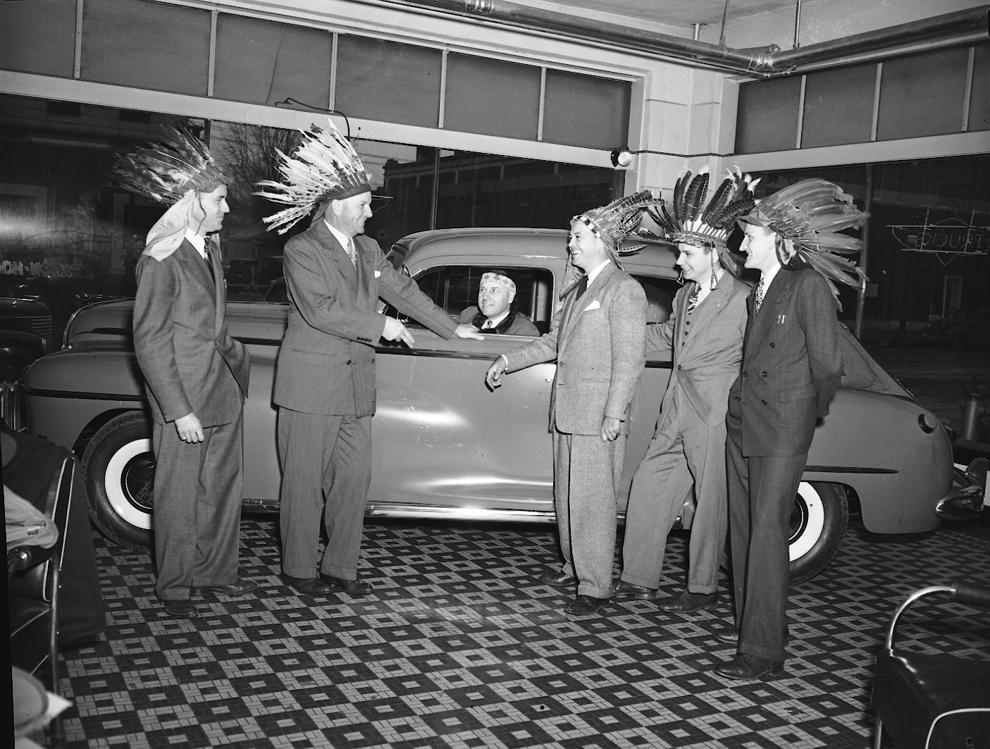 Carlin Motor Company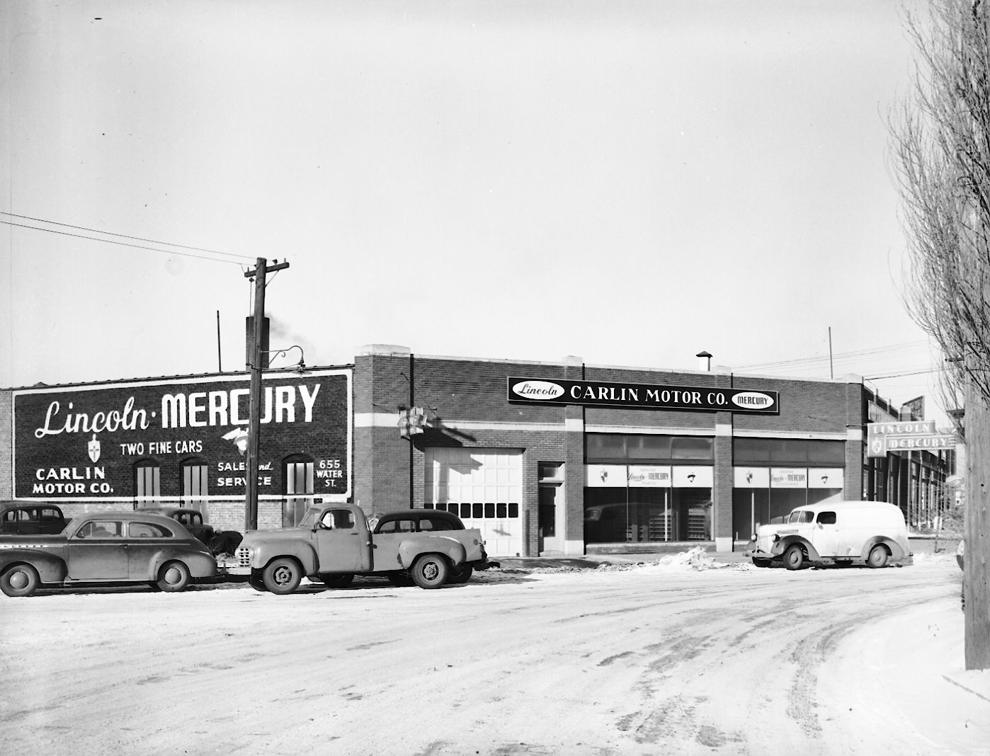 Community House City Champions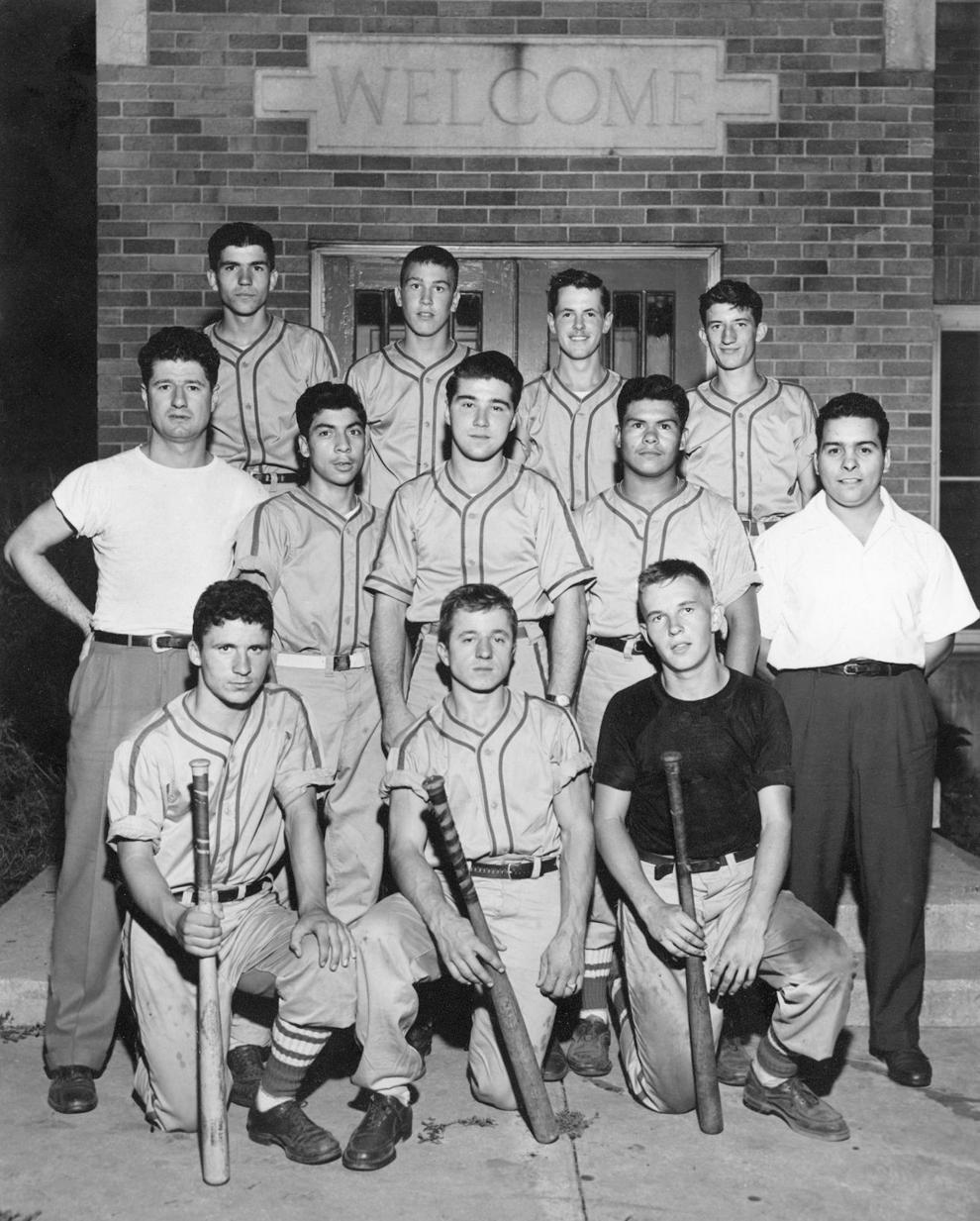 Kresge building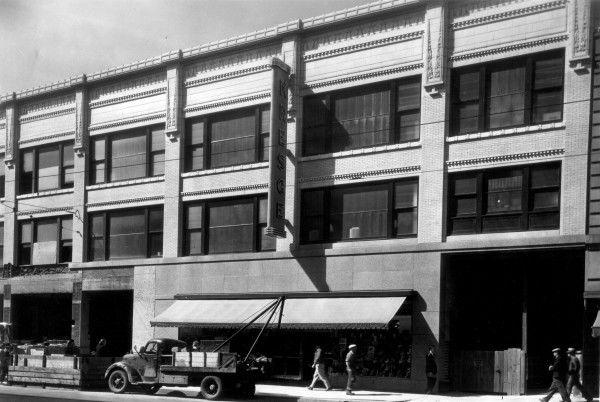 H&H Building in downtown Sioux City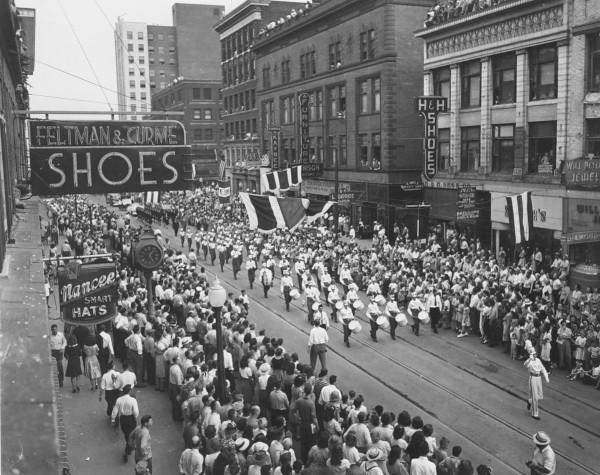 Blizzard: 1947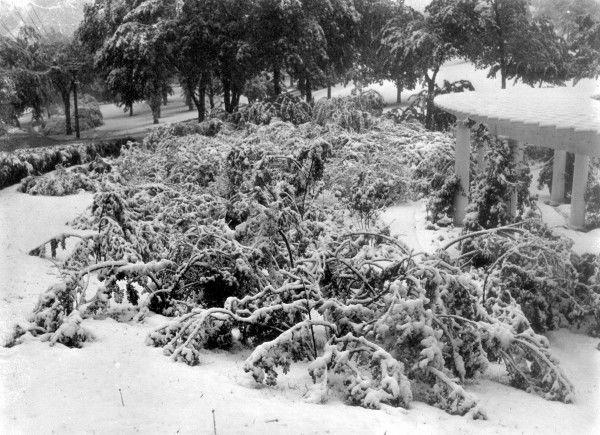 185th Birthday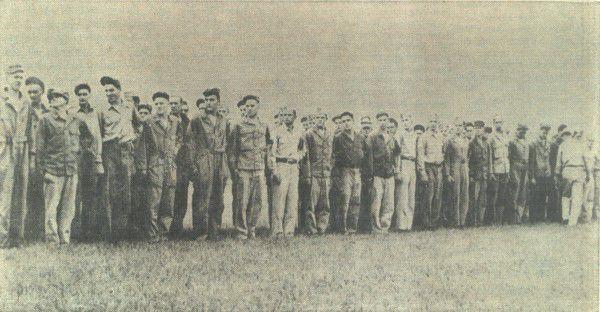 Unitarian Church fire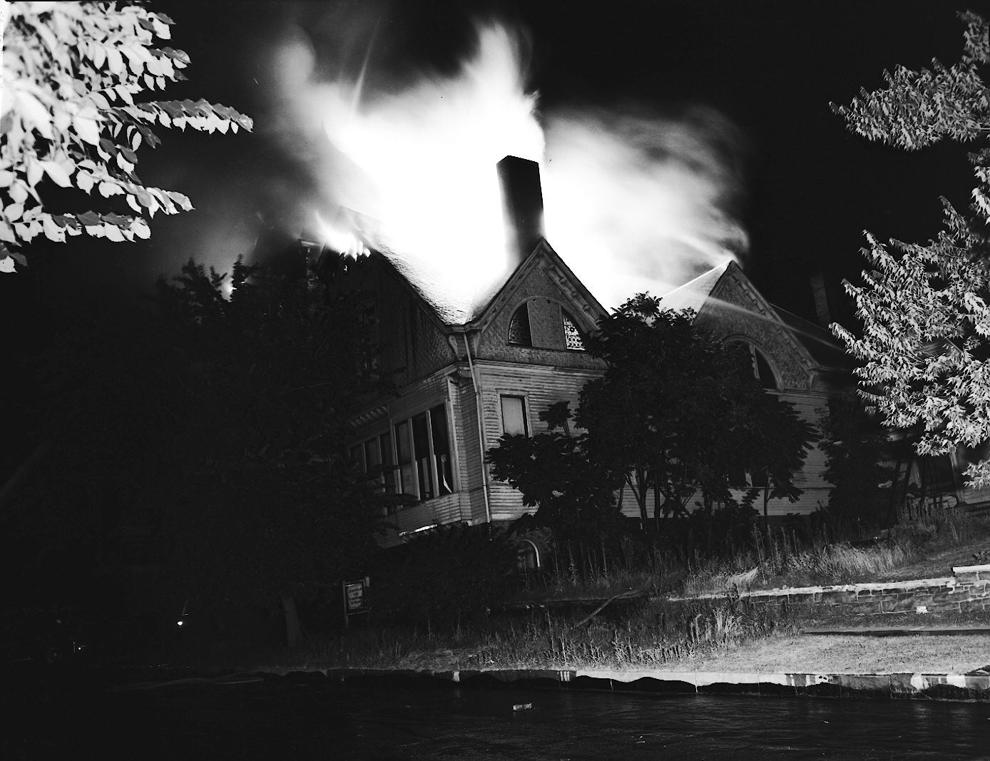 Heelan High School groundbreaking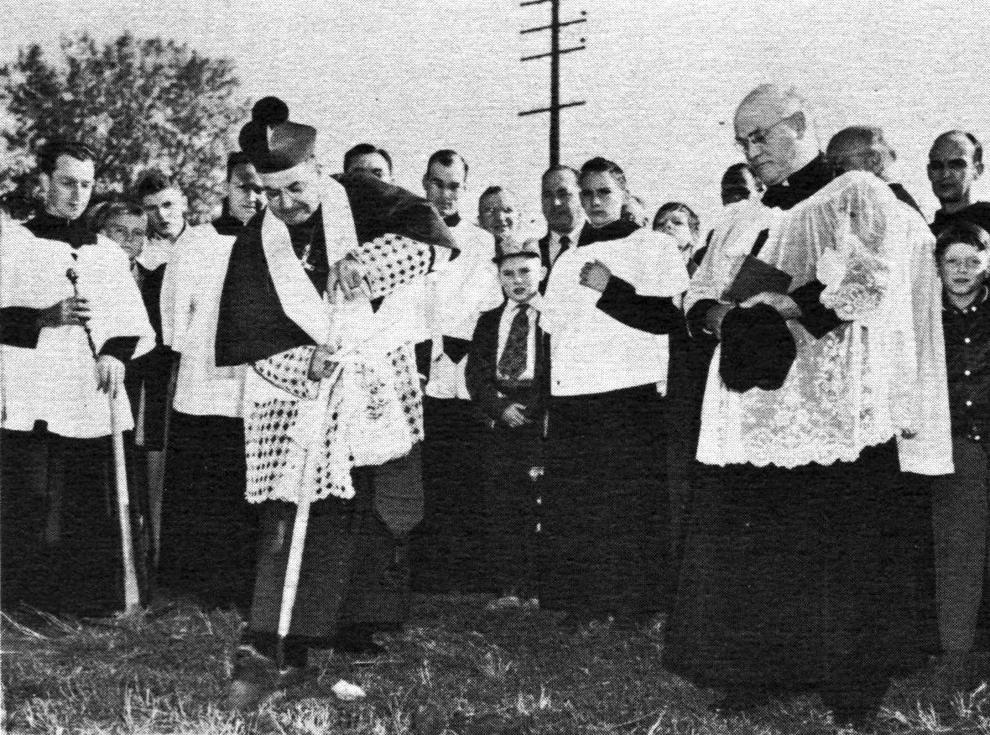 Heelan High School construction 1948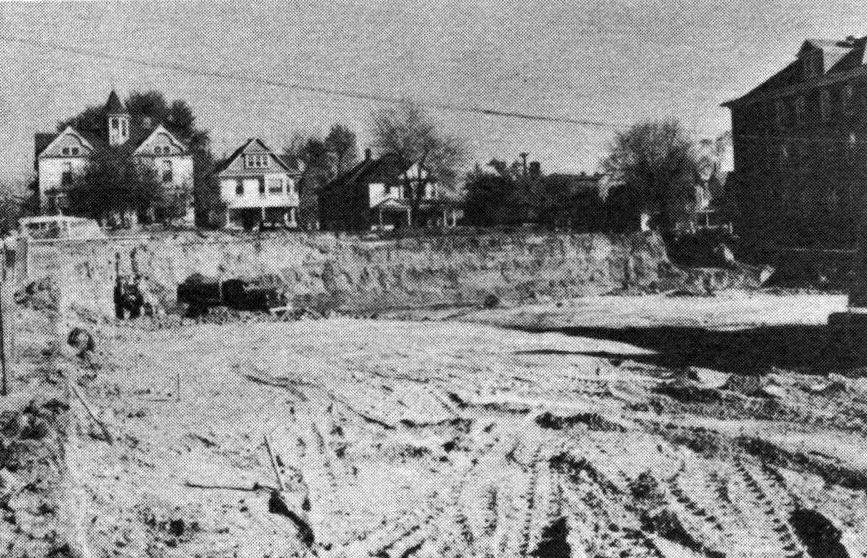 Heelan High School construction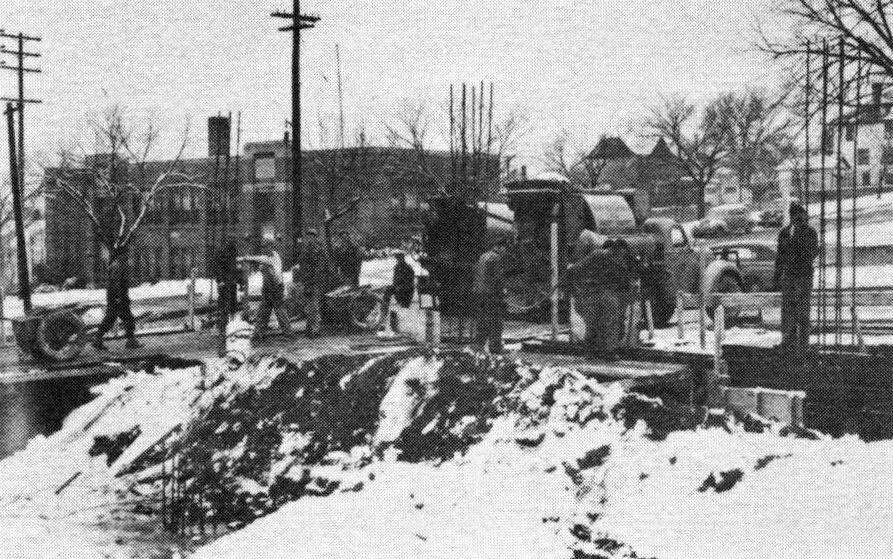 Streetcars out to pasture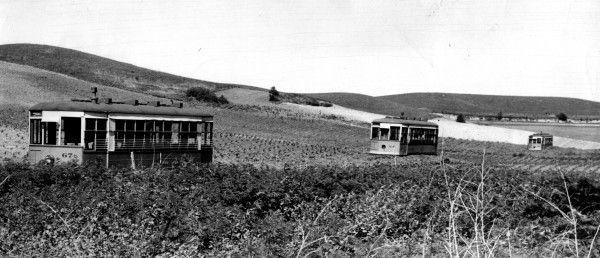 Heelan High School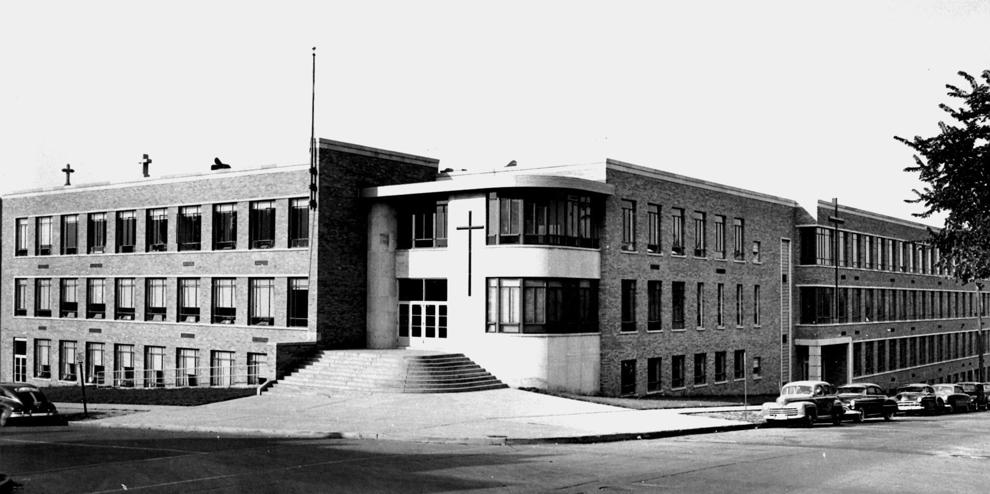 Dividend Oil Co.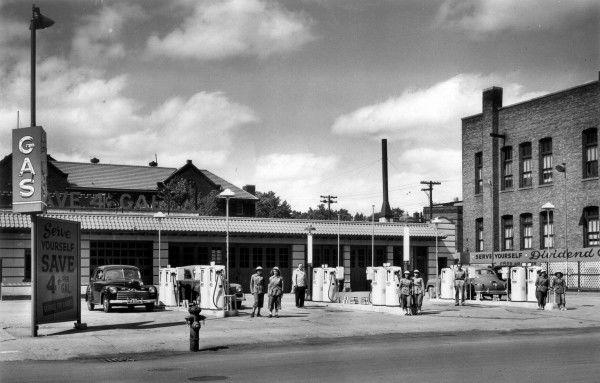 Blizzard: 1949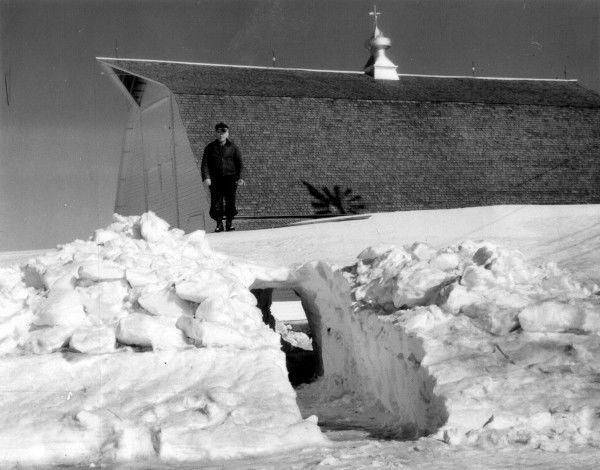 Halloween in 1949