SIOUX CITY -- Dissecting a human cadaver was a little uncomfortable at first for Casey Zoss, a junior biochemistry and applied math major at Briar Cliff University, but after a few sessions of advanced anatomy lab, Zoss became accustomed to the process. 
"You realize that these donors really gave their bodies exactly for this purpose and the purpose of our education. That really is a settling feeling," said Zoss, a native of Letcher, South Dakota, who plans on applying to medical school and becoming a doctor.
The one to two cadavers used annually in advanced anatomy lab, a spring course primarily taken by undergraduate biology and kinesiology majors, have been supplied by the South Dakota Body Donor Program since the 1990s. The program, which is managed by the University of South Dakota Sanford School of Medicine, is currently facing a critical shortage of cadavers.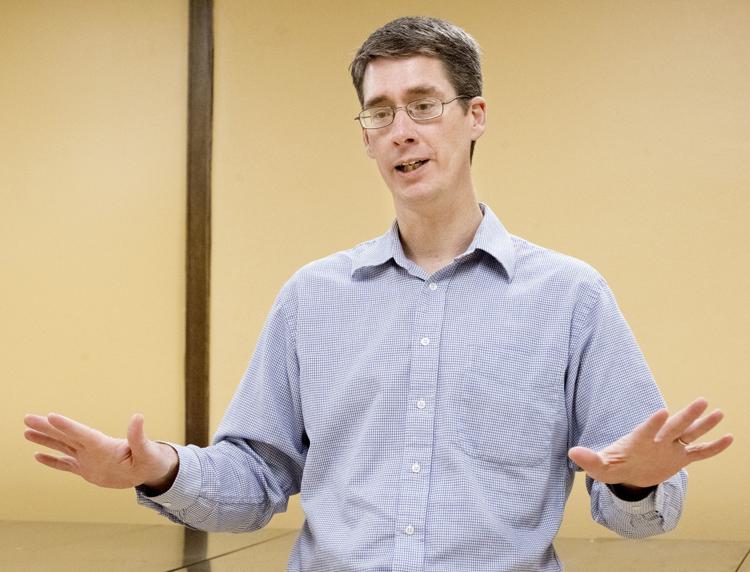 Dr. Jason Adams, associate professor of physical therapy at Briar Cliff, said Briar Cliff reached out to USD before the school began its doctor of physical therapy program in 2015 to see if the South Dakota Body Donor Program could supply six or seven cadavers a year. At that time, Adams said there were concerns that USD wouldn't be able to fulfill that request. He said the University of Iowa was able to meet the physical therapy program's needs.
Sara Bird, South Dakota Body Donor Program coordinator, said donations were down 60 percent in 2017, compared to the previous year. She said the shortage could be regional in nature and have multiple explanations, including the fact that people are living longer. Bird said articles published about bodies being mishandled by body donation programs outside the academic realm may also be affecting donations.
"There could be a scare that someone's loved one is not going to be taken care of, that programs might not hold respect for their donors," she said. "I think all loved ones who have someone who has donated or has someone who is thinking of donating really experiences a fear that their loved ones may not experience respect or be taken care."
Showing respect
Researchers estimate that only about 20,000 Americans donate their bodies to science each year.
While medical models and other high-tech alternatives to working with human cadavers exist, Adams said there's nothing like the real thing.
"For any student of physical therapy to be able to see the layers that the body is made up of and palpate through those layers to find a particular landmark that they're looking for, whether it's a bony landmark or a landmark from soft tissue, that's something that, in my opinion, nothing else can be used to teach," said Adams, who noted that the psychological and emotional reaction that students have while working with a human cadaver would be lost if the cadaver was replaced with a dry model or computer simulation.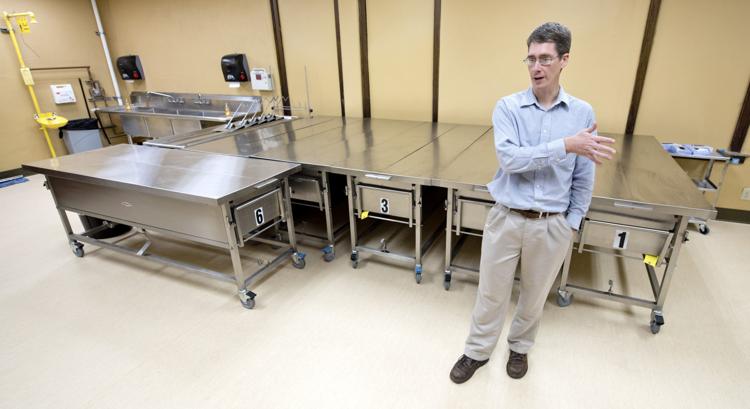 Before students even enter the lab, Adams said he spends a significant amount of time talking with them about respecting and being grateful for the cadaver, their first patient. Zoss said he and other students handled themselves "carefully" not only out of respect for the donors, but to preserve the integrity of their bodies. Students receive little information about the bodies other than the person's age or the date of their death.
"Yes, these people are deceased, but we still practice respect with the bodies and carry ourselves well in the lab," Zoss said.
Both Briar Cliff and USD hold memorial services, which allow students to reflect on how body donors have benefited their education.
Adams said a prayer service takes place in Briar Cliff's cadaver lab before dissection begins. After students have finished working with the cadavers, he said a memorial service is held in the chapel. Candles are lit to represent each of the donors.
"In the past, we've had students play the piano," he said. "We'll have students either recite a poem or a short speech about their experience with the cadavers. It's very meaningful." 
Donation process 
Bird said the body donation process at USD begins with prospective donors filling out a declaration of consent form and a brief medical history survey. The program doesn't accept donors under age 18.
If the information coincides with the program's needs and the safety of students and faculty, Bird said the donor is considered registered for the program.
"Once they pass, we work with the funeral home and we make the necessary plans to ensure that they get to USD," said Bird, who said visitation or a funeral service can be held before the body is transferred to the Sanford School of Medicine.
Bird said factors that would eliminate a person from donating their body to the program include, for example, being morbidly obese at the time of death, or having a communicable disease that could threaten the health of students and faculty, such as AIDS, HIV, chronically untreated hepatitis and MRSA.
"If family members or friends are adamantly against donation, we will not go against the wishes of loved ones or the next of kin," Bird said. "If someone passes in a traumatic accident, that would not make their body viable for a study with us."
After students complete their study, all cadavers are reduced to ash. The ashes are either buried at Bluffview Cemetery in Vermillion or returned to the family at the expense of the estate.