SIOUX CITY -- After spending two weeks caring for some of Romania's most vulnerable children, Allyson Olsen's career path looks clearer.
Before the volunteer trip, Olsen, a Sioux City native who will graduate in December from the University of Nebraska Omaha with a bachelor's degree in elementary education and inclusive practices, was considering becoming a child life specialist. These pediatric health care professionals provide support and education to children and families as they cope with hospitalization, illness and disability.
"'I'm going to see what Romania is like and see how emotionally draining it is,'" Olsen recalled of her thought process. "I think after the trip it just clarified to me that that's what I want to do my master's (degree) in."
Olsen previously traveled to Puerto Rico and St. Louis on mission trips through her church.
"That just sparked my interest in volunteering," she said. "After my freshman year of college, I kind of knew that I wanted to do something."
Olsen said she wanted to volunteer abroad, but she wasn't exactly sure where. She looked into a program in Thailand and also considered volunteering in Ukraine.
A Google search turned up Global Volunteers, a nonprofit nonsectarian development assistance organization in special consultative status with the United Nations. The organization's Romania service program sounded like the perfect fit for Olsen, who would have the opportunity to provide care for abandoned special needs children, upgrade and brighten hospital rooms and teach English to young students.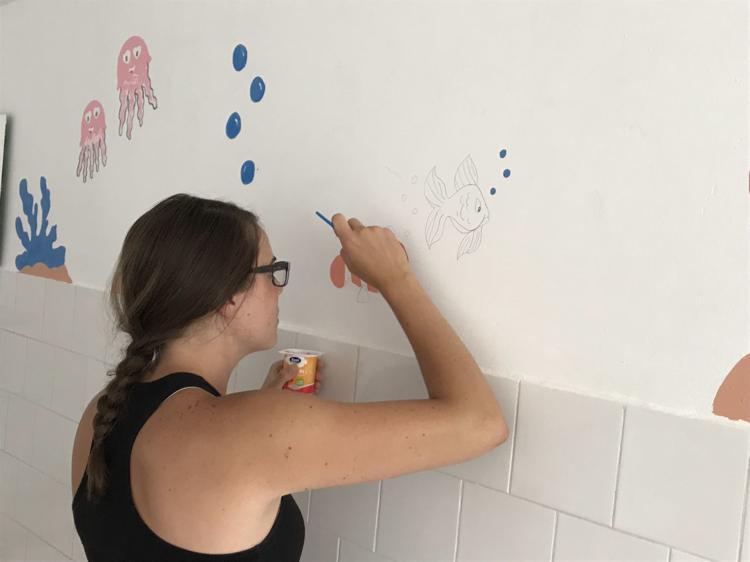 After completing the Global Volunteers application process, purchasing her airfare and messaging with previous volunteers about their experiences, Olsen left for Romania on her own on July 6.
When she landed in Bucharest, Romania's capital city, a group leader from Global Volunteers met her at the airport. Then, Olsen traveled by vehicle on whirling country roads to Barlad, the site of the country's only children's hospital. After the five-hour drive, Olsen arrived in a city where time appears to have stood still.
"Everything's still concrete walls. No windows. Not much has changed," she said of Barlad, a city with architecture that hearkens back to communist times. "In parts, it was just like you were looking back through a textbook."
At the children's hospital, Olsen worked with several children from a placement center, or orphanage. She said many of the children were given up by their parents when they were found to have a disability. Although the children had various physical and cognitive problems, Olsen said they were being treated as if they all had the exact same disability.
"We'd try to do a lot of therapy. There was a physical therapist that came in. The physical therapy was moving their legs," Olsen said of the children, who were removed from metal cribs and taken into a playroom when Olsen and the other volunteers arrived at the children's hospital in the morning. Olsen said the cribs reminded her of "little baby jail cells."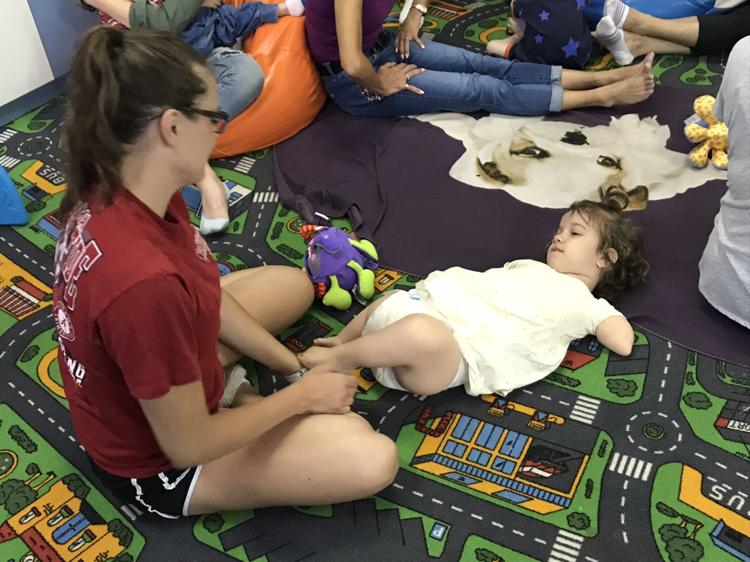 Olsen said the children adapted quickly to the volunteers. For example, they were able to a teach a child who was non-verbal, to use signs. 
"We had a couple that were not rolling, were not crawling, were not doing any sort of verbal communication or non-verbal communication. They just adapted so quickly," she said. "Even though we didn't know Romanian, even that English communication -- trying to have them hear a voice that they otherwise would not have heard during their stay in the hospital."
Olsen developed a particularly special connection with a girl named Maria, who she assumes has a type of Down syndrome. A nurse aide told Olsen that all Maria does is cry. 
"She was the cutest little thing I'd ever seen. I asked immediately to hold her," Olsen said. "She adapted to me as my little buddy."
Olsen saw firsthand how quickly the progress Maria and the other children made could be erased. Olsen and the other volunteers went on a weekend trip to Transylvania, a historical region in central Romania where the famous Bran Castle, commonly known as Dracula's Castle, is located.
"We came back and they had regressed so fast to the point where two of them were sick. Trying to get them to adapt to us again took a couple days," she said. "They thrived from so much help. You just kind of wonder if help was going to come again soon for these kids."
Before returning home on July 19, Olsen also got the opportunity to paint a farm scene and an under-the-sea scene in hospital rooms to brighten children's stays. She urges others who are tentative about taking a similar volunteer trip not to put it off.
"The experience that I had is one that I'm going to hold for a lifetime. It's one that I can use to inspire others," she said.