NORTH SIOUX CITY | Jim McDonald turns 89 years old on Thursday.
His daughter, Amy McDonald, surprised him with an early birthday gift, a seat on the Midwest Honor Flight on Tuesday. Jim McDonald was one of eight World War II veterans aboard an airplane that transported some 100 veterans of World War II, the Korean War and the Vietnam War to spend a day in Washington, D.C., free of charge, as a thank you for their service.
"I'd been to Washington, D.C., once before, but it was more than 80 years ago," Jim McDonald said from his apartment in North Sioux City. "I don't remember much about the first visit. That's a long time ago, you know!"
Much had happened to McDonald between trips to the nation's capital. A 1945 graduate of Smithland High School in Smithland, Iowa, McDonald enlisted in the U.S. Army in September 1946, after the war's end. That didn't stop him from serving overseas as war trials took place. He served with the 8th Army's Military Police unit as Japanese leaders, including Hideki Tojo, were put on trail for war crimes.
"I remember shipping out to Japan," he said. "I didn't leave the ship when we landed as we headed to Okinawa. I didn't leave the ship then, either. We shipped out to Manila, where we were finally allowed off the ship. We'd been on it a month."
McDonald served in Manila, Philippines, for one month before shipping back to Okinawa for a six-month stint. He then went back to Tokyo and guarded prisoners or kept the courtroom secure as the war trials commenced. He has a photo showing him standing in the courtroom, maybe 25 feet from Tojo, who served as Japanese premier during the war. Tojo was found guilty of crimes against humanity and was executed in December 1948.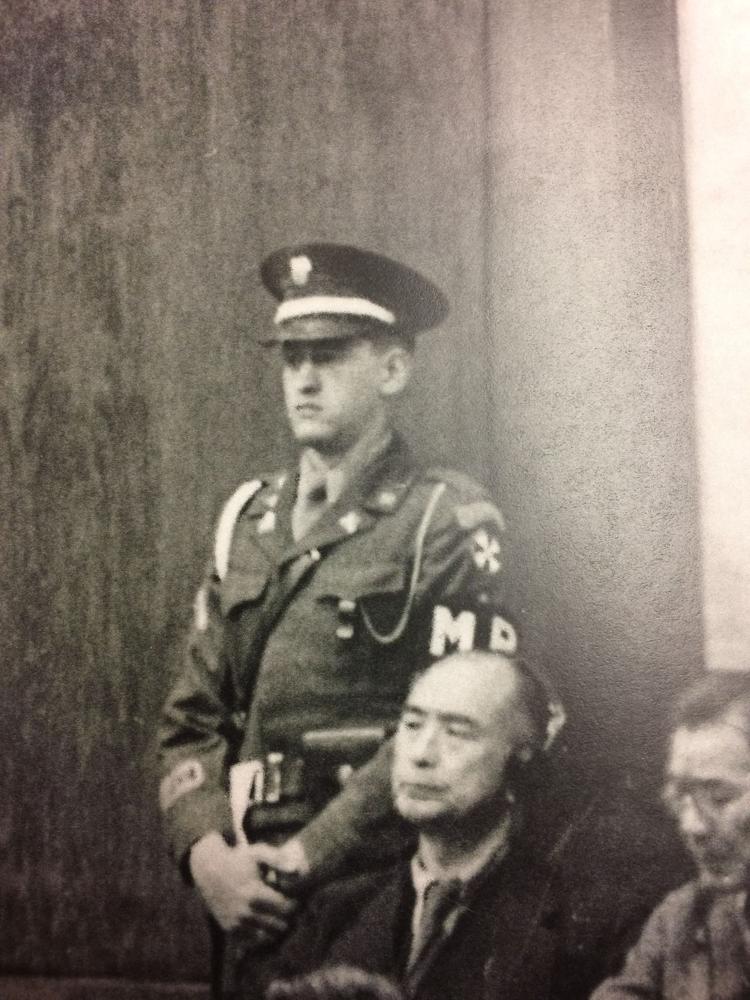 "We were instructed to stand with our hands in front of us for 15 minutes and then we could put our hands behind us for 15 minutes," he said. "I never would have seen Tokyo or been involved in something like that if I wasn't in the Army."
McDonald was shipped home before the sentences were handed down. He recalled traveling via train from Washington state to Minneapolis and then boarding another train for Sioux City, where his sister and brother-in-law, Audrey and Leonard Daniels, of Merrill, Iowa, met him to take him home to the farm one mile south of Smithland.
"My parents (William and Alda McDonald), I remember, were building a home when I returned," McDonald said. "I came home in the fall of 1948 and actively began farming that next spring."
McDonald would raise grain and livestock near Smithland until the mid-1980s, when he transitioned into a six-year stint in real estate. Just over two decades ago, McDonald traveled to Denver, Colorado, to be with daughter Jill Lindgren and her newborn. "Grandpa" ended up staying for 20 years and helped his daughter with her two children.
"When the youngest graduated from high school, I moved back home," McDonald said. "And then Amy surprised me with the Honor Flight for my birthday."
McDonald joined the veterans and volunteers in seeing many sights, including the World War II Memorial, Arlington Cemetery and the changing of the guard at the Tomb of the Unknown Soldier, personal highlights.
"I had friends who had gone on previous Honor Flights and I never dreamed I'd be able to do it," McDonald said. "I always thought they (Honor Flights) were reserved for the men who were POWs or who had been injured."
The Honor Flights began for World War II veterans, but expanded to include those who have served time in the wars mentioned before.
"I paid nothing for this trip and everything was furnished," said McDonald, shaking his head in amazement. "We checked in at the airport in Sioux Falls at 4 a.m., our flight left at 6:30 a.m. and we landed in Washington around 9 a.m. We didn't get back to Sioux Falls until 9 p.m. They kept us moving."
Along the way, well-wishers saluted the veterans with cheers, handshakes, hugs and high-fives. The receptions in Washington, D.C., and back in Sioux Falls had McDonald pausing to find the words to describe his emotions.
"It puts a lump in your throat," he said. "I was awed by the reception we received everywhere we went. I'm so thankful for my daughter, Amy, for seeing that I got on an Honor Flight.
"I never thought I was worth of this attention," he concluded. "But I will say that it was so nice."
McDonald said he'll now work to see that one of his World War II buddies gets a seat on the next voyage.