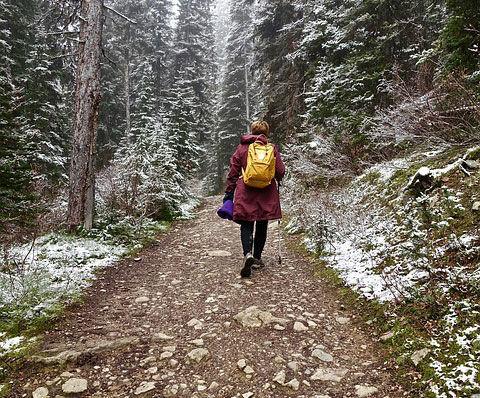 With the weather tilting toward winter, practicing safety on hiking trails is as important as ever. Temperatures are dipping below freezing, and snow can obscure trails at higher elevations. Thanks to daylight saving time, there are even fewer well-lit hours for outdoor adventures.
Accordingly, it's important to hit hiking trails and walking paths prepared.
Jana Johnson, a recreation team leader in Oregon's Deschutes National Forest, and Nathan Humphrey, a lifelong skier and mountaineer, are here to help.
Dressing in neon shades of orange and yellow isn't just for cyclists wanting to be seen on the road. It's a good idea for being highly visible deep in the woods, particularly where hunters may be lying in wait for other animals.
Being easily spotted will not only aid in rescue efforts if you get into trouble, but unnatural colors that pop will also make you visible to an over-eager hunter.
"It's so when you're in the woods and (hunters) hear crunching, crunching, and branches are moving and they see your brown backpack with a white patch on it — wearing orange just removes all doubt that you're wildlife," Johnson said.
Manufacturers make vests for dogs that come in bright colors, too. They're a good way to keep your pup safe on the trail, Johnson added. A headlamp, a spare set of batteries and perhaps a backup headlamp are also vital additions to a winter day pack, especially if an afternoon hike takes longer than expected. Humphrey recommends headlamps that project 200 lumens.
Proper layering begins with an effective base layer, these experts agreed.
"A base layer can go a long way," Humphrey said.
Base layer items come in many forms, such as tops, long johns, glove liners and so on.
What all base layers should do is wick moisture away from the body, which will keep you dry and warm. Synthetic fabrics are effective, but Humphrey is a fan of merino wool.
"Wool fabric is really nice because it's a natural fiber, so it kind of adjusts to your body temperature," Humphrey said. "If you're doing something active, aerobic, and then you decide to walk for a while, it's not going to get super cold on you."
Cotton base layers should be avoided because the material retains moisture, which can leave you feeling clammy and chilled. On trail excursions, Johnson packs an extra base top and sometimes a second sports bra.
"If I've hiked up something and I'm sweaty and I stop, I'll strip off the base layer and put all my warm stuff on," she said. "That chill will keep sucking the heat out of your body until that layer has dried."
Above the base layer you can add additional non-cotton items or head right for the down insulation, which comes in a variety of fill counts. Consider a down vest, which keeps your torso warm without making your arms feel bulky, Humphrey said.
Down packs keep you warm, but the flaw is once it's wet, it loses the ability to keep you warm. This is where synthetic down can be a great option, Humphrey said. Even if you think you'll roast in a puffy coat, pack one along for a worst-case scenario, Johnson said.
Wearing items that feature built-in wind-proofing, such as GORE WINDSTOPPER lining, can make a winter walk along a river or one along an icy alpine lake less bracing than wearing just fleece and jeans, Humphrey said.
"Forgetting the wind aspect of things is what can make people cold, even if they're just walking their dog in the morning," he added.
Hand and toe warmers, which are chemical packets that create heat when activated, are great to slip into gloves and boots, Johnson said. Toe warmers often resemble shoe inserts.
"Put toe warmers on before your feet get cold, like when you're getting ready that morning or you're in your car," Johnson said. "If you wait until you're already cold, they're less effective. But if your feet are warm from the get-go, they'll stay warm. They're complete game-changers for me in winter because I have bad circulation."
Hypothermia can lead to loss of extremities and death. It happens when your body cools faster than it can produce heat and your body temperature drops below 95 degrees, according to the Mayo Clinic.
While being exposed to cold weather or cold water can cause hypothermia, the condition can also happen during prolonged exposure to temperatures below 50 degrees.
Signs and symptoms of hypothermia usually happen gradually and may include shivering, slurred speech, shallow breathing, clumsiness, drowsiness and short-term memory loss, according to the nonprofit health center.
Cooler temperatures might lull you into thinking you won't need that extra bottle of water on a hike, but bring it, especially if you're going to be on a long one.
Although you're not sweating as much as you would during a hot day, the body loses moisture through respiration. In cold weather, the body doesn't trigger the thirst impulse in the same way it does when it's dehydrated in warm weather.
Thermoses' insulation keep water from turning to ice, as do padded liners that fit over water bottles like big koozies.
If you're drinking from a hydration pack, the water will likely freeze in the hose if it's not insulated, Johnson said. Even though the hose to her water bladder is lined, she likes to blow air into the line after she takes a sip as an added precaution.
"Once your hose freezes, you probably won't be drinking much," Johnson said.
With the change of seasons, the more elevated sections of your favorite hikes may be covered in snow that renders them unrecognizable. If you do find yourself momentarily disoriented, remain calm.
"If you get to the top of something and you don't really know where you are, don't panic," Johnson said. "Don't move. No. 1: look around. Are there any clues? Like, 'Oh, that's Broken Top. That's east. I know where I am now.' "
Look for any evidence of where the trail may continue, such as consistent tracks in the snow.
If there are only one or two tracks, the people who made them may not necessarily know where they're going, either. Look, too, for a trail corridor that cuts through the trees. Otherwise, retrace your steps to where you were confident you were on the trail, Johnson said.
A great way to navigate in the woods is by using a GPS device such as the Garmin InReach Mini. It's a lightweight, tangerine-size satellite communicator that can upload GPS maps on the go, send and receive texts and issue distress signals.
"It's awesome," Humphrey said of the device, which retails for about $350. "Having a map and knowing when to turn around is probably more important."
Smart phone apps such as Avenza Maps and Trailforks offer mapping with GPS capabilities. Be aware the cold has a way of zapping phone battery life, Johnson said.
Johnson and Humphrey agree that knowing how to use time-tested navigational tools — a map and compass — is the surest way out of a pickle.
"If you know how to read a map and compass, that's fool-proof," Humphrey said.
The cleats attach to the bottom of your footwear and are held taut by stretchy or adjustable cords.
They can be great to stash in packs in case you come across black ice or other slippery conditions.
"They can be lifesavers," Humphrey said.