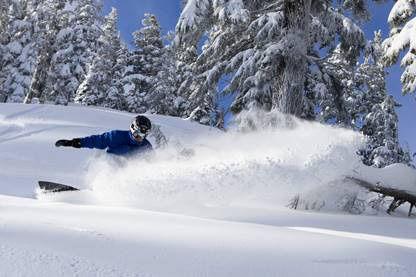 MOUNT BACHELOR, Oregon — Skiing across the mountain near a chairlift, Tom Lomax pointed one of his ski poles to a field of black boulders that dotted the slope just below.
"Might want to cut across," Lomax yelled back at me.
We did so, then turned down through some fresh windblown snow, free of boulders, on a recent Monday morning at Mount Bachelor ski area in Oregon.
The rocks were clearly visible and fairly easy to avoid, but other obstacles lurking just below the snow surface can be hard to detect for skiers and snowboarders during the early part of the season — before the snowpack is sufficient to thoroughly bury those potential dangers.
Off the groomed runs is where snow riders could find trouble this time of year.
"Every time we get new snow, it's going to look really attractive off the main groomed runs," said Lomax, director of mountain operations at Bachelor. "It's quite skiable, but you really need to be careful. You need to control your speed so that you can adjust your course quickly if need be."
Lomax recommends skiers and snowboarders stay on groomed runs while the snowpack remains relatively low, but those who do want to explore off-trail for powder would be wise to stay in the gullies and avoid the ridges, which require more snow to become safely covered for snow riders. The gullies, meanwhile, fill in more quickly, as the wind tends to deposit snow into them.
Skiing in wooded areas can pose threats such as rocks, trees, stumps and logs that might be just barely covered by snow. Skiers and snowboarders could harm their equipment and/or themselves if they ride over such hazards.
"You could have a fallen tree that's just below the snow surface," Lomax said. "With this lower amount of snow there is going to be a lot more obstacles."
Lomax said snow riders who venture off the groomed runs should look for smooth areas to ride, and if they see an undulation in the snow, be wary. This time of the season it could be a rock or a tree. Later in the season it is more likely a wind wave that is safe to ski over.
"You want to be a little cautious because maybe it's a stump, and it's just barely covered," Lomax warned. "Everything in between the runs is natural terrain up here, and it's really skiable. But it's rough and it needs a little bit of time to get filled in."
On groomed runs, exposed rocks or trees are rare, but an occasional rock can get kicked up by a grooming machine or a skier, Lomax said. If there is an obstacle on a groomed run, ski patrollers will try to mark it with an orange bamboo pole to warn snow riders to stay away from that area.
"Clearly every obstacle isn't marked," Lomax said. "That's part of the responsibility of the skier or snowboarder to be aware that there can be unmarked obstacles. We try to mark the obstacles that could show up in a major run in a place that somebody wouldn't expect it. We can't mark everything."
Another hazard of which skiers and snowboarders should be aware are tree wells. These are areas of unconsolidated snow around the bases of trees. Early this past March, two snow riders were killed at Mount Bachelor on the same day in unrelated incidents involving tree wells.
While tree wells are typically more of an issue later in the season when the snowpack is deeper, Lomax said that skiers and snowboarders should always be wary of the danger. Falling headfirst into a tree well can lead to suffocation. Bachelor had received 10 inches of new snow within 24 hours, increasing the tree well danger.
"If we had a 10- to 18-inch inch dump of snow, I think you could have a snow immersion hazard," Lomax said. "I wouldn't want people to feel like it's early season and the hazard isn't there. I think you always need to have it in the back of your mind."
The best way to mitigate tree well danger is to ski or ride with a partner while staying within each other's sight. That way, if one of the snow riders encounters trouble, the other will see it and can be there quickly to help.
Aside from safety concerns, skiers and riders who have yet to make their first turns of the season should come to the mountain prepared with the proper gear and take some warm-up runs on easy terrain.
"Look your gear over," Lomax advised. "If you skied at the end of last season in the late spring, there's tree pitch all over your (ski or snowboard) bases. That stuff's really sticky in dry winter snow. So take your skis in and get them cleaned and waxed. It makes them work so much better."
A couple of tuneup runs is also a good idea to ease into the ski season without an accident or injury.
"There's really not a lot of activities where you have that kind of leverage on your knees and your leg muscles (like skiing)," Lomax said. "So go warm up somewhere. We're only a few weeks into the season, and you want to have a nice, long season."