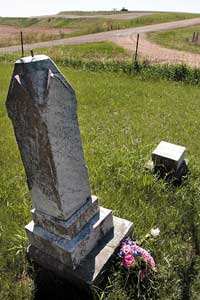 MOORHEAD, Iowa -- The trees outnumber the grave stones in the Jordan Township Cemetery of Monona County.
Remotely located at the intersection of Peach Avenue and 260th Street -- two dusty gravel roads -- the cemetery is rarely visited these days, as it has been for much of its history. Straightforwardly named for the persons buried in the cemetery, the site is alternately called the Black Cemetery or the Negro Cemetery. Only nine headstones remain and the history of the people buried there can't be determined from the inscriptions.
But the tale is that there once was a thriving African-American settlement in the Loess Hills of rural Moorhead. In 1880, census data showed 88 blacks living in Monona County; by comparison, the number reported in 2000 was eight out of 10,020 residents.
The area around Moorhead was largely settled in the 1860 and 1870s. Loess Hills Hospitality Association tour coordinator Bobbie Ford said there is not a lot known about the black residents of 125 years ago. "It wasn't that many years they were around," Ford said.
But most came to work for Adam Miers, an Ohio native and son of a Revolutionary War veteran, who was an early Monona County settler and major landowner. In a 1966 Omaha World-Herald article, Earl Jones of Turin, Iowa, recalled it being common to see 10 to 15 blacks working in Miers' fields or cutting timber.
An influx of blacks was an anomaly in rural Iowa, although it occurred in the late 1800s, too, in Fayette County and the coal mining towns of Buxton and Muchikinnock in Madison and Monroe counties. Curator Susan Kuecker of the Cedar Rapids-based African-American Historical Museum and Cultural Center of Iowa said the Monona County settlement was atypical, since most African-Americans in Iowa history settled in large towns for industrial jobs, and in 1900 there were only 325 black farmers in the entire state.
"This is a very unusual story there and it raises a lot of questions," Kuecker said. Kuecker said it would take personal history from a Bible's family tree or correspondence by relatives to crack much more of the story.
There are two tales told of the blacks' arrival to the area -- they either were smuggled up from the South in the Underground Railroad operated by anti-slavery abolitionists or came of their own volition as freed slaves after the Civil War. Consultant Leah Rogers of Tallgrass Historians of Iowa City said the farmers were probably free blacks, "since this settlement was definitely post-war."
Kuecker speculated the African-Americans came north as part of the 1879 "Exodusters" movement, a phrase that joins the biblical exodus and the dusty plains. Exodusters moved north from East Texas, Louisiana and Mississippi to Kansas for jobs. Not well-received there, they went to Nebraska and "some came across the river into Iowa, I know of some in Mills County," Kuecker said. The timing fits, she said, plus Monona County is accessible by being adjacent to the Missouri River and Exodusters "were people with a farming background who were planning on being farmers."
Michael Snyder, who wrote "The History of Blacks in Monona County," holds that the blacks kept to them selves, not associating outside their community. Kuecker said that would be typical, especially among blacks living in rural areas.
Ford said "there apparently were some interracial marriages and interracial children born and some people wanted to keep that on the hush-hush." Whether Miers took a black woman as his second wife remains a matter of unresolved speculation.
There were racial problems, as some whites were less than enthused about the newcomers. Ford declined to repeat the name some locals gave the area, but citing a 1933 listing of headstone inscriptions, Rogers said it was called "Nigger Hollow." Said Ford of the derogatory terminology, "That is just ignorance on people's parts. I don't see prejudice today."
Rogers reported another example that whites and blacks were "not on the best of terms." A group from Belvidere (a ghost town then between Moorhead and Turin) petitioned the district court for removal of the settlers, but "some remained in the area into the 1890s and early 1900s," Rogers said.
"Some people seem to think that some of these people went over into Nebraska and intermarried with Indians, but there doesn't seem to be anything that you can put your finger on and say for sure," Ford said. "Even people who have lived here their whole lives don't seem to know much about it."
The blacks lived in "dugout" homes, essentially sod houses built into caverns of the hills northeast of the cemetery, Ford said. "They claim you can still see remnants of where the dugouts were." In a 1964 Journal article, Perry Moore of rural Moorhead spoke of stumbling upon the dugouts when hunting mushrooms. "The depressions were all over in the timber," Moore said, "but they are hard to find now."
Rogers went with a state historical society team 10 years ago to look for the dugouts, since "we've heard there is some minimal archeological evidence left." The current landowner claimed terracing efforts destroyed the dugouts in the 1960s, but that couldn't be verified, since he denied access to the land, said Rogers. "That is fine, it is his land," she said.
The cemetery was deeded by Miers in 1882. It is getting a few more visitors as more tourists come to the Loess Hills, but in her years with the hospitality association, Ford can't recall any African American visitors coming to check into their family histories. No organized tours of the site have been undertaken, but Ford is mulling a tour of Loess Hills historical cemeteries, which could take in a Mormon site south at Preparation Canyon and a Danish Lutheran Church cemetery a few miles southwest.
The Negro Cemetery has perhaps 20 bodies within, but only half still have headstones. Some sites were vandalized decades ago, but Ford said it would be a leap to chalk that up to racism against those buried there. "People vandalize cemeteries all over for all kinds of reasons," she said.
Rogers visited the cemetery, counting "nine marked graves and maybe five others indicated by depressions in the ground or other factors... Local tradition is that there were 20."
By Depression times, the cemetery was overgrown, and Moore led an effort to clean it up. In 1944, the American Legion cleaned up head stones. There has been one recent burial in the cemetery, a white woman buried in 1988.
Surrounded by burr oaks, the 60-by-80-yard site today is well maintained by the Jordan Sunshine 4-H group. The headstones that can be read show deaths typically from the late 1880s. Among them are E.L. Stewart, aged 87 by a June 1889 demise, and Rossie Rickman, son of W.H. and M. Rickman, who died in 1884 after only eight months of life. The inscription reads: "This lovely bud so young/Called hence by early doom/Came just to show how Jesus' / Flower in paradise will bloom."
Ford said it would be great if a civic group would want to dig deeper into finding the placement of unmarked graves or to prop up some of the crumbling tombstones. "You don't like to see the stones fallen down and broken," she said.
Rogers hopes more information about the African-American community and the cemetery turns up."The site is probably eligible for the National Register of Historic Places," Rogers said.