Gordon Sondland, President Donald Trump's ambassador to the European Union, was the most anticipated witness in the House impeachment inquiry and his testimony Wednesday showed why.
He made repeated references to a quid pro quo involving Ukraine and invoked the names of senior Trump administration officials who, he said, knew what was going on. He also confirmed the existence of a newly revealed telephone call with Trump one day after Trump had pressed Ukraine's leader for an investigation into a Trump political rival, former Vice President Joe Biden.
Some takeaways from Day 4 of the impeachment inquiry:
THIS FOR THAT: Sondland repeatedly referred to a quid pro quo — one thing in return for another — in describing the administration's dealings with Ukraine. It was a remarkable spectacle: Trump's own ambassador using the exact term that the president himself has disavowed.
'EVERYONE WAS IN THE LOOP': Sondland made clear that this was no rogue effort. Sondland said he was open about Trump's demand that Ukraine commit to the investigations. He updated Secretary of State Mike Pompeo and the White House's acting chief of staff, Mick Mulvaney. Sondland name-dropped Vice President Mike Pence as well, telling him he was concerned that aid to Ukraine had become tied to the issue of investigations
You have free articles remaining.
"AT THE EXPRESS DIRECTION" OF TRUMP: Sondland says he was uncomfortable working with Giuliani, but he did so at the "express direction of the president of the United States."
CONFIRMING THE OVERHEARD CALL: Sondland confirmed a July call with Trump that was revealed by another diplomat last week — and said the White House has confirmed it too.
Laura Cooper, a deputy assistant secretary at the Defense Department; and David Hale, the undersecretary of state for political affairs at the State Department, testify in the afternoon.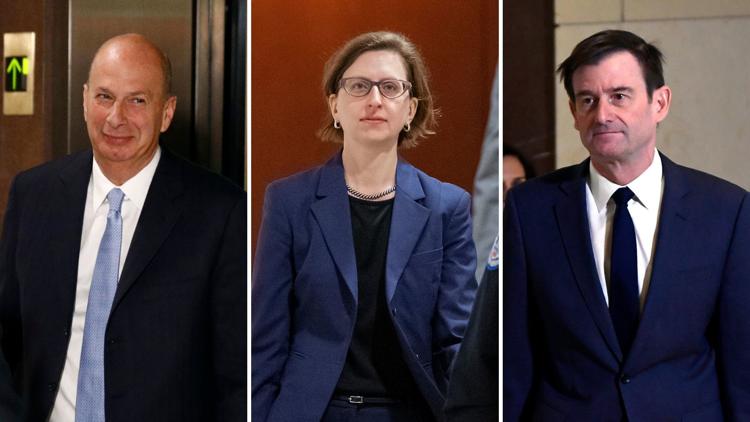 Cooper told investigators that, in a series of July meetings at the White House, she came to understand that Trump's acting chief of staff, Mick Mulvaney, was holding up the military aid for the U.S. ally. Hale, the State Department's No. 3 official, was questioned earlier this month about the abrupt removal of the U.S. ambassador to Ukraine, Marie Yovanovitch. She delivered chilling testimony last week about her ouster amid a "smear" campaign by Trump's lawyer Rudy Giuliani.
Watch live video from ABC News above. Follow the latest political commentary on Twitter below.