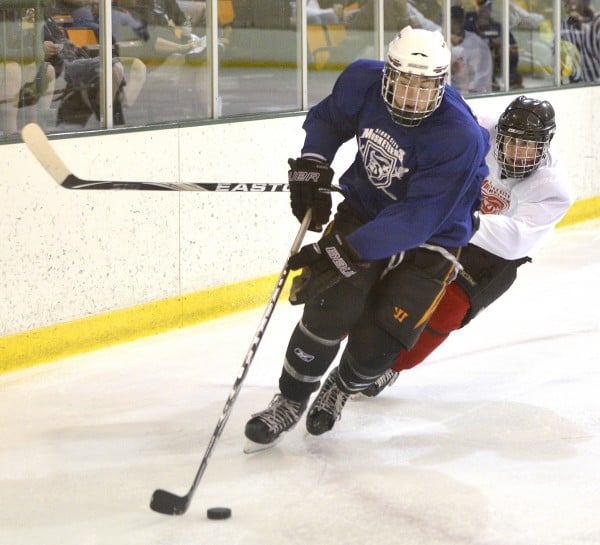 SIOUX CITY | Hector Majul's goal is to become the first Mexican-born player in the National Hockey League.
He started playing hockey in Mexico City at age six, and has been dreaming about the NHL ever since.
"There was a hockey rink right next to my house," said the 5-foot-9, 175-pound forward shortly before a game Friday afternoon at the Sioux City Musketeers Tryout Camp at the IBP Ice Center.
"My sister (Yamile) started figure skating. After she got done skating, the hockey team started skating. One day, I just decided to try it."
Majul is one of 83 invitees, draft picks and returning Musketeers shooting for a spot this year's final roster. Sioux City will make its final cut when the camp ends on Sunday.
In a country where soccer is king, Majul played both sports. Along the way, he met a hockey coach from the Ukraine, Boris Dorozhenko, who brought him to Phoenix, Ariz., as a 14-year-old to develop his skills.
"I found a team and a host family to live with, so I started playing in the U.S.," Majul said. "I've been with the same host family for three years."
Majul played two seasons with the Valley of the Sun Association's Bantam B and 16-Under teams before joining the Phoenix Firebirds' 16-Under AA team in the 2010-11 season. This year, Majul scored 20 points (13 goals, 7 assists) for the Firebirds' 18-Under AAA team, which competes in the North American Prospects Hockey League.
Head coach Brett Larson said he was "pleasantly surprised" with the speed of Majul -- who was one of the 46 players the coach invited to the camp.
"My coach (with the Firebirds), Todd Collins, called me three days before the start of the camp," said Majul. "He told me he had talked to Coach (Brett) Larson and said I was invited. I arranged everything so I could come up here on the first day.
You have free articles remaining.
"I'm real excited about being here. I was nervous the first day, but I'm ready to go."
EAST GRAD EYES ROSTER SPOT
Colton Kramer is no stranger to the Musketeers Tryout Camp. It's the second one for the 5-foot-9, 155-pound forward from Sioux City, who's bounced around after scoring 68 points (42 goals, 26 assists) for the Sioux City Metros in 2009-10.
Kramer left Sioux City to join Omaha AAA 16-U of the North American Prospects Hockey League, and later signed a tender with the Austin Bruins of the North American Hockey League.
"The (NAHL) is a pretty competitive league, but not as good as the USHL," he said. "It feels good to be invited. I've been here the last couple of years, so it's nothing new, but it's still good to come here and compete."
The recent East High grad has no current college plans, but that might not last long once college scouts see his playmaking ability.
"I can usually put the puck in the net," he said.
For the first time, the Musketeers have merged their futures camp with their regular tryouts.
"Dubuque did this last year and it got pretty good reviews," Larson said. "Most teams have their futures camps in August, not part of the main camp. We're trying to build relationships with those young kids so when we get to next year's Futures Draft, hopefully, there's some of these kids who have been here that we know personally and know more about.
"We'll have a better feel going into the Futures Draft."
The futures all-star game will start at 11:30 a.m. Sunday, with the main camp's all-star game to follow.