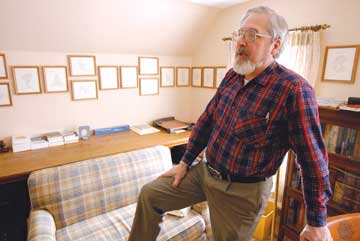 That's not a made-up word.
SIOUX CITY -- Above is a double dactyl. Not a particularly good double dactyl. A certain poet is probably cringing as he reads it.
Jan D. Hodge, professor emeritus at Morningside College, is the author of a new book, "The Bard Double-Dactyled and Other Odd Pieces." It is full of humorous double-dactylic poetry that draws on nursery rhymes and the plays of William Shakespeare for inspiration.
"It's a light-verse form sort of related to the limerick, but it's a relative newcomer to poetry. The first ones were written in the 1960s," said Hodge, 66.
The double dactyl is typically humorous in tone and has specific structural requirements such as a nonsensical first line, a proper name in the second line and a single six-syllable word in the sixth line. The poem above has only one of those elements. But that's not all that important, said Hodge. He admitted taking a few liberties with the form in adapting it to the narratives in his book; but he always makes the sixth line a single, six-syllable word and conforms religiously to the dactylic meter of the form.
The poem traditionally has two stanzas, each comprising three lines of dactylic dimeter followed by a line with a dactyl and single accent. The two stanzas also have to rhyme on their last line.
Hodge has been writing poetry for some 35 years and is best known locally for his shaped poems, some of which have been reprinted in textbooks as examples of the form. His best known is a poem shaped as a carousel that is included in the textbook "Western Wind."
Hodge's poetry writing began as he was working on a dissertation.
"I got tired of writing footnotes on footnotes. So I started writing parodies to break the monotony," he said. "That was my education in poetry. It taught me a lot about how to write."
Now he does it just because he likes it.
"Basically, that's what I do for fun," he said. "You obviously don't write it to get rich."
"Well, in the course of a career as a poet, you can earn literally dozens of dollars," said a laughing Stephen Coyne, a professor of English at Morningside who writes poetry in his spare time. "You know, I think it's the satisfaction of making a thing. You've got a thing that lasts."
Jeanne Emmons, a professor of English and writing at Briar Cliff University, whom Coyne called the area's "most accomplished" poet, concurred. Emmons said she writes for the intensity of the experience. "The intensity of living," she said. "Somehow things become more intense when you write poetry about them. So that's probably what I get personally out of it."
Hodge said there are probably no more than two poets in the U.S. who actually make money on book sales. Some established poets can make a reasonable living on a lecture tour, but for most, there is no real money in it. Hodge's work has been published in a number of journals and magazines. His payment is usually a copy of that journal or magazine.
"I have been writing for 35 years. I have made probably $1,500 out of it, which, as poetry goes, isn't bad for an unknown. Poetry is a gift economy. We're in it for the love of it, not to make money," he said. "But I've won first prize in five national contests, too!"
The prizes, he noted, were for his more serious poetry, not the double dactyls.
The basic rhythms employed by such humorous poets as Dr. Seuss and Shel Silverstein have always been part of English poetry, he noted. "Dr. Seuss is an excellent poet because he understands the rhythm and the power of rhythm," Hodge said.
The double dactyl is a very tight form, and that is where the fun is, Hodge said.
"A dactyl is a three-syllable poetic foot, with the stress on the first --- DAH-dah-dah. You put two of them together and you get DAH-dah-dah, DAH-dah-dah. You repeat that four times and you've got DAH-dah-dah, DAH-dah-dah, DAH-dah-dah, DAH-dah-dah. DAH-dah-dah, DAH-dah-dah, DAH-dah-dah, DAH-dah-dah. Repeat that and you've got eight lines. The two short lines rhyme," he said.
Then the fun has just begun.
Originally, each double dactyl was eight lines and self-contained, basically a sketch of the person named in the second line. Hodge said he sort of stretched the rules for his longer narratives. It's tough to condense a Shakespeare play into eight lines. So a poem or fairy tale found in his book may have anywhere from three to 11 stanzas, with each stanza following the rules of the double dactyl. "Hamlet" needed 11 stanzas. "Wee Willie Winkie" and two other nursery rhymes needed only three stanzas apiece.
And he insisted on keeping a single word in each sixth line. "So right now there are 230 of them in the collection," he said, noting that none of the words is repeated. That is part of the challenge.
Hodge rejoices when he comes across a new six-letter word, such as hyracotherium or semiautonomous. "I have been saving these words for years," he said. "I'll be reading something and one of these words will leap out at me and say, 'You've got to use me in a poem!'"
Dactyl is the least used of the four basic meters in English, the others being iamb, trochee and anapest, mostly because it is the most difficult to do of the four, he said. "Almost never in English can you use the language naturally with the accent at the beginning of the group," he said. "Almost always an English sentence will begin with an 'a' or 'the.' You have to do some pretty nifty gymnastics to have every line begin with a stress."
Which brings us to Hodges' take on one of his favorites, "Humpty Dumpty:"
"And that's one of my favorite stanzas," he said. "Not only am I paying attention to the rhythm, but I like playing with the sounds of the language. I like puns. I like the sounds of words."
Though all the king's horses
were called to the rescue,
In spite of their dazzling