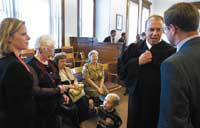 VERMILLION, S.D. -- South Dakota got "the real deal" Friday as Steven R. Jensen of Dakota Dunes was sworn in as a judge in South Dakota's 1st Judicial District.
That's what Jensen's longtime friend, Iowa Appellate Court Judge Daryl L. Hecht, told those who filled the Clay County courtroom to witness Jensen's investiture.
Hecht recalled working with Jensen for several years at the Crary Huff Law Firm in Sioux City and said the two have been friends for 15 years.
"Today, the state of South Dakota receives what I would call the real deal," Hecht said. "Steve has all it takes to be an outstanding judge: he's intelligent, has unmatched integrity, good judgment, an even temperament and a wonderful work ethic. Even more important is, his personality is perfectly suited to the bench: he's fair-minded, he's courteous, he's emotionally sound, he's slow to anger. He's a person of humility who will treat those who enter his courtroom with dignity and respect."
Stewart Huff, senior partner in Crary Huff, the law firm Jensen left for the bench, called the day both sad and exhilarating. He noted his firm is losing a talented attorney and friend. "But our loss is the public's gain," he said. "Having worked with Steve for 15 years, I know first-hand his industry, more particularly his sense of Christian attitude and his sense of fairness."
Before administering the judicial oath, Supreme Court Justice Richard W. Sabers recalled that 15 years ago, Jensen had been only his third clerk at the Supreme Court. It was Sabers who at that time administered an attorney's oath to Jensen, one he said was more demanding than even the judge's oath.
"I firmly believe Steven Jensen has done his best to honor that oath," Sabers said. "I have even greater confidence he'll put forth his best effort to fulfill this oath."
Jensen raised his right hand and placed his left on a Bible held by his wife, Sue, and repeated the oath after Sabers.
After donning his black judge's robe, Jensen acknowledged the other judges who sat before him: Supreme Court Justice Judith Meierhenry, Magistrate Judge Mary Dell Cody, Judge Boyd McMurchie and fellow 1st Circuit Judges Glenn Eng and Arthur Rusch.
He recalled taking the attorney's oath from Sabers and that Meierhenry had handed him his first -- and last -- mistrial.
"I always hated losing a case as a lawyer," he said. "But if I'd had a chance to try a case in front of a judge who was fair -- the judge treated the parties with respect and the lawyers with respect, listened to the case, understood the case and gave due consideration to the case. Even when I disagreed with the outcome, I knew the process was fair. I knew the system was working the way it is supposed to work.
"I hope I would do that for lawyers and parties who come before me, that regardless of the outcome, they can say the process was fair," he said.
In his introductory remarks, Rusch recounted learning of Jensen's appointment: "Judge Eng and I were the two with the biggest grins, bigger than Steve's, because we knew he would be of significant help to us."
The swearing-in ceremony was witnessed by many, including the Jensens' three children, Rachel, 9; Ryan, 7; and Andrew, 3. Also present were Jensen's parents, Ray and Dorsie Jensen; Sue Jensen's mother, Jan Nelson; and her brother, South Dakota Secretary of State Chris Nelson.
Gov. Mike Rounds named Jensen to the bench in August, filling the vacancy left by the death last January of Judge Lee Allen Tappe.
The 1st Circuit comprises 13 counties, but Jensen will work primarily at the Union County Courthouse in Elk Point.
Jensen is a native of Wakonda, S.D. He received his bachelor's degree from Bethel College in St. Paul, Minn., and his law degree from the University of South Dakota in 1988. He has been in private practice at Crary, Huff for the past 14 years.