MACY, Neb. -- After testing positive for the novel coronavirus in late June, Lenice Blackbird went to Big Elk Park to quarantine in a cabin.
Five days later, one of the 25-year-old's relatives discovered her decomposing body lying in a wooded area at the campground, which is located north of Macy on the Omaha Indian Reservation.
Lenice's family said investigators initially told them she may have succumbed to heatstroke, but they suspect foul play was involved. Nearly a year after her death, they are still waiting for someone to be held accountable for it. Lenice's sister Terese Moniz said they are frustrated that so many of their questions remain unanswered.
"They should tell us how she died and how she got there and show us the proof," Moniz said. "We know Lenice was sick. We know she could not walk back there, and then, she laid back there the whole time."
When asked whether the FBI is investigating Lenice's death, Public Affairs Officer Amy Adams told The Journal, "The FBI investigates cases in tandem with the Omaha tribal police. The FBI has spoken directly to Lenice Blackbird's family with respect to the outcome of our investigation."
Last month, The Journal obtained a copy of Lenice's death certificate from Nebraska's Office of Vital Records. The document, which was filed on July 6, states that the immediate cause of death is "undetermined" and the manner of death also "could not be determined." Lenice was found in an "advanced state of decomposition" and her autopsy was inconclusive, according to the document.
Moniz said her sister's remains were so badly decomposed that her casket had to stay closed during traditional tribal wake and funeral services. She said the family didn't get to give Lenice the sendoff they wanted to.
Routinely, she said, "We get to pick out the clothes that they're going to wear. We get to see them before we take them home to make sure they look nice. We never got to do that with Lenice."
Donna Blackbird described her daughter Lenice as a "daddy's girl." She was an avid Duke University Blue Devils fan who liked to laugh and was always happy, according to Blackbird.
"Sometimes, I blame myself. Maybe I should've just kept her home and she would be alive today," Blackbird said through tears. A piece of black poster board adorned with a photo of her daughter, red handprints and the letters MMIW sat propped up against her legs. MMIW stands for missing and murdered Indigenous women. 
Moniz wonders why Lenice was even allowed to quarantine at the campground, given her underlying health conditions. Lenice had diabetes, cirrhosis of the liver and struggled with alcohol use.
"When she didn't drink, she would have (delirium tremens) really bad. She would hallucinate. I've seen her when she was having DTs, and it was bad. I don't know why they even put her down there," she said. "We thought at the time that that place was equipped for COVID people, because that's where they were putting them. We put her life in their hands."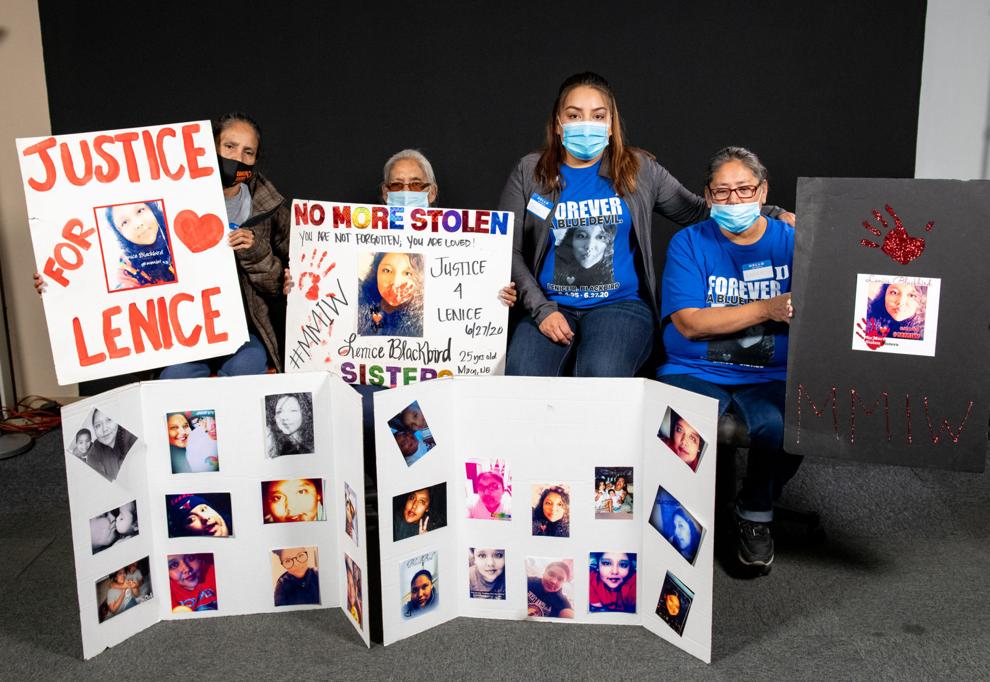 The Omaha Tribe retained the law firm Jackson Lewis P.C. to conduct a workplace investigation in the wake of Lenice's death, but a report reveals investigators found no evidence of wrongdoing on the part of the medical team. 
"While the death of Lenice Blackbird is tragic, we did not find any credible evidence to indicate that any act or omission by any member of the medical team, the Carl T. Curtis Health Education Center staff or other staff overseeing the operations of the medical health services violated policies, established protocol, contractual obligations or recognized duties of care, in a manner that contributed to her death," Sue Loerts, an attorney for Jackson Lewis P.C., wrote in the report, a copy of which The Journal obtained from one of Lenice's family members. 
Carl T. Curtis was contacted on numerous occasions by tribal police and tribal members about places to house individuals infected with the virus, according to the report. Since it had no other housing units, except for a senior nursing care facility, Carl T. Curtis worked with Big Elk Park administrators to make the three largest cabins at the campground available for quarantine housing. 
On Monday, June 22, a Carl T. Curtis employee drove Lenice and her boyfriend to Big Elk Park, where the couple was assigned cabin No. 3 to quarantine in.
Upon her arrival at the campground, the report states that Lenice was not exhibiting any symptoms of COVID-19.
The following day, Lenice called to request hygiene supplies, food and cooking utensils, which a certified nursing assistant delivered to her cabin. The CNA reported Lenice's vital signs were good and she had no symptoms, according to the report. 
When Blackbird's phone calls to her daughter went unanswered Wednesday, she said she became worried. Lenice experienced swelling in her feet and was accustomed to calling her mother daily to check in.
That afternoon, Lenice's relatives headed to Sioux City to look for her. They thought Lenice might have returned to the city to hang out with friends, but they didn't find her there.
The report states a CNA went to check on Lenice Wednesday morning, but, Lenice's boyfriend didn't want to let her into the cabin to take Lenice's vitals. Since Lenice was asleep, the boyfriend told the CNA he would take the measurements, according to the report.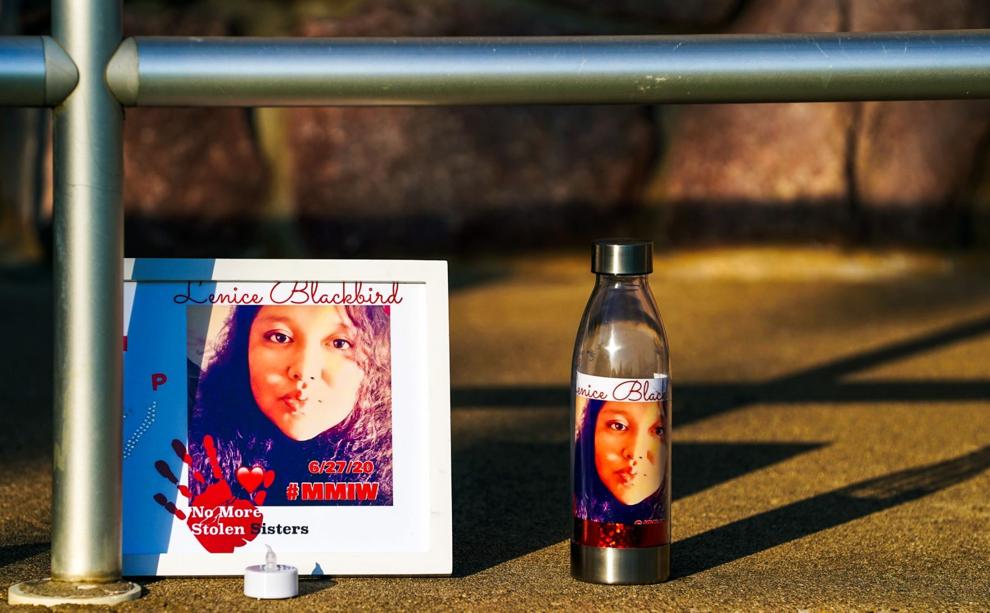 The report states the CNA said Lenice's vital signs were normal and her breathing appeared to be normal. It is unclear from the report if the CNA's assessment of Lenice's vitals was based on measurements taken by Lenice's boyfriend. The report states the CNA later told a security guard that Lenice was "so puffy that day" she "didn't believe she could walk very far."
"They knew she had an underlying health condition," Moniz said. "It should've been up to them to get a hold of my mom or get a hold of somebody to say, 'Hey, Lenice isn't looking too good. Maybe you guys might want to get her to the hospital.'"
After Blackbird called the public health director, the CNA went back to Lenice's cabin Wednesday evening to check on her, but, she didn't find her there, according to the report. Lenice's boyfriend told the CNA he had fallen asleep. When he woke up, the report states he said Lenice was gone and the door to the cabin was open. The report notes the boyfriend gave "conflicting" accounts about when and how Lenice left the cabin.
According to the report, the boyfriend also told a tribal police officer and an FBI agent that he woke up Thursday morning to find Lenice on her phone. He alleged that she informed him that her aunt was going to pick her up and she told him to go back to sleep. When he woke up again, he said she was gone.
Several witnesses said it was rumored that Lenice was seen leaving the campground in a car and that she may have left with a couple who checked out of another cabin on Wednesday afternoon. These rumors could not be substantiated, according to the report.
A park attendant said he encountered a woman, who was later identified as Lenice, on both Wednesday and Thursday.
The woman was sitting on the southeast side of the park in the tall grass near the buffalo fence crying and mumbling, according to the report. The attendant asked the woman, who he thought was intoxicated, if she was OK, but he said she didn't respond. After repeating himself a couple times, he said the women told him to go away, so he went back to work.
The report states the attendant said he saw the woman again around 10:30 a.m. Thursday while he was conducting a perimeter check. She was allegedly crying near some trees and appeared to be under the influence of "some substance." When the attendant asked the woman if she was OK, he said she responded, "I'm sorry," and said, "If I could turn back time I would." The attendant said he reported the interaction to his supervisor.
The attendant didn't know who Lenice was or that she was believed to be missing. Due to Health Insurance Portability and Accountability Act requirements, no one outside of medical staff and Lenice's family knew she had COVID-19 or that she was quarantining at the campground, according to the report, which also mentions that some Carl T. Curtis staff members, who had worked with Lenice previously, said she had a history of leaving hospitals and drug treatment against medical advice, so they were not surprised she left the cabin.
"My mom's calling every day, so all of those people should have known that she was missing," Moniz said.
On Thursday, Blackbird contacted the public health director again. She was increasingly worried about Lenice, whom she was still unable to reach by phone, according to the report. The director called hospitals in Sioux City and Winnebago to see if Lenice had come in, but no one had seen her. The report also states Lenice's aunt Irma Grant also called the director that day and told him she and Blackbird were upset that no one would help them find Lenice.
Blackbird told The Journal she and her family members asked tribal police several times to look for Lenice, but they refused. Multiple attempts to obtain comment from Omaha Nation Law Enforcement Services about the case were unsuccessful. The report states tribal police would not accept a missing persons report until Lenice had been gone for 48 hours or more and that security guards posted at the campground didn't go into the cabins to avoid exposure to the virus.
That Friday, Blackbird said she asked the public health director, "Where's my child?" She said he told her Lenice simply "walked away."
"It was like 80 degrees and her feet were swollen. There was no way that she would walk away," Blackbird said.
The report confirms that Blackbird came to Big Elk Park Friday looking for Lenice. After Blackbird left, two security guards, one of whom Moniz said is her cousin, searched for Lenice around the perimeter of the cabins in a zig-zag pattern until dark. They didn't find her, but noticed human footprints along the tree line, according to the report.
Blackbird told The Journal she filed a missing persons report on Saturday. She returned to Big Elk Park that evening with roughly a dozen family members, and, after 20 minutes of searching, a cousin discovered Lenice's body. Her body was found in tall grass near where the security guards had searched the day before, according to the report.
"Where we found her, there's no way that she could've got there by herself," Anna Harlan said of her niece. "My son said when he found her, her arms were up like she was drug back there."