SIOUX CITY -- Although he isn't much of a gambler, Dakin Schultz placed a bet Friday afternoon on the Iowa State University Cyclones over the …
IDA GROVE, Iowa -- Driving through the OABCIG Community School District one sees little physical evidence there's a $15.9 million bond issue v…
SIOUX CITY -- Polar, a 12-week-old Golden Retriever, will find a new home during the 83rd annual Little Yellow Dog Auction Saturday.
SIOUX CITY -- With fur that's more creamy than golden, Polar was all wags as he waited patiently for his photo shoot.
SIOUX CITY -- Ragan Cote knows a thing or two about decorating Christmas trees.
MAURICE, Iowa -- Dennis Muilenburg, CEO of The Boeing Company, flew over the farm where he was raised while preparing to land at the new Sioux…
SIOUX CITY -- For some people, "Sioux City Sue" might be considered a catchy song, while others contend it is hopelessly corny.
SIOUX CITY | Before being the spiritual pedestals for Sioux City Police Officers to lean on, chaplains Maj. Von Vandiver and Rev. Dan Rupp wer…
SIOUX CITY | Owners of Siouxland gun shops expect a run on bump stocks, a little-known gun accessory now associated with the largest mass shoo…
SIOUX CITY | Reflecting on his 37 years of duty, Sioux City Police Chief Doug Young will unpin his badge with no regrets. 
SIOUX CITY | Siouxland boasts the youngest Iowa legislator, the state's youngest county supervisor and one of the youngest city council members.
ANTHON, Iowa | In the small town of Anthon, there are two cemeteries one mile apart -- Oak Hill Cemetery on the north edge of town and the Mou…
LE MARS, Iowa | The theme for the scene of moving thousands of books across the street is "teamwork," Shirley Taylor exclaims as the Le Mars P…
SIOUX CITY | A driver swerving to avoid another vehicle flipped her vehicle and landed between two homes Thursday afternoon.
SIOUX CITY | Uber, a popular ride-hailing service, will drive into the Sioux City transportation market on March 31.
DES MOINES -- Anxious with how long the process is taking, Iowa's economic development board on Friday implored Sioux City officials to accele…
SIOUX CITY  |  The developers of a pork plant under construction in Sioux City are moving forward with plans for a second shift that will even…
SIOUX CITY | The number of outdoor ice skating parks in Sioux City is anticipated to double next winter, to two, with the arrival of a facilit…
SPIRIT LAKE, Iowa | Jantina Carney went from business to business in the Iowa Great Lakes on Wednesday morning, trudging through and shaking o…
GALVA, Iowa -- Motorists are getting a winter reprieve from a planned two-year detour of U.S. Highway 20 in Ida and Sac counties.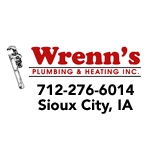 Wrenn's Plumbing & Heating Inc.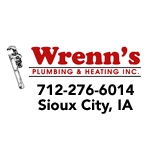 Wrenn's Plumbing & Heating Inc.
SIOUX CITY | When Tim Kacena decided to run for the Iowa House months ago, he did two things. 
DES MOINES — The most important numbers representing Iowa's 87th General Assembly, which meets today for the first time, are 29 and 20.
DES MOINES | For income tax-relief advocates in Iowa, opportunity apparently knocks once every 20 years.
SIOUX CITY -- Nearly a dozen Siouxlanders braved the bitter cold Friday to observe local Eastern Orthodox priests bless the Missouri River in …
With 2016 in the rear view mirror, it's time to speed ahead to the New Year.
LE MARS, Iowa — A nursing home that has operated in Le Mars for 45 years will be forced to close Feb. 1 as a result of the Centers for Medicar…
SIOUX CITY | It is Christmas Day, one of the most anticipated holidays of the year, which results in the gathering of many family members and …