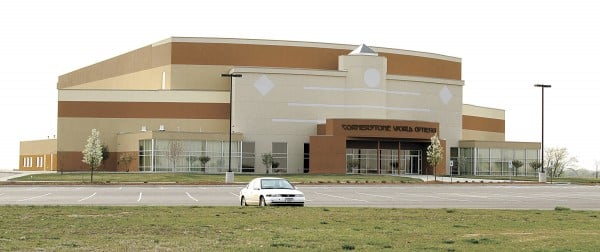 SIOUX CITY -- Cornerstone World Outreach's new worship center will go on the auction block in May as part of a sheriff's sale to settle a dispute between the Sioux City church and an Ohio building company.
However, a Cornerstone official said Friday that filing for Chapter 11 bankruptcy protection may still be an option for the church as it tries to pay a $3.65 million judgment to Cincinnati United Contractors.
The builder filed a $4.99 million mechanic's lien on the church's property in April amid allegations it was not paid for work it did on the worship center. Cornerstone dedicated and has used the 52,000-square-foot building since August 2008.
Woodbury County District Court Judge Michael Walsh ruled in November that Cornerstone had until Dec. 10 to comply with terms of a confidential settlement it reached with Cincinnati United in August. When the deadline passed, Walsh ordered the Sioux City church to pay $3.65 million, plus interest and costs, as a result of failing to meet the deadline.
On Feb. 1, a designee of Court Clerk Craig Jorgensen signed a document commanding the county sheriff to "levy without delay" $3.65 million worth of Cornerstone property, plus interest and costs, and deliver it to the court in 120 days.
CHURCH ASSESSED AT $11.99 MILLION
According to the March 1 notice of sheriff's levy and sale, real property at 1603 and 1625 Glen Ellen Road, the addresses of the church's sound studio and worship center, will be up for auction at 10 a.m. May 3 in the first floor lobby of the Woodbury County Courthouse in Sioux City. The property includes nearly 120 acres of land.
Although the legal description does not specifically say the sale includes church buildings, an official with the Woodbury County Recorders Office said Friday that a reference to "real property" in this context typically means the land and the buildings are included in a sale.
Records from the Woodbury County Assessors Office list 1625 Glenn Ellen Road, the site of the worship center, as the most valuable piece of property in the sale. The commercially zoned land and buildings were assessed at $11.99 million in 2010.
The notice states the property is for sale for cash only and that Cornerstone has 180 days to redeem any real estate that is sold.
Doug Daniels, church administrator and an associate pastor at Cornerstone, said church officials are considering filing for Chapter 11 bankruptcy protection after the sheriff's sale as a way to preserve the church's assets.
A business or corporation that files for Chapter 11 protection must submit a petition and plan, which must be approved by a judge, listing its liabilities, assets and how it plans to pay its debt. The action doesn't absolve the filer of paying what it owes but does stop its assets from being immediately liquidated.
Daniels and the Rev. Cary Gordon, a Cornerstone pastor, both said Friday the church continues to try to reach an agreement with Cincinnati United and secure a loan to pay off the judgment.
"At the present time we haven't been able to successfully negotiate an agreement with the contractor between us that was acceptable to him since the loans have not been able to be funded, so that's still ... a possibility," Daniels said. "The Chapter 11 would be more of a last resort in order to preserve our assets."
PROJECT JEREMIAH CITED AS LOAN THREAT
According to a draft of an affidavit of Daniels obtained by the Journal, church officials were warned before the Nov. 2 General Election that Project Jeremiah, Cornerstone's highly publicized effort to oust three Iowa Supreme Court justices, could compromise the church's ability to secure a loan.
Project Jeremiah was Gordon's call for ministers across Iowa to instruct their congregations to vote former Chief Justice Marsha Ternus and Justices Michael Streit and David Baker out of office in their retention elections. The three were part of a 2009 unanimous ruling that Iowa's same-sex marriage ban was unconstitutional. All three did lose their seats in the election.
Daniels' draft affidavit also includes text of an e-mail urging church officials to issue a retraction and warned that an unnamed state agency had asked the Federal Deposit Insurance Corp. to investigate the church as a result of Project Jeremiah.
Daniels and Gordon both said Cornerstone never considered issuing a retraction or shutting down Project Jeremiah, which involved Gordon sending letters to, according to him, 1,000 other ministers.
As for the threat of action by the FDIC, Daniels said Friday that he believed Don Ely, a loan broker who wrote the e-mail cited in the document, meant to say the threat was from the Internal Revenue Service, not the FDIC.
On Sept. 30, the Washington, D.C.-based watchdog group Americans United for the Separation of Church and State sent a letter to the IRS alleging Cornerstone had violated its tax-exempt status by attempting to influence a political election. It urged the IRS to investigate Cornerstone for violating the federal tax code.
So far, Daniels said, the IRS has not filed any action against Cornerstone and likely will not. If it does, church officials have said they have financial backing from an outside group to appeal the decision to the U.S. Supreme Court.
The notice of sheriff's sale is the latest development in a case that dates to 2007, when Sioux City contractors JARCO Builders and Sioux Contractors filed a combined $745,000 in liens for claiming they were not paid for work done on the worship center.
Cornerstone filed counterclaims, accusing the two contractors of shoddy workmanship that caused the church monetary damages. The three parties settled in November and dismissed all claims.