UNION COUNTY, S.D. | The question pops quickly to mind, it's so obvious.
It's been asked many, many times since Sept. 23, when a passerby noticed a 1960 Studebaker -- last seen on May 29, 1971, with Pamella Jackson and Cheryl Miller inside -- poking out of Brule Creek.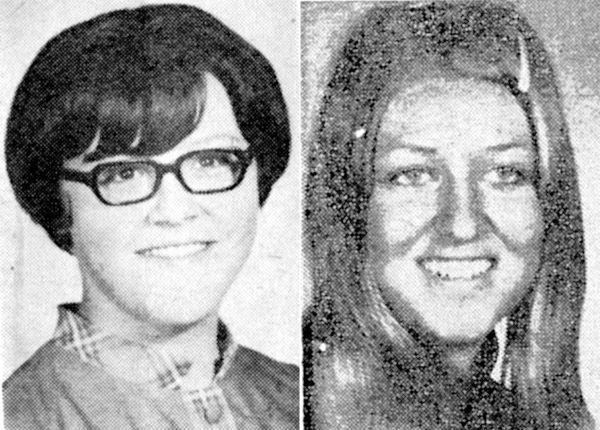 It's believed the two 17-year-old Vermillion High School students were heading to a party at a gravel pit in rural Union County. They never arrived and haven't been seen since.
When the car was pulled from the mud and water, two sets of remains were found inside. Those bones have been sent to a Texas lab for DNA testing to determine if they are those of either or both of the missing girls.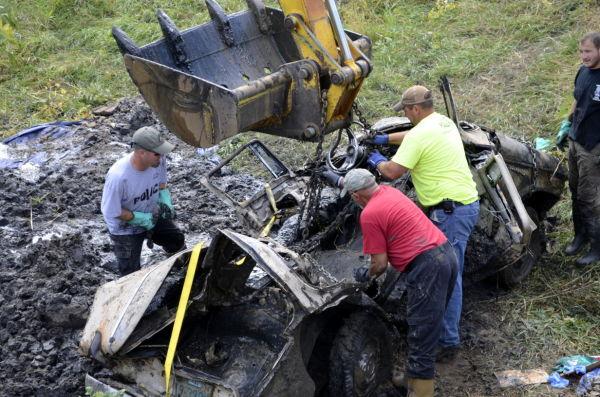 From time to time over the years, new investigations into the case took place. A murder indictment was filed in 2007, but later dropped.
The case appeared no closer to resolution until the car was found last month.
For 42 years, it apparently had rested just off the road and near a bridge, half a mile from the girls' destination.
The question begged itself.
How closely did law enforcement officers search the area after the girls disappeared?
The men who led the investigations cannot be asked. Clay County Sheriff Arnold Nelson. Union County Sheriff Ed Ekern and his deputy Bud Rasmussen. Vermillion Police Chief Merle Offerdahl. South Dakota Division of Criminal Investigation agent E.L. Patterson. All have died.
In order to even try to answer the question, one must first forget that it's 2013.
Imagine for a moment it's 1971.
There are no Amber Alerts. No thermal imaging or ground-penetrating radar.
No Internet. No information just a fingertip's touch away on a cellphone or iPad.
The free-spirited attitude of the 1960s has flowed into the new decade. Teenagers are developing new outlooks on their futures.
"Back then, if a kid turned up missing, it actually was far more likely that they were a runaway," said Jim Rowenhorst, who was a 21-year-old Clay County deputy sheriff in 1971. "It was just not very darned often that you heard about kids being kidnapped. It just wasn't something you were concerned about in rural South Dakota."
Considering the times, questions about the search for two missing girls suddenly don't seem quite so obvious.
"You gotta understand, this is 1971. It was an era when a lot of teens left for the big city," said Bruce Plate, former Vermillion police chief, who joined the department in 1975 and looked into the girls' disappearance periodically until he retired in 2002.
Rowenhorst said he has no recollection of the case and doesn't know to what extent then-Sheriff Nelson investigated the girls' disappearance, but foul play likely wasn't his first consideration.
There were theories the girls may have gotten lost and driven off a dead-end road into the Missouri River. No sign of the girls or the car ever turned up during searches of those roads and the river. Many concluded the two ran away.
"(Nelson) would almost have to be convinced first that they were not a runaway before he ever considered anything criminal happened. I'm not so sure back in those days how much of a search was done. Once you looked around and didn't see that car anywhere, you'd probably jump to the conclusion they ran off," said Rowenhorst, who left Clay County in 1972 and is now the jail commander in Pennington County, S.D.
Friends and family are adamant: Jackson and Miller were not the runaway types.
"Some said maybe they ran off to California, but that was not them," said LuAnn Sorensen Denke, a classmate and friend of both girls who now lives in Rapid City, S.D. "It just didn't fit that they'd be runaways. They were down-to-earth girls."
The Jackson family never bought the runaway theory.
"We heard them say that, but we didn't believe it," said Kay Brock, Pamella's older sister. "We just couldn't imagine what possibly could have happened."
Brock, who lives in Sioux Falls, said her little sister didn't take any clothes or her medication with her -- proof she wasn't going anywhere but out with friends for the night.
Brock was living in Omaha when her sister disappeared and doesn't know to what extent authorities searched for the girls. Her family did plenty on its own.
"I had a couple uncles that looked around every day. They went around, looked in every ditch and ravine. Dad had driven up and down the road for months."
Did they look near the gravel pits, near Brule Creek? Brock doesn't know. She's sure her father, Oscar Jackson, who died at age 102 on Sept. 18, five days before the car was discovered, never quit looking.
"I'm sure he had his eyes open constantly," Brock said.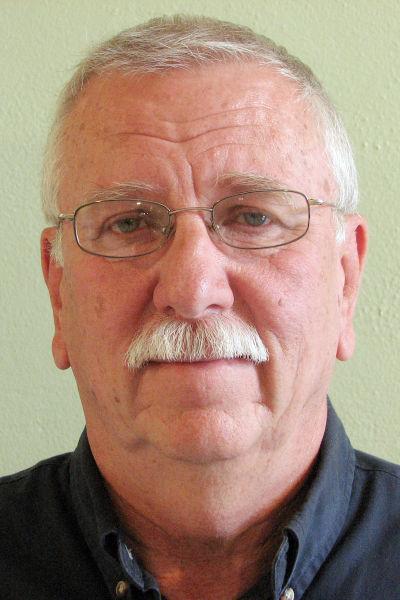 Dusty Passick joined the Clay County Sheriff's Department in 1973 and was elected sheriff in 1980. He'd send information about the girls to jurisdictions across the country when unidentified bodies were found. Now and then, he'd get a call about the case.
"We'd occasionally go back and re-search the area of the gravel pits, just in hopes we'd find the car. I can honestly say, I never looked over that bridge," said Passick, now a Clay County Board member. "I don't think we ever had a solid lead to follow up on the entire time I was there. (The case) never went away. It was always on our mind."
NEW TECHNOLOGY CAN'T ANSWER QUESTION
Go back to the 1980s and '90s, when computers became faster, smarter, able to process and store more and more information. Police begin to utilize them. New computer programs change old investigation methods.
Officers now record witness interviews and file detailed investigation notes, practices uncommon in 1971. It explains why no thick investigation files exist from the search for Jackson and Miller.
Investigators put technology to work on the now cold case.
Plate said the Vermillion Police Department had aerial 3D photos taken of the gravel pits where the girls were supposedly headed. Officers considered using sonar. Nothing was found.
A 1991 magazine article piqued the interest of Ray Hofman, then a Vermillion Police Department detective. Knowing how the material in gravel pits shifts over time, he and another investigator searched the area with ground-penetrating radar and metal detectors. They did not search Brule Creek.
"We were really focused on the gravel pits," said Hofman, who has since retired and is now the Clay County register of deeds.
Finding nothing, Hofman moved on. The question didn't.
"What always used to amaze me," Hofman said, "is I knew the girls were out there somewhere."
Go back nearly 10 years. It appears answers might be near.
The newly formed South Dakota DCI Cold Case Unit gathers information that leads to searches at the farm of Esther Lykken and her son, Kerwyn, not far from the gravel pit.
In search warrants filed in Union County Circuit Court, authorities said they were looking for the remains of Jackson and Miller, the car they had been driving, personal items and photos of them.
Though they wouldn't confirm it at the time of the August 2004 search, investigators suspected David Lykken, who had grown up on the farm, may have had something to do with the girls' disappearance.
Sixteen years old when the girls vanished, Lykken had attended church activities with Jackson. He went to school in Beresford, S.D., with Miller before she transferred to Vermillion. And he was serving a 225-year prison sentence for raping a Vermillion woman in 1990.
South Dakota Attorney General Marty Jackley, who was a private attorney in 2004, said the Lykken farm's proximity to the girls' destination, Lykken's connections to the girls and history of violence toward women made him a logical suspect.
Investigators used ground-penetrating radar at the farm, and during four days of digging they found bones in a septic tank. They seized a red purse in the rafters of the home. Searchers also took a pair of rubber gloves, women's clothing, boxes of photos and letters. They returned for a second search three months later and dug up two hubcaps and some automobile parts.
In June 2007, Lykken was charged with murder, accused of killing Jackson and Miller.
In February 2008, the case fell apart. A prison informant's supposed recording of Lykken confessing to killing the girls turned out to be fake. Prosecutors dropped the charges.
The state later returned the items taken -- the red purse, the clothes, the photos, everything -- to the Lykken family. None of them could prove a link to Miller or Jackson, Jackley said, and the bones found in the septic tank were from a woodchuck, cattle, chickens and other animals.
Answers moved further away again.
The discovery of the car and the remains inside it may provide answers to some of the 42-year-old questions.
Tests have determined the car was in third gear, a finding that may indicate a traffic accident rather than foul play. Jackley said the investigation into the disappearance of Jackson and Miller remains open. He wouldn't say if Lykken, now 59, is still a suspect.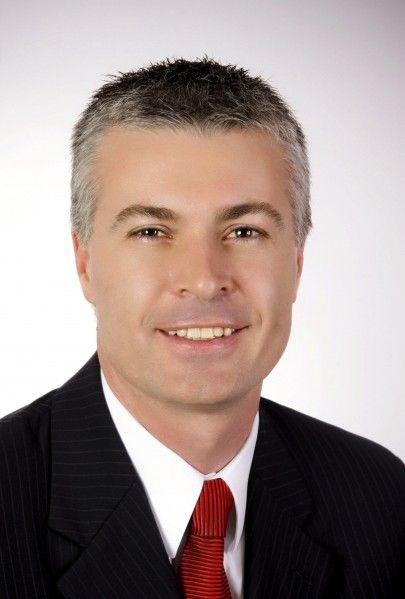 "Our first and foremost objective once the discovery was made was to preserve evidence as best we could," Jackley said. "The next is to get a positive ID for the families and a proper burial. Third is to determine if it was an accident or foul play."
Drive across the bridge over Brule Creek, which splashes over the rocks some 30 feet below. Even if you know what you're looking for as you drive past, the bridge railing blocks the view of the spot where the car was found. If you're paying attention only to the road ahead, a wheel sticking out of the creek below would be almost impossible to notice.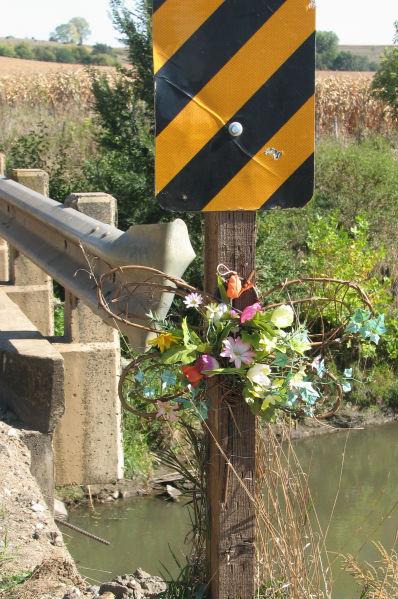 That observation doesn't provide any answers. If the area was searched in the days after the girls were last seen, wouldn't the car have been visible? How could it have been missed?
"It's a fascinating deal," current Clay County Sheriff Andy Howe said. "You always think with hindsight, 'Gee, I wish ....'"
Hindsight, as it's often said, is 20/20. But it doesn't guarantee answers.
Jackley has read the few old investigation reports that exist. He's certain authorities looked at the gravel pits and Brule Creek after the girls disappeared. To what extent, he can't tell.
"It's fair to state that the entire area has been thoroughly looked at," he said.
There are theories, no answers.
Current Union County Sheriff Dan Limoges said the bridge was built in 1970, and construction could have deepened the creek near the road.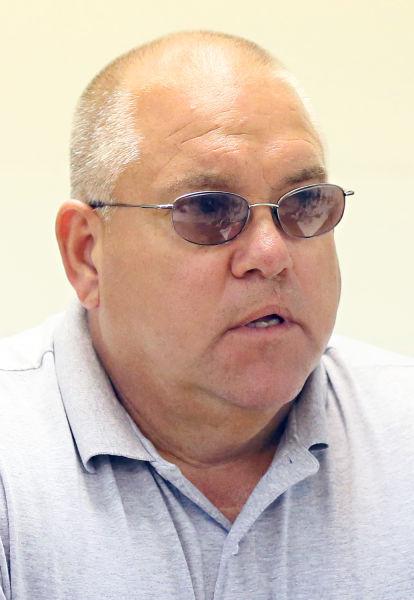 "You wonder if there might have been some kind of hole where (the car) went in," Limoges said. "It had to be submerged."
Howe said aerial photos show the creek's channel has changed over time, the banks have moved. Bridge inspectors were near the car every two years when they checked that bridge. They never noticed anything. Residents of a house built just across the road after 1971 never saw the car.
"It wasn't that people were oblivious to it," Howe said. "I would suspect it was underwater or underground much of the time."
In May, heavy rains fell on Union County, and a flood of water rushed down Brule Creek. Limoges said those flood waters likely uncovered the car, which then became visible when the creek level dropped during a summer dry spell.
The car's discovery could at least answer Brock's question of what happened to her sister, an answer she was uncertain she'd ever learn.
"I did not believe they would be found. I didn't believe they would not be found. I didn't know what to believe. I'm glad it's been found, though."
As the car was raised from the earth, so was the question.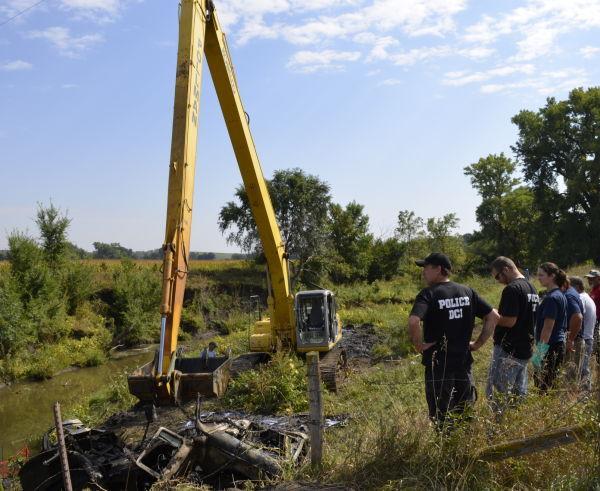 Did anyone ever look there?
That question may never be answered. You can't go back to 1971 to ask.
That's fine with Brock if it turns out her sister has been found.
"It's been so many years," she said, "it will be nice to have her home."