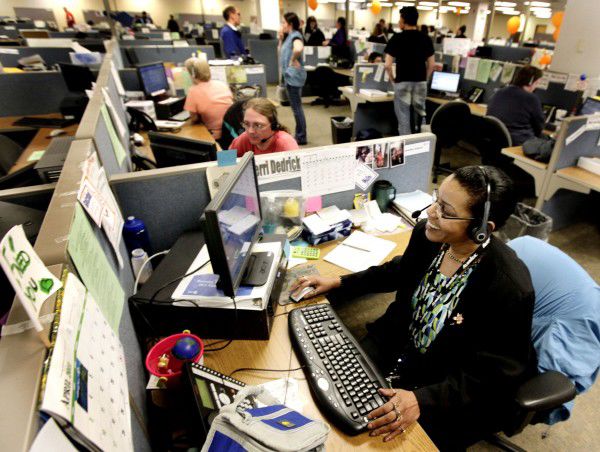 NORTH SIOUX CITY -- For some time, Brenna Wilcox had her suspicions that all was not well at the Alorica call center in North Sioux City.
Wilcox started working as a customer service representative at the North Sioux City call center in December. She was one of 13 people in her training class. By the next month, she noticed the number of new hires in the training sessions had sharply dwindled.
"The next three classes after that — starting in January — only had three people in each class," she said.
On Wednesday, the Irvine, California-based provider of outsourced services notified Wilcox and about 260 other employees the center would close by May 28. The firm complied with the federal Worker Adjustment and Retraining Notification, or WARN, Act, which requires employers with more than 100 employees to provide at least 60 days' notice of a workplace closing or mass layoff.
Wilcox said she wasn't in the office when Alorica employees found out the bad news, but was notified by one of her managers over the phone. She has been in touch with many of her close co-workers and said that all of them — herself included — have started looking for new jobs.
"They want to try and get an application into other employers before they get flooded with applications," she said. "I know a woman who left her shift early simply to start applying for other jobs. I know I have already applied for other jobs."
In a statement, Alorica explained its motive for shuttering its offices in a former Gateway building in North Sioux City, where the company had operated for more than 10 years.
"While it was a difficult decision, we're transferring these positions to other U.S.-based Alorica offices where employees serve the same client," the company said in the statement. "By bringing more people together who work for the same client, team members will benefit from greater engagement with each other during training and will collaborate and share best practices with each other more frequently."
Just a few weeks ago, Wilcox said the company started offering workers "voluntary time off." They were given the option to either leave their shift early or not come in for their shift at all for no pay, something she said had never seen happen before for people working on the same account as hers.
"This started happening almost every day and a substantial amount of employees were going home/staying home every time they offered this," Wilcox said. "So that was a red flag for everyone on the Bank of America contract anyways that something wasn't right. The thing for me and my close co-workers on the Bank of America contract is we did not see the whole site shutting down. That, I don't think, crossed anyone's minds. It certainly didn't cross mine."
You have free articles remaining.
Last Friday, the company held an Employee Appreciation Day celebration where it handed staffers packages of Reese's Peanut Butter Cups with a card attached that read "Have we told you REESEntly how much we appreciate you?!"
Most of the workers handled customer service calls for customers that over the years included AT&T, Bank of America and other Fortune 500 firms.
Alorica, which leased space in the black-and-white spotted Argentina building on the former Gateway campus, was once the largest employer in North Sioux City, with as many as 1,000 workers as recently as three years ago. A company spokesperson confirmed that Alorica employed 260 people at the time of this week's announcement.
Paige Petersen, economic development director of North Sioux City, commented on the blow to the community.
"Alorica has been a major employer for North Sioux City and South Dakota, and we would like to thank them for their time spent here," she said in a statement. "This will be a significant loss for our area, and, while we regret their decision, we will turn our focus to the needs of the employees and their families.
"The community of North Sioux City will work with local, state and federal partners to ensure that every resource is made available to assist those affected by this layoff," she said.
Alorica said the displaced workers could transfer to another company site. The business, whose clients include communications, financial services, healthcare, retail and tech companies, has more more than 100,000 employees in 150 locations across 16 countries around the globe.
In February, Alorica announced plans to add 600 jobs at a center in North Carolina.
In response to Alorica's North Sioux City center closing, Mass Markets said it would hire 100 new inside sales agents and account managers at its Dakota Dunes call center.
"If our facility was larger, we possibly could have done a bit more to help," Mass Markets CEO Anthony Marlowe said in a statement.
"We are happy to grow some of our campaigns that have the highest commission opportunities for sales professionals the area has seen in a long time," he added.
Mass Markets employs 137 people — 120 of which are full-time  — in the Dunes and plans to increase that number to 250 by June 1, Marlowe said. The company, previously known as TMone, operates in the River View Corporate Centre at 870 Cottonwood Lane.