SIOUX CITY -- In a pair of ceremonies Saturday, members of the 185th Air Refueling Wing were celebrated for their recent deployments, and Col. Mark A. Muckey became the 14th wing commander of the 185th. 
Muckey took the command from Col. Lawrence L. Christensen, who'd served as wing commander of the 185th since May 2014. Christensen will become the Chief of Staff of the Iowa Air National Guard at Camp Dodge near Des Moines. 
In the Saturday afternoon change of command ceremony, Muckey said he's happy to return to the 185th, where he first enlisted at age 17 while a senior at East High School, in 1984. 
"It's an honor and it's incredibly humbling to stand here today as your commander," Muckey said. "The opportunity to return to my hometown, to my family and friends... it's an incredible opportunity."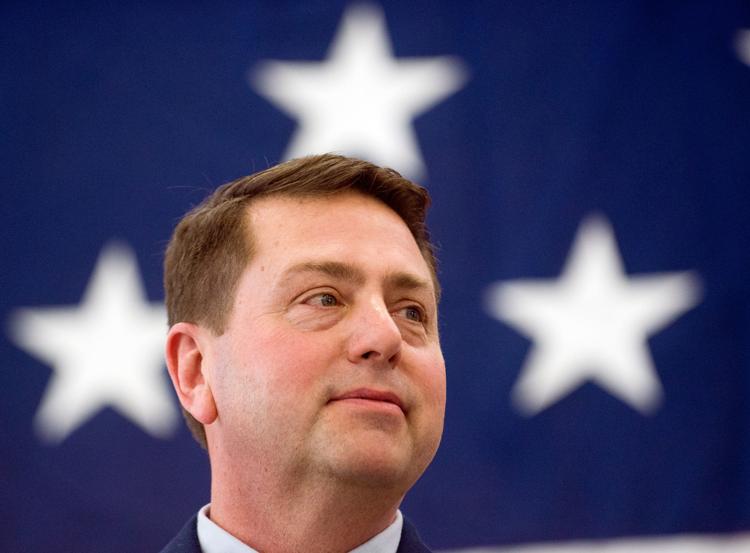 Muckey spent much of his career in Oklahoma, with the 137th Air Refueling Wing at Will Rogers Army National Guard Base in Oklahoma City, later becoming an Air National Guard Adviser at the Scott Air Force Base in Illinois. 
"This is my home, and I'm forever grateful to be able to return, and give back to the great airmen here," he said. 
Iowa Air National Guard Brigadier Gen. Shawn Ford touted Christensen's record as commander of the wing, which saw few if any of what the Air Force calls "mishaps," or incidents resulting in injuries or damage. 
SIOUX CITY -- Col. Mark Muckey grew up flying in a Cessna with his uncle Al Anfinson at Martin Field in South Sioux City.
"Over these five years, you've earned your wing three Air Force Outstanding Unit Awards, and in flying 20,000 flight-hours, you did that without any Class A or B mishaps, and only had two Class C mishaps, which where not the fault of the wing at all," Ford said during his remarks. "So real good job there." 
Christensen, for his part, said he's proud of everything the wing has accomplished during his tenure. He began his career with the 185th in 1986 and spent most of his career with the wing. 
Even when things haven't gone smoothly for the 185th, Christensen said his airmen proved adept at handling whatever situation came their way. 
"I really enjoy watching young people attack problems and making the impossible happen," he said. 
Earlier in the day, the 185th held a ceremony honoring the deployments of 457 unit members deployed overseas between May 1, 2015 and Aug. 31, 2018, for stints as long as 277 days. The airmen, who departed and returned home at different times, were honored together as a group. 
You have free articles remaining.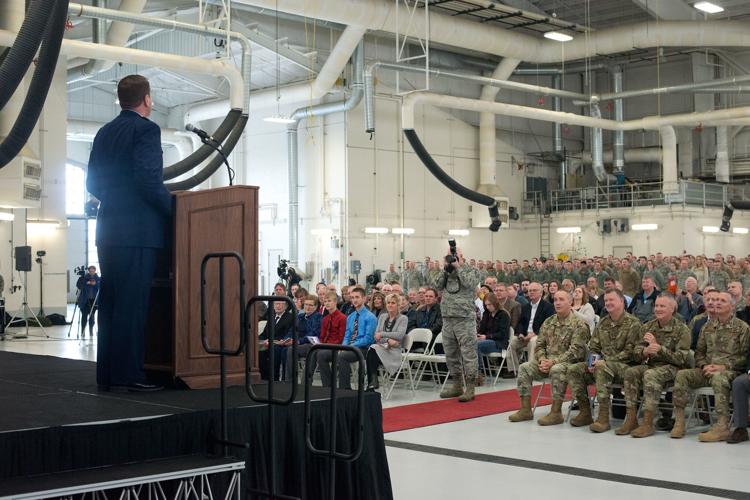 Iowa Air National Guard Major General Timothy E. Orr, during his remarks, said the 185th has been an exceptional wing in its global deployments. 
"I've followed you to Afghanistan, I've followed you to Kuwait, I've followed you to Iraq, and I've seen the difference that you've made," Orr said. "And I can tell you that not every air wing, not every airman, makes a difference. But this group does. The 185th does. And you should be proud." 
Daniel Ter Haar, 32, of Sioux Falls, is a photojournalist with the 185th. He returned home from Camp Arifjan, Kuwait, last April after a six-month deployment. 
He was part of Operation Inherent Resolve, a coalition effort against ISIS in Iraq and Syria. He worked to analyze social media in the region, looking out for anything suspicious or irregular, and managing the operation's social media presence.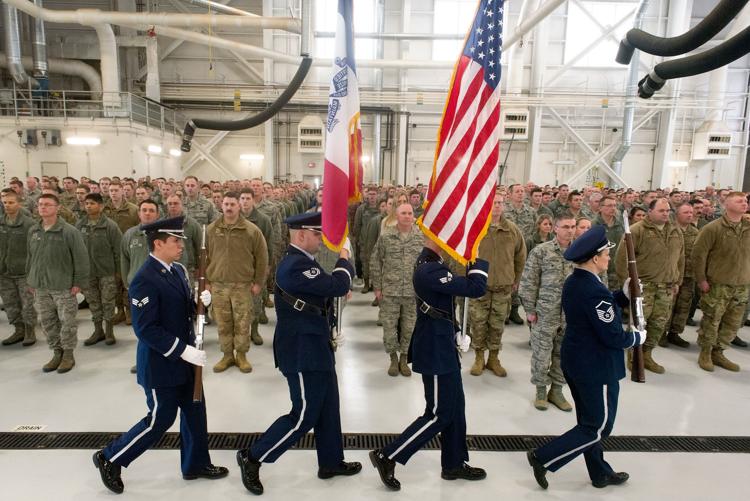 Kuwait, he said, is in reality not much different than a civilian might imagine. 
"There's a lot of sand," he said with a laugh. "Sand and camels. It's pretty well-developed. Kuwait City's a really nice city." 
Major Brian Crichton of Sioux City, the force support squadron commander on base, was also deployed to Kuwait for Operation Inherent Resolve early last year and returned in August. 
A 25-year veteran of the 185th, Crichton was the deputy commander of the force support squadron at the Ali Al Salem Air Base. Back home, he works as an architect. 
"We were in charge of food, lodging, fitness and recreation for the base," Chrichton, 46, said. "We were putting out approximately 50,000 meals a week, taking care of 3,500 bed spaces."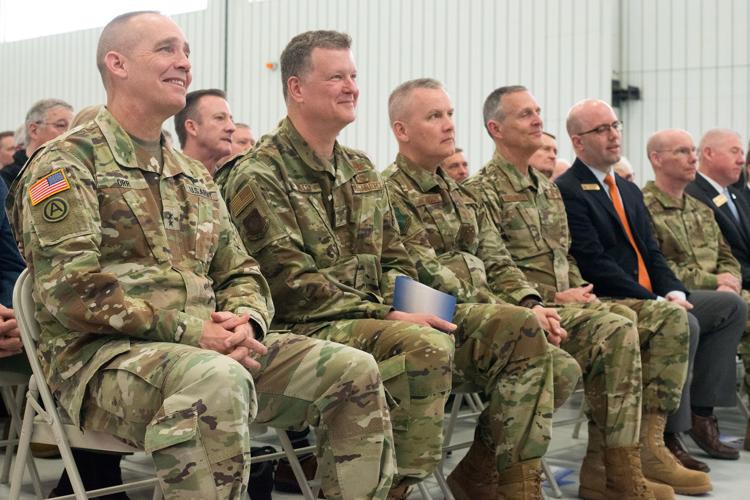 What did Chrichton miss most during his time in Kuwait? The answer might not surprise a civilian. 
"My family, I have four daughters," he said. "Been married a long time, I just missed my family."