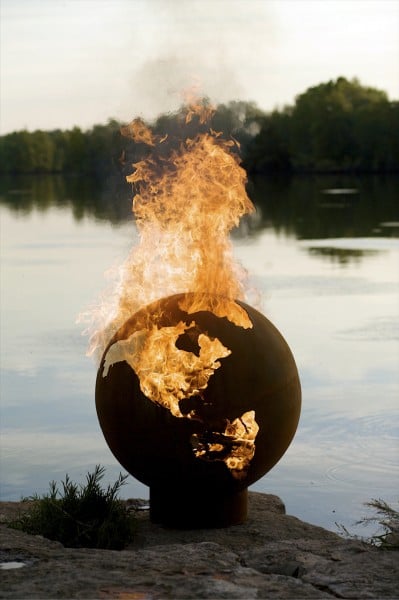 SIOUX CITY -- After roasting hot dogs with his grandchildren on the lawn last March, Brad Koele, of Moville, Iowa, walked by the mobile fire pit he had bought at Bomgaars.
Any flames that may have lingered inside appeared to have been snuffed out.
Koele thought about throwing water on the screened-in metal device on wheels, as he had done on other occasions, but didn't.
"A lot of people don't like to do that because it's metal. It rusts or makes a soupy mess," Koele said. "That's probably what should have been done."
Nearly 24 hours later, light gray smoke streamed from Koele's white ranch-style home with brown trim. Water from fire hoses gushed into his living room through holes cut in the roof as firefighters moved around the burned-out structure.
Neither Koele nor his wife, Gloria, ever could have imagined that a gust of wind would stir embers in the fire pit, creating a blaze that would destroy their home.
Commercially manufactured fire pits are commonly used for social gatherings, and they're perfectly legal in Moville and other Siouxland cities, including Sioux City.
Sioux City Fire Rescue spokesman Joe Rodriguez said fire calls or complaints related to the use of outdoor fire pits are "infrequent" in Sioux City.
A recent search of police records revealed a report of someone burning something outside in the 3200 block of McDonald Street on May 24, but the fire was put out without incident.
A resident complained about a man burning telephone poles in a fire pit in the 900 block of Alice on June 15. The fire was reportedly producing "toxic black smoke."
Rodriguez said fire pits can pose risks, especially if used improperly.
Residents should avoid leaving fire pits unattended, burning leaves or trash in them, or using them when winds are in excess of 15 mph, according to Rodriguez.
"Sometimes fires do smolder for a long time under coals," he said. "Use plenty of water. Make sure it's completely out."
Gloria Koele was vacuuming the morning of March 25 when she heard the smoke alarm beeping loudly.
She walked downstairs into the basement to check the utility room, then glanced through the glass patio doors. Outside she saw smoke.
Neighbors, who also noticed the smoke, called 911. A neighbor came over and tried to fight the fire with a garden hose, but the fire was too big.
Gloria Koele and daughter Jodi Boell, who lived in the basement with her husband and young son, were able to escape the home without injury.
Most of the family's furniture, clothing and heirlooms were saved, along with a car neighbors helped remove from the burning garage.
The home was a total loss.
Fire investigators discovered that a spark from the burn pit, which had been moved onto a cement patio beside the garage, ignited leaves behind a plastic patio box. The fire traveled up the west side of the garage across the sofit and into the house.
In June 2007, the city of Sioux City began to allow the use of commercially manufactured outdoor fireplaces, fire pits and chimeneas within city limits.
Fire pits are prohibited in Des Moines under the city's open burning regulations, while Sioux Falls City Code requires fire pits to have a screen on them and be placed 15 feet away from a structure.
"If we do respond to a fire, it's due to those things not meeting the criteria," Rodriguez said.
Often times, homeowners will place a fire pit on a deck or burn leaves in it -- both violations of city ordinance.
After the fire, the Koeles, who rebuilt their home from the foundation up, got rid of the fire pit. They have no immediate plans to get another.
"If we ever did have one, it would be one that would be mounted in the lawn, away from everything," Brad Koele said.
Get local news delivered to your inbox!
Subscribe to our Daily Headlines newsletter.