SOUTH SIOUX CITY -- Big Ox Energy has mitigated a Jan. 25 spill in which up to 80,000 gallons of sludge overflowed from a plant digester and spilled onto the company's grounds, company officials and Nebraska state regulators said.
The biofuels plant notified the Nebraska Department of Environmental Quality on Jan. 25 that 60,000-80,000 gallons of digester material had spilled at its South Sioux City plant. The material breached an earthen berm and ran into a drainage ditch but was stopped short of entering a stormwater outlet, according to NDEQ records.
By the time NDEQ inspectors arrived later in the day, the berm had been repaired and cleanup had begun. The sludge did not spill onto adjacent property.
"It was an unfortunate overflow incident that we were able to contain to the property there," Big Ox spokesman Kevin Bradley said Tuesday.
Bradley said Big Ox continues to work with state regulators to address the incident and prevent it from happening again.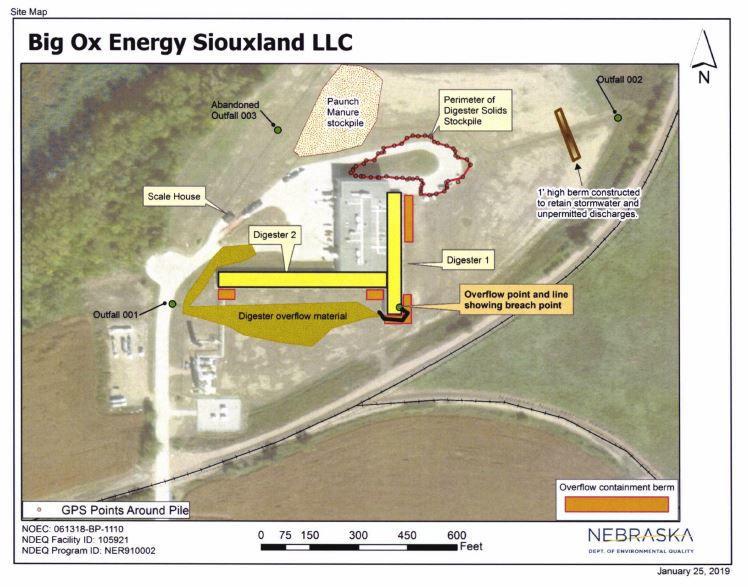 No notice of violation was issued for the Jan. 25 incident, but it falls under an order issued under a Jan. 7 notice of violation the NDEQ issued the Denmark, Wisconsin-based company for improperly stockpiling digester solids on site. Big Ox was ordered to cease stockpiling solid waste materials and remove the material that had been stored there.
"There will be followup of one kind or another," said Reuel Anderson, the NDEQ's National Pollutant Discharge Elimination System permits and compliance section supervisor.
Big Ox has indicated an interest in building a permanent storage site for solid materials consisting of a concrete containment structure and sumps system, according to NDEQ documents.
Bradley said he had no comment on the possibility that Big Ox may build a storage facility at the site.
The January spill was not the first at Big Ox, which converts organic waste from local industries to methane. The NDEQ issued notices of violation in June and August for sludge spills. Big Ox also was issued a notice of violation in July and again in November for air quality violations.
The plant has been the subject of numerous odor complaints from area residents, and a class action lawsuit has been filed against the company claiming that its odors are a nuisance and the result of negligence. A total of 15 homeowners also have filed individual lawsuits against the company, claiming that toxic odors and gases backed up into their homes shortly after the plant began operations in September 2016, causing health issues and making their homes uninhabitable.