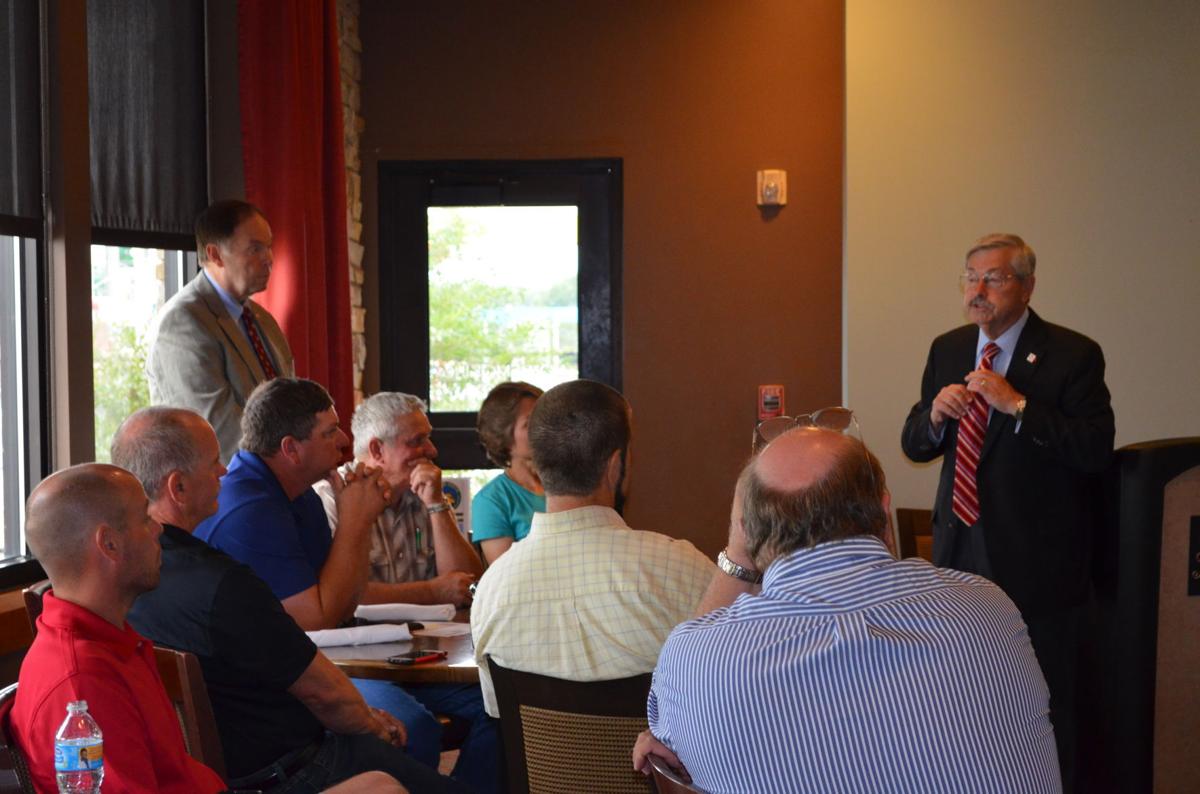 STORM LAKE, Iowa | Gov. Terry Branstad on Tuesday heard and saw firsthand the efforts taken by Storm Lake area leaders to improve water quality and flood mitigation.
Officials and farmers in Storm Lake and Buena Vista County, as well as surrounding areas, have taken steps to improve drainage, reduce nutrients in the water and manage wastewater.
Storm Lake City Manager Jim Patrick detailed the projects the region has been able to complete and ones planned once funding comes through. He emphasized that almost every project had been a collaboration between entities throughout the city, county and state, as well as farmers, producers and landowners.
Branstad said that collaboration and forward thinking to address water quality issues and improve Storm Lake's environment has made the community a model for the state.
"Instead of pointing fingers at each other, you're looking at ways to work together," the governor told an audience of nearly 30 farmers, legislators and conservation experts who participated in a roundtable discussion in Storm Lake. "It's got to be a collaborative effort between local and state government and private entities involved."
Brandstad's stop at King's Pointe Resort was part of his statewide tour to call attention to water quality issues and pitch his plan to divert some of the money typically designated for school infrastructure to pay for water improvement.
A similar plan the Republican governor announced in January failed to garner enough support during this year's legislative session. Leaders in the Republican-led Iowa House, instead, proposed diverting some current resources from the state's infrastructure fund and a water-metering tax to water-quality programs. Leaders in the Democrat-led Iowa Senate did not offer a proposal.
Branstad's current stance is to split state sales tax funding between schools and water quality projects with the current penny tax sunsets in 2029. The governor told the crowd, however, that he was open to discussion and alternatives.
Storm Lake Mayor Jon Kruse said that the 2029 proposal would work, but people are ready to get the ball rolling more quickly to improve conservation and water quality.
"Sooner is better because of missed opportunities," Kruse said. "Everyday we don't put those practices on the ground, we have a high number of nutrients headed down the stream.
"These guys are willing to work on what they need to do and we need to get the funds out there to get it done," he added.
In 2010, voters approved the creation of a natural resources fund, with the understanding lawmakers eventually would increase the state sales tax to fill the fund. While legislators have not advanced that measure, some leaders at Tuesday's meeting favored that funding approach.
Kevin Griggs, a soil and water commissioner from Boone who grew up in the Storm Lake area, expressed to Branstad that an additional tax may be necessary to complete projects and meet demands from the U.S. Environmental Protection Agency.
"The solution is right in front of us. We have the solution," he said. "I'm ready to be taxed, I want to be taxed. It's time to fund the Trust."
After the two-hour roundtable discussion, Branstad and officials toured watershed projects around the area. The tour was the only one scheduled to Northwest Iowa this week. The governor continues his tour with two stops in eastern Iowa Wednesday.