SOUTH SIOUX CITY -- Officer Brian Van Berkum, who sustained two gunshot wounds in his leg and abdomen in an early Saturday morning gunfire exchange in South Sioux City, returned home with pomp and circumstance just before noon Thursday. 
Van Berkum was released from MercyOne Siouxland Medical Center around 11:30 a.m., where an escort of South Sioux City Police, Woodbury County Sheriff's personnel and motorcycles from the Iron Pigs club took him back to South Sioux City. Law enforcement from Sergeant Bluff, Sioux Falls and Union County, South Dakota, also took part, as did the South Sioux City Fire Department and the American Legion. 
The hospital held a "Walk of Respect," in which nurses, doctors and other personnel lined the hallways for Van Berkum as he left. It was inspired by the "Walk of Honor" the hospital holds for the families of organ donors. 
The motorcade rode over the Veterans Memorial Bridge and along Dakota Avenue, where schoolchildren and other onlookers and well-wishers greeted Van Berkum as he rode through town.
Numerous businesses, including Los Amigos -- the bar and liquor store where Van Berkum was shot -- had signs supporting the officer. The Los Amigos sign read, "Brian 220 you are our hero welcome home." The "220" is a reference to his badge number. 
South Sioux City Police Chief Ed Mahon said he was, in his words, "overwhelmed" by the support the community had shown for the department after the shootout. 
"It's good to have Shorty home," Mahon said, using Van Berkum's nickname. He said Van Berkum is "doing really well, he's walking pretty well. I mean, it's just tough. You can see he's drawn a little bit, and I'm sure there's some pain and he's got a ways to go. But we're going to be behind him and in front of him the whole way." 
Mahon did not say exactly when Van Berkum, a veteran officer of nearly 19 years, will re-join the force, acknowledging "there'll be some legal issues that we're going to work through." 
Luis A. Quinones Rosa, suspected of shooting Van Berkum, died of injuries sustained in the shootout; because of this, Nebraska law requires a grand jury inquiry, to determine whether law enforcement acted appropriately. Dakota County Attorney Kim Watson has not yet said when a jury will be empaneled in the case.  
Police Lt. Chris Chernock was almost overwhelmed as he spoke about the positivity he'd seen.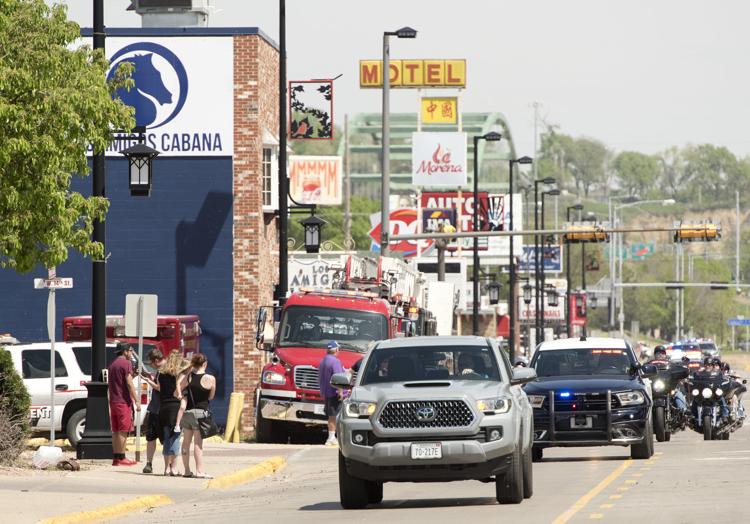 "It was really something else when we went by the gathering of the schoolkids," Chernock said, before pausing. "This is the best place to be from." 
Siouxland Bank in South Sioux City has set up a benefit account for Van Berkum. To donate, checks can be made out to "Brian Van Berkum Benefit Account" and dropped off at or mailed to Siouxland Bank, 1001 W. 29th St., P.O. Box 987, South Sioux City, NE 68776.