SIOUX CITY -- Jeremey Malenosky will be a constant presence when more than 1,000 show choir students attend the Crusader Classic Show Choir Invitational, Friday and Saturday, at Bishop Heelan Catholic High School.
However, he is neither a show choir member nor is he a show choir director.
Instead, Malenosky, an Echo Electric Supply Company counter salesman by day, is one of about 16 volunteers known as "Duct Tape Dads."
So, what does a Duct Tape Dad do? 
Well, pretty much everything. When Heelan's show choir has an out-of-town engagement, the dads transports all of the gear -- costumes, risers, musical instruments -- in trailers to the performance site and back.
They quickly assemble -- and disassemble -- equipment within minutes. If something breaks, they fix it. If it can't be fixed, well, that's where duct tape comes in handy.
For the Crusader Classic, Malenosky and crew will set up Heelan's high school auditorium for middle school teams competing from 5 to 8:30 p.m. Friday. Then, they'll regroup while setting the "Pit," the affectionate nickname for Heelan's old gymnasium at 1021 Douglas St., for competing high school performers, beginning at 8:30 a.m., with finals starting at 7:30 p.m.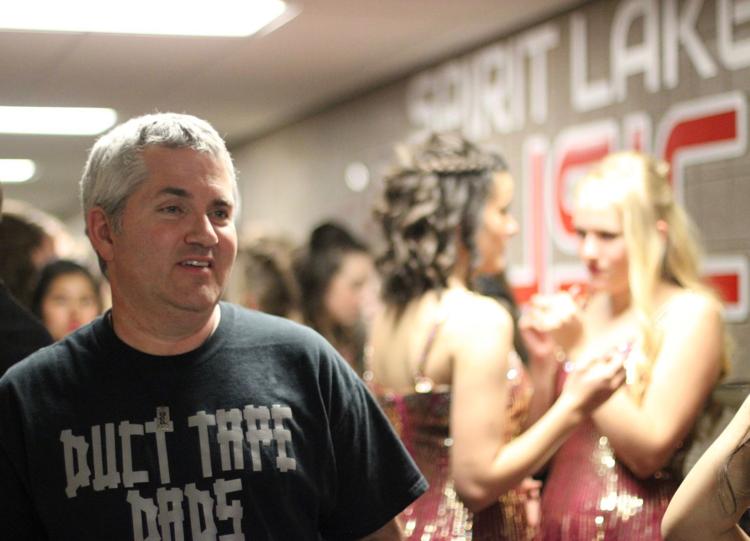 "I usually take Wednesday and Thursday off from work in order to get everything ready," said Malenosky, whose 11th grade daughter, Alycen, is a show choir member.  
Ably assisting Malenosky is John Van Holland, whose 10th grade son, Jackson, is in the show choir.
"Jeremey saw me at various school events and actively recruited me as a Duct Tape Dad nearly five years ago," Van Holland said. 
"You have to be continually recruiting new dads because kids are always graduating," Malenosky said of the group, which also includes Lance Fjeildeim, Matt Johnson, David Krogh, Bill Murphy, Bill Engle, John Beumler, Ed Griesel, Tom Rethman, Fred Summerville, Bart Hollis and Krishna Bishwokarma. 
Indeed, Heelan vocal music and show choir director Rachael Wragge has nothing but raves for the Duct Tape Dads.
"It's wonderful to have our own team of helpers to save the day when things go wrong," she said.
And Duct Tape Dads must be prepared for everything, including the occasional wardrobe malfunction.
"We've have to take needle and thread to a costume in a pinch," Van Holland said.
They are also needed when to scuffing up dress shoes. Um, what?
"Slippery shoes and risers don't mix," Malenosky said.
Conceding it requires a lot of hours to be a Duct Tape Dad, Malenosky admitted.
"We're essentially in and out-of-town roadies for a bunch of high school kids," he said.
Still, Malenosky said he loves what he does.
"We have the best of the house when the kids perform," he said. "And we get to break up the scenery as soon as they're done."