SIOUX CITY --  Let's be frank: Jesse Taylor was hungry for a win when he entered the River-Cade hot dog eating contest, held Tuesday night, in front of Schweddy's Hot Dog Shop.
As he ate his tenth hot dog in an incredible 13 minutes, 45 seconds, the Sioux City man heard the crowd shout "You're a wiener, you're a wiener!"
"I literally entered this contest with no strategy other than I like to eat and I eat a lot," Taylor said, minutes after securing his first place finish.
So, how did he feel at the very end?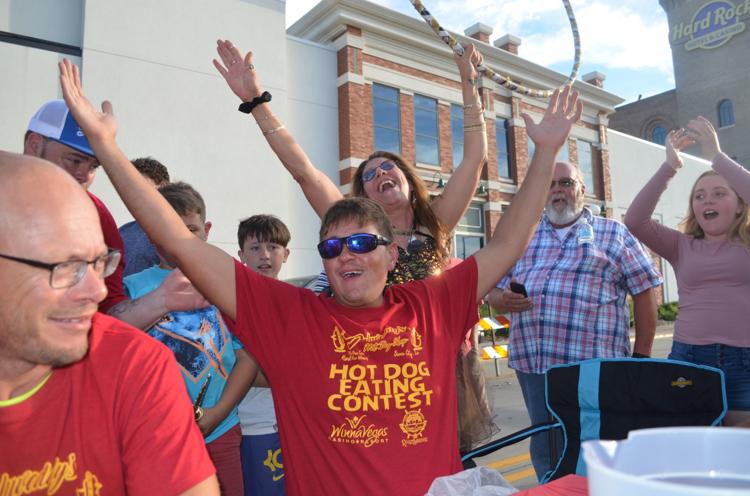 "Very full," Taylor said, rubbing his stomach. "Like I couldn't eat another bite."
For his victory, Taylor received a $100 cash prize and a first place trophy. 
Securing a second place trophy and a $50 cash prize was Chris Persinger, of South Sioux City.
"I had a strategy of separating the buns and the dogs immediately," he said. "I thought eating both would just slow me down."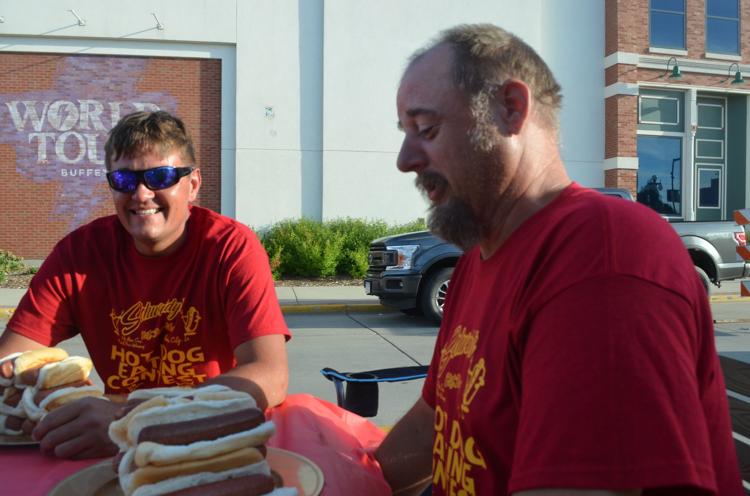 While Persinger had never entered a competitive eating contest before, he did dazzle family members by eating 27 pancakes in one sitting.
Doug Crooks, of Sioux City, had to keep reminding himself to chew and breathe as he methodically gobbled up hot dog after hot dog on a paper plate.
You have free articles remaining.
"It's tougher than I thought it would be," Crooks, who took home a third place trophy and a $20 cash prize.  
Actually Crooks had a better showing than Gregory Danner, who stopped after downing his seventh dog.
A musician and a certified nursing assistant, Danner spent more than a week getting ready for the contest.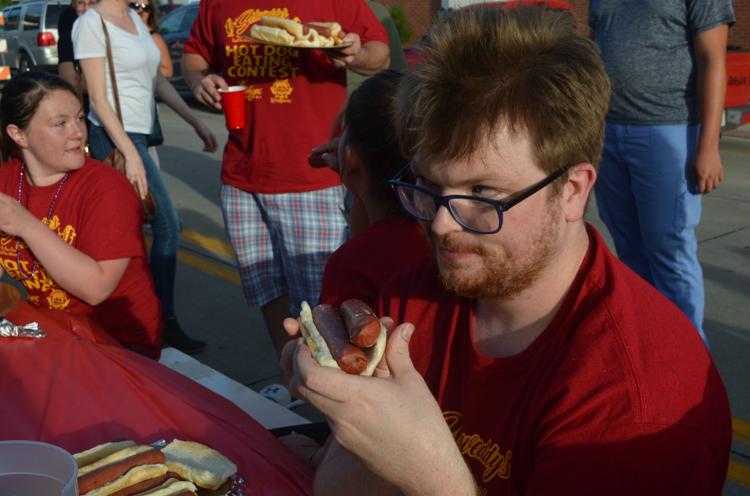 "The only thing I had today was a peanut butter sandwich and an bottle of kombucha tea," he said. "I wanted something inside my stomach before I started chomping on hot dogs."
Hannah Koerselman was one of only two females in a field consisting of 12 guys.
"I'm already a fan of Schweddy's hot dogs and, once ate three fully-loaded dogs all by myself," she said, minutes before the competition began. "I figured eating plain hot dogs would be pretty simple."
After eating her fourth dog, Koerselman threw in the towel.
"Never again," she said, shaking her head. "That was gross."
Still relishing his win, Taylor didn't have any tips to offer future hot dog eating contestants other than eat until you can't eat no more.
"All I can say is that I eat a lot," he said as he hugged girlfriend Melissa Walters.
"Yeah, I can vouch for that," Walters said with a laugh. "Jesse is a big eater."