SIOUX FALLS -- UnityPoint Health, the operator of Sioux City's UnityPoint Health-St. Luke's hospital, and Sanford Health have signed a letter of intent to merge brands, creating a joint health provider across a large slice of the Midwest and Great Plains.
"Sanford and UnityPoint are two successful systems intent on controlling our own destiny," Kelby Krabbenhoft, president and CEO of Sanford Health, said in a statement.
The transaction is subject to various regulatory reviews. Timelines are still fluid, according to the release, but leaders intend for the transaction to be completed, pending regulatory reviews, by the end of 2019.
"I think it could be good for the community and I think it could be negative, but I would hope that if Sanford does what they've done in other communities it would be a real positive," Sioux City Mayor Bob Scott said of the merger Friday.
Iowa Insurance Division spokesman Chance McElhaney wrote in an email that the merger of two health systems does not require the approval of the Commissioner of Insurance.
"In event that the merger would result in the change of control of an Iowa domiciled insurer or health maintenance organization, approval from the Commissioner of Insurance is required. We have insufficient information at this time to determine if the proposed merger will result in the change of control of any Iowa domestic insurer," he wrote.
Among the largest in the country
The merged company would see as much as $11 billion in operating revenue, according to the press release, and would be among the 15 largest nonprofit health systems in the United States. Its hospitals and clinics would employ more than 83,000 staff and 2,600 physicians and carry out operations in 26 states and nine countries.
In its tax filings for 2017, the most recent year available, Sioux City's UnityPoint Health-St. Luke's reported total revenues of $164.5 million, compared to $171.5 million the year before. After subtracting various expenses, including $91.8 million in employee salaries, the hospital reported a net revenue loss of $2,589 for that year. The hospital valued its assets at $136.1 million. 
This spring, the UnityPoint system reported revenues of $1.1 billion for the first three months of 2019, with an operating income after expenses of $11.7 million. 
"Our organization share a deep commitment to exceptional patient care and a vision for transforming and sustaining health care in our community," Kevin Vermeer, president and CEO of UnityPoint Health said. "We are approaching our discussions very purposefully, with a clear and common vision for success. First and foremost, our focus is on people. Working together, we will find new ways to broaden access to care-- beyond the traditional settings -- and take greater responsibility for the health of the population we serve."
Des Moines-based UnityPoint, the nation's fifth-largest nondenominational health system and one of the state's largest medical providers, operates more than 280 clinics, 29 hospitals in metropolitan and rural communities and home care services in Iowa, Illinois and Wisconsin. 
Sioux Falls-based Sanford, which bills itself as one of the largest healthcare systems in the United States, includes 44 hospitals and more than 200 Good Samaritan Society senior care locations in 26 states and nine countries. Some 1,400 physicians are affiliated with the system. 
Early this year, Sanford combined with elder care provider Evangelical Lutheran Good Samaritan Society. The combined nonprofit forecast more than $5 billion in annual revenues. 
Sanford's famous benefactor, T. Denny Sanford, has donated nearly $1 billion to the sprawling health system, according to a 2017 report from Sanford Health. 
Several local medical practices contacted by The Journal, including some of those located on St. Luke's campus, either declined to comment on the merger or didn't return calls from The Journal seeking comment.
You have free articles remaining.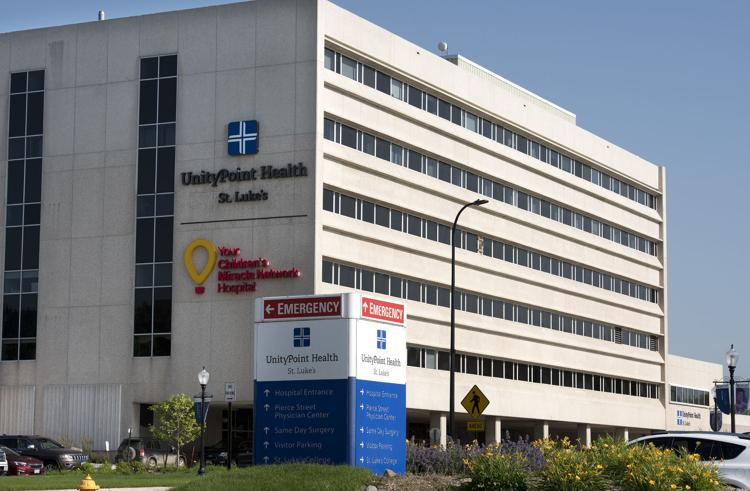 In a statement Friday, Sioux City's MercyOne Siouxland Medical Center, operated by Iowa's other juggernaut healthcare system, MercyOne, said healthcare mergers are a "growing trend." 
"Iowans have certainly benefited from having two, community-focused health care systems headquartered in Iowa for many years. This news reflects the growing trend involving mergers and acquisitions by large national and regional health systems," the statement read.
Suzi Gausman, vice president of community engagement and corporate compliance for CNOS, wrote in a statement that the merger "represents a familiar scenario in today's health care industry."
"Over our 20-year history, CNOS has often found it necessary to adjust to healthcare landscape change and we will continue our commitment to fulfilling our mission of improving health amid these changes," she wrote.
In a separate statement Friday, Vermeer stressed that the merger does not mean UnityPoint has been "sold or acquired." 
"The opportunity to partner with Sanford represents an opportunity to get bigger, but not for the sake of growth alone. If we get bigger in terms of geography, it's so we can do better, on your behalf. We are not being sold or acquired—we're intentionally shaping a new path forward, so we can continue to be your partner in health," his statement read. 
"However, a partnership like this opens new doors for our patients and communities. Our Sanford colleagues are a lot like us. They hold steadfast Midwest roots. They are devoted to doing what's best for patients and families. They understand healthcare is local. And they appreciate the high-quality care and experience we already provide." 
Reached on Friday, officials for both Sanford and UnityPoint said they would make no further comment on the merger.
Christina Anderson, a spokeswoman for St. Luke's, wrote in an email that "business will continue as usual" at St. Luke's College. The private, nonprofit institution offers bachelor's degrees, associate degrees and certificate programs in a number of health care areas of study.
Krabbenhoft would serve as president and CEO of the combined operation, with Vermeer as senior executive vice president, according to the release. UnityPoint Health would recommend the inaugural board chair.
A source told The Journal that Krabbenhoft wrote in a letter to staff members that together, UnityPoint Health and Sanford Health will continue advancing personalized medicine into primary care; work to find the next cures and advanced treatments for diseases like type 1 diabetes and breast cancer; train and develop physicians, nurses and other medical professionals who will provide care in rural communities; and develop telemedicine services to help patients access care closer to home.
UnityPoint-St. Luke's, as it exists today, is the result of repeated mergers over the past century. One of Sioux City's earliest hospitals, Samaritan Hospital (formed in 1873 as Samaritan Home) merged in 1925 with St. John's Hospital, an institution dating back to 1908, to form Methodist Hospital. In 1966, Methodist Hospital merged with Lutheran Hospital (which dated back to 1901) to form St. Luke's Medical Center. 
St. Luke's became affiliated with Iowa Health System in 1996. At that time, the Iowa Health System had five other affiliate hospitals and physicians organizations in the state. 
In 2013, St. Luke's adopted the UnityPoint Health name amid a re-branding of the Iowa Health System.
Journal Des Moines Bureau reporter Erin Murphy contributed to this report.