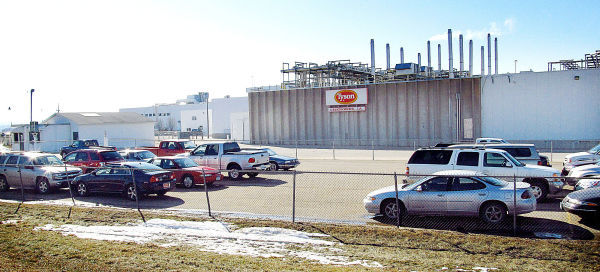 The move is tied to the nation's largest meat producer shifting some of the production at Cherokee to other facilities, as part of an ongoing effort to operate more efficiently, Tyson spokesman Dan Fogleman said in a statement Thursday.
The layoffs, described as temporary, will take effect Friday, leaving about 500 workers still employed at the plant, which processes deli meats such as smoked ham, luncheon meats and hot dogs.
"We don't take this decision lightly and will be working with the affected employees to help them identify other job opportunities within our company," Fogleman said in an email.
Fogleman specifically cited Tyson's pork plant in nearby Storm Lake, or its flagship beef plant in Dakota City as potential landing places for the displaced workers.
"They also have the opportunity to be recalled for work at Cherokee in the weeks and months ahead if business conditions bring about the need for expanded production or other jobs become open through normal attrition," Fogelman said.
The plant's hourly employees, represented by the United Food and Commercial Workers Local 222, approved a new four-year contract in October. It called for raising pay by 25 cents per hour each year, for a total of $1 per hour.
UFCW Local 222 President Marv Harrington did not immediately return a call to the Journal.
Cherokee City Administrator Don Eikmeier said he learned of the layoffs Thursday from Tyson officials. Eikmeier said he is hopeful that business conditions will improve, allowing the workers to return to their jobs later this year.
Built in 1965 by Wilson Foods, the plant started as a pork and beef slaughter and fabrication plant. Tyson has owned the facility since 1997.
Be the first to know
Get local news delivered to your inbox!