SIOUX CITY -- Suspended nearly 40 feet in the air by a harness, Hanna Merica looked as if she didn't have a care in the world Thursday afternoon.
That is, until Camp High Hopes camp counselor Jacob Smith asked the 21-year-old Dakota Dunes woman to count backwards from 3 to 1.
"3, 2, 1," Hanna said as a pulley system was removed, allowing her to swing back and forth at the approximate height of a three-story building. 
"Let go off the rope, Hanna, you're safe," Smith said from down below. "It's OK to move your arms around as if you were a bird."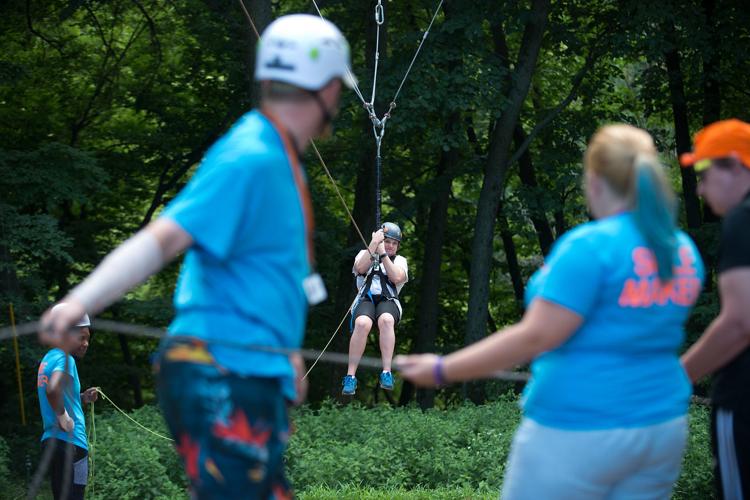 And for a few minutes, Hanna was, indeed, like an eagle flying among the trees or like a superhero you'd see in one of those "Avengers" movies.
"It was awesome!" she said with a big smile. "At first, it was scary. Then it became awesome!" 
A summer camp regular for the past seven years, Hanna is clearly a big fan of the Giant Swing, a new addition at Camp High Hopes. The camp at 5804 Correctionville Road offers year-round, barrier-free, recreational experiences for children, teens and adults with disabilities.
"You won't see too many places with giant swings in this area," Camp High Hopes executive director Chris Liberto said. "It has been a hit with our campers all summer long."
Indeed, the giant swing is simply in a long line of innovations in the works for Camp High Hopes. With a mission of providing fun and adaptive recreational activities, while enriching the lives of people with special needs, the nonprofit organization raises funds through fundraisers like Rib Fest, a Halloween-themed Haunted Lodge Party, as well as a Miles for Smiles Poker Run. The latter is slated for Sept. 7.
Bringing in fun, new activities like the giant swing, is important to maintain the interest of both regular campers and newcomers, Liberto said.
"The cool thing about the giant swing is that it's completely safe and so adaptable to meet everybody's needs," he explained. "That's important because we have to meet the needs of people who have autism, Down syndrome, muscular dystrophy or a range of intellectual or physical challenges."
Which is all well and good. But Camp High Hopes' giant swing is also a gas to experience.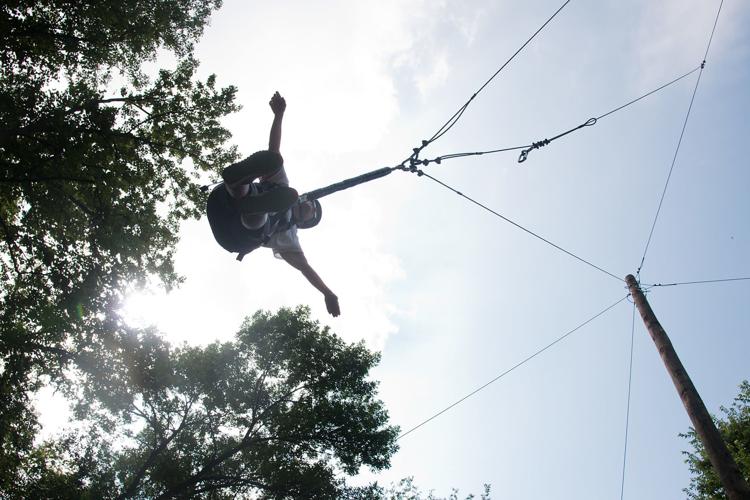 "I call it the ultimate thrill ride," Liberto said. "It's challenging, takes you out of your comfort zone, and lets you experience an entirely new sensation."
This is why Camp High Hopes has already received requests about renting time on the giant swing from the corporate community. 
"Now, that is really encouraging," Liberto said. "Local businesses are always on the lookout for team building activities. What says team building than giving a coworker a ride of the lifetime?"
Perhaps these corporate bigwigs should talk to Hanna Merica, who is already a pro when it come to the giant swing.
"It was scary the first time I was up in the air," she said. "Then, it became fun. Now, it is awesome!"