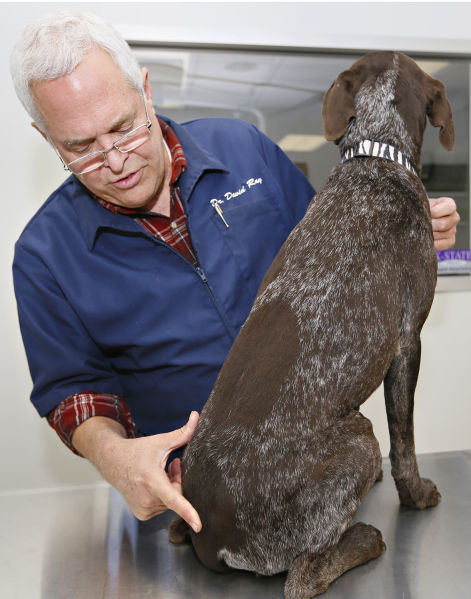 SIOUX CITY | The first case of canine influenza in Iowa has been confirmed in Sioux City.
Samples from a sick dog treated at Perry Creek Animal Hospital, 510 W. 19th St., over the weekend are suspected to be the latest strain of canine flu -- H3N2 -- said Dr. Kyoung-Jin Yoon, of the Veterinary Diagnostic Laboratory at Iowa State University.
While not transferable to humans, it is extremely contagious to other dogs. Pet owners should keep sick animals at home if they suspect their dog could have the flu virus.
Perry Creek Animal Hospital veterinarian Dr. David Ray said he first treated the sick dog for flu-like symptoms on April 20. As of Monday afternoon, he said the dog's owners reported his health was improving.
Local veterinarians are monitoring the outbreak. Ray said roughly half of Siouxland animal clinics have reported dogs experiencing flu-like symptoms, which include a dry cough, fever, loss of appetite and nasal discharge.
The canine flu is not contagious to humans, said Ray. If it is the latest H3N2 strain, current vaccines are ineffective, he said.
The Siouxland Animal Adoption and Rescue Center, at 2400 Hawkeye Drive, hasn't had any sick dogs recently, said owner Cindy Rarrat. Normal precautions will be taken if that happens, she said.
"We always have a quarantine section at the shelter," she said. "If they come in and are displaying any signs of sickness they automatically go to the quarantine section."
Although canine flu is extremely contagious -- the American Veterinary Medical Association estimates 80 percent of exposed dogs get the virus -- it isn't usually fatal, Ray said. Deaths usually occur only in unhealthy and old dogs. Ray estimates most dogs will show the flu-like symptoms for five to seven days.
Dogs should avoid socialization with other dogs in public places, said Dr. Aaron Bessmer of Elk Creek Animal Hospital, 6003 Morningside Ave. This includes dog parks, grooming places and boarding centers.
"It's just like the flu with people. If your dog is sick, obviously keep it away from other dogs," Bessmer said. "I would not take my dog out in areas where there are a lot of dogs."
Dog owners should take their dogs to the vet if their pet shows any symptoms, said Bessmer.