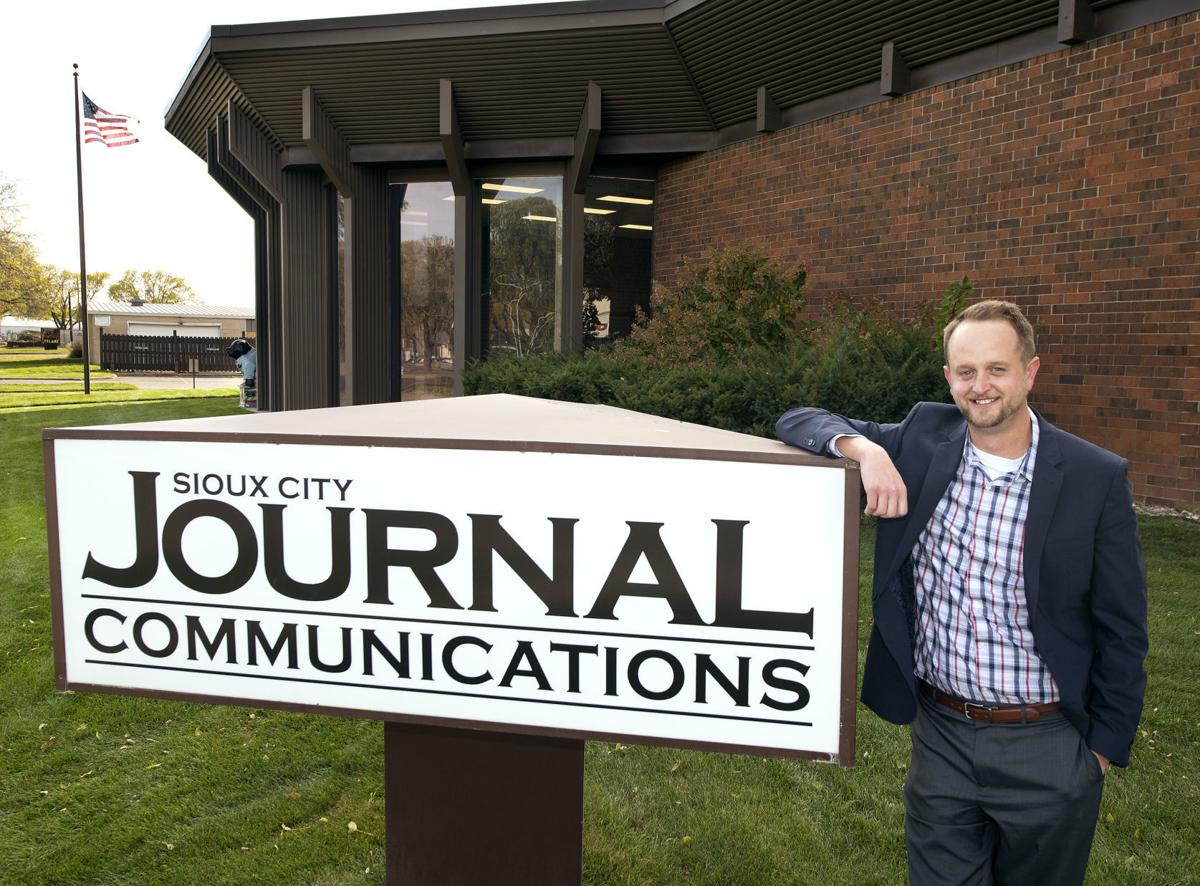 SIOUX CITY -- Chad Pauling said he's always aspired to reach top levels of leadership in his career.
His goal became a reality Thursday as Lee Enterprises named Pauling the publisher of the Sioux City Journal and its associated publications.
"I am incredibly honored and humbled by the opportunity to lead an organization that has been an integral part of this area for more than 150 years," Pauling said. "The Journal has long been the leading provider of quality local news coverage, and I look forward to maintaining that level of excellence for years to come."
Pauling, 35, joined the Journal in 2008 as an advertising sales executive and was named retail advertising director in 2017. 
He said moving up within the organization is the best way to grow.
"To come into a position and work your way up, from an entry-level sales position to leading a company, it is incredible," Pauling said. "It is a testament to what you can do in Sioux City."
Nathan Bekke, Lee vice president – consumer sales and marketing and group publisher, announced Pauling's selection at a gathering of Journal staff Thursday.
"Chad is a talented leader with deep roots in the Sioux City community," Bekke said. "The Journal's readers and local businesses will be well served by his deep appreciation for quality journalism and focus on building an even stronger Sioux City."
Covering the print news product, website, magazine, Weekender and special sections, Pauling said his main direction "is to take everything we do and make it the best it can be."
He added, "If you put out a great product, people will engage with it."
Journal Communications, he said, is a vital source for news, features and sports in the community, as are advertising circulars. 
Pauling said the Journal has a chief role in Siouxland, serving as a highly reliable and groundbreaking media entity for more than 150 years. He said it is of utmost importance for Journal journalists to serve as a check on the powers that be.
He will be leading a team with 82 full-time employees and roughly 100 contracted workers.
Regarding his management style, Pauling said, "I am a huge believer in the team concept. I hate the adage of the boss sitting there in the office and telling people what to do…My leadership style is, one, I like to build teams. I then like them to develop their abilities."
Pauling, who attended Western Iowa Tech Community College, has served as a board member for the Journal's Mr. Goodfellow Charity. He and his wife, Shannon, have two children, Emily, 7, and Landen, 4. 
He is a native of Jackson, Nebraska, and enjoys golfing, boating, camping and fishing, plus the sports of football and basketball.
He succeeds Peterson, who in June ended a 20-year career leading one of Iowa's largest daily papers.
Pauling thanked Peterson for teaching him key newspaper leadership principles and to Bekke and the Lee management team for their trust to lead the Journal. He also gave thanks to the Journal's employees for their ongoing dedication and to the broader Siouxland community for the well wishes that streamed in Thursday.
Lee Enterprises, headquartered in Davenport, Iowa, is a leading provider of news, information and advertising in 50 markets.
Get local news delivered to your inbox!
Subscribe to our Daily Headlines newsletter.