AKRON, Iowa -- To hear what gratitude sounds like, lean in as Ben Stowe holds his laptop and presses "Play." A voice streams through from Times Square in 1944, a young Dennis Carlson, training in electronics for the US Army joins his brother, Orlo Carlson, in greeting their parents back home in Akron.
"In New York here," Dennis Carlson says. "We're having a grand time. Wish you were here, Mother. You'd enjoy it very much."
Linda Shirk, daughter of the late Dennis Carlson, finds three records while going through her parents' home in recent months. Not having the ability to play the records, she reaches out to Stowe, an Akron native who used to refer to Dennis Carlson as "Grandpa" as the retired teacher-turned TV repairman let the youngest tinker in his electronics shop.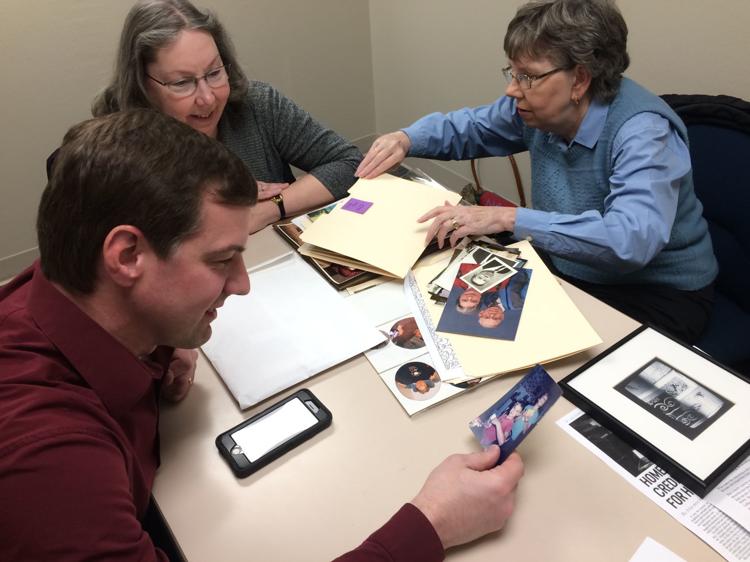 Stowe's path from Akron reads like a movie script. He moves with his parents, Pam and George Stowe, from Akron to Bemidji, Minnesota, as a middle schooler. As a high schooler, he grows intemperate, if not impossible, for his parents to manage.
"I bucked my folks as a teen and ended up living in a homeless shelter for months," he says, disclosing how made ends meet by making strobe lights and other electronics gadgets, selling them in his effort to stay fed.
He soon matures, reconnects with his family and immerses himself in electronics, a passion that sprouted in Dennis Carlson's shop, Carlson TV & Service. Now 43, Stowe serves as president and majority owner of NLfx Professional, a company handling audio, lighting, video, power, musical instruments and supplies and more for venues like the Orpheum Theatre and Tyson Events Center.
Stowe, who founded the company, has worked on five continents, traveled with some of the biggest names in the music industry, Grammy Award winners and Rock-n-Roll Hall of Fame inductees. He's overseen sound systems for broadcasting efforts of six NCAA Division I national championship football games.
"Dennis Carlson, a man I called 'Grandpa,' was my mentor in this industry," Stowe says. "I wouldn't have this career, wouldn't have these skills without the man whose voice is on the records."
The trouble? Linda Shirk can't hear the records initially. She can't play the set of 74-year-old discs uncovered as she and sister, Karen Adix, of Akron, clean their parents' home in the Plymouth County community following the death of their mother, Jean Carlson, in 2017.
Dennis Carlson, who died in 2008, taught high school math, earth science and industrial arts from 1948 to 1978, serving schools in Lawton, Charter Oak, Peterson, Castana, Newell, Akron and Sioux City's Riverside neighborhood. He established Carlson TV & Service as a side interest and operated it from their home from 1963 to 1998. When he was entrusted to the care of his little neighbor, Ben Stowe, on certain afternoons, he fed the boy's curiosity by allowing him to snip wires and solder. Little Ben often accompanied Denny Carlson on service calls in and around Akron.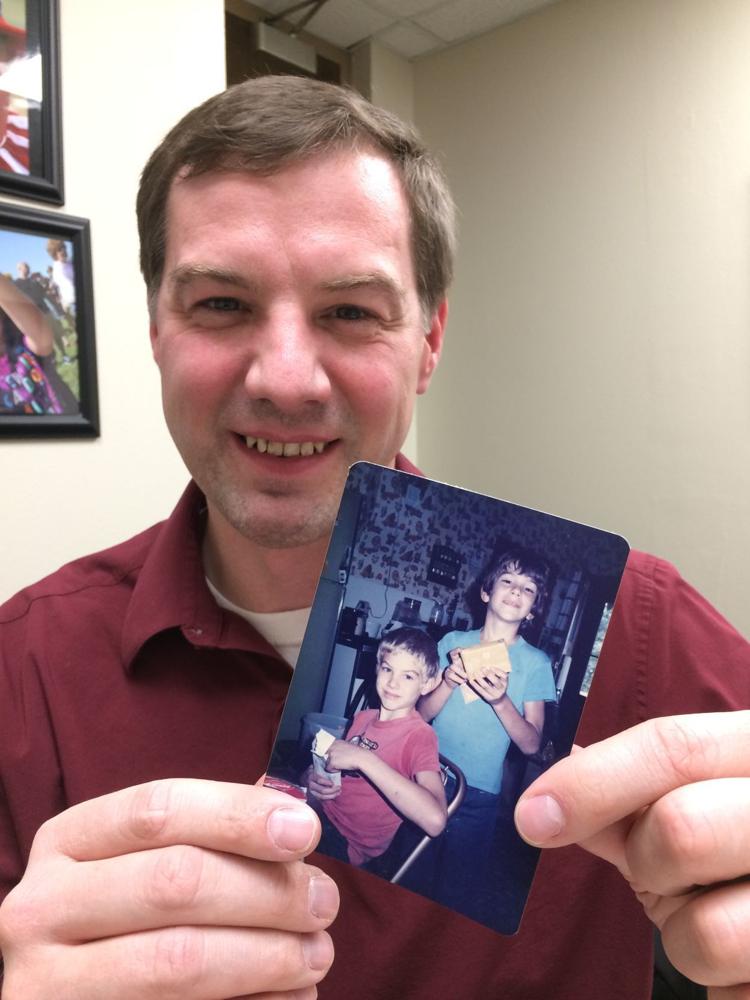 "I was soldering and drinking some of Denny's coffee at the age of five," Ben says with a laugh. "Coffee is a food group in our industry."
Dennis Carlson, a U.S. Army sergeant in World War II and the Korean War, trains in electronics for the Army, then serves in combat in the Pacific. He rarely speaks of his war-time experience and, according to his daughters, and doesn't elaborate much -- if at all -- on the recordings he made via an audio letters campaign sponsored by Pepsi Cola in the early 1940s.
When Linda Shirk unearths the discs earlier this year, her thoughts turn to Ben Stowe. If anyone can salvage their sound, it would be Stowe.
You have free articles remaining.
"I was nervous about getting any audio at all out of them," Stowe says.
Undaunted, he digs in, enlisting the help of others in his trade. They find the best record player they can, one that plays 33s and 45s. He imports the sound to a computer program featuring algorithms that adjust the speed of the recording.
"The audio-file world had no advice," he says. "The slowest speed was the best as we didn't want the needle to jump and ruin these 70-plus year-old records. Hopefully, we wouldn't cut a bigger groove in the records."
As Linda Shirk sits in her kitchen at Papillion, Nebraska, Ben Stowe tinkers. The early returns are muddled, if not unintelligible. Linda's heart sinks as, by contrast, Ben's eyes grow wide with enthusiasm. Where Linda hears nothing, Ben detects opportunity.
"Yes!," he remembers exclaiming. "There's something here! We're going to win this!"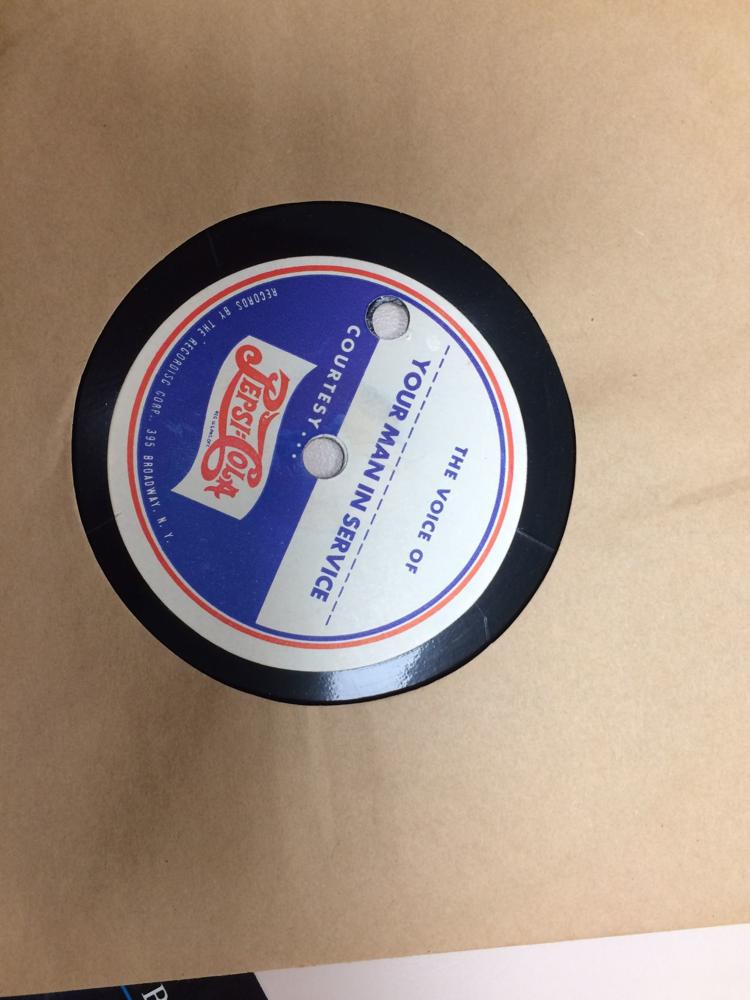 Ultimately, he and his cohorts save all three records digitally, preserving them not only for Linda, Karen and their other sister, Gail Eichstadt, of Pierre, South Dakota, but also for future family generations. And while the nature of the dialogue isn't earth-shattering, the fact they can hear their father's and uncle's voices remains priceless, even for five minutes worth. Here are two young men, on the eve of the world's largest battles, advising their parents to "not work too hard" at home in Akron.
"Keep the letters rolling," Dennis adds, "and we'll bring home the big victory. My love to you from your son, Dennis."
Linda Shirk and Karen Adix smile as the brothers Carlson sign off from New York City, men long gone, men who did their part in saving the world from the forces of fascism.
Ben Stowe, the business leader, smiles as his eyes redden and hint at tears. Dennis Carlson, in many ways, also saved Ben Stowe, putting him on a path to discovery. He'll never be able to adequately express his thanks to his deceased mentor.
The sisters grab his hands and tell him their father would be proud as can be. "Ben was a good student," Linda says.
"For me, there is an emotional side," Ben Stowe says as he places a record back in its sleeve, paper a bit yellow and faded, cracked at the edges. "I thought later about New York and the gravity or the connectivity from that moment (the original recording) to this moment, as Denny was in New York to learn electronics, something directly tied to my ability to play this record 70-some years later."
This isn't the NCAA title game or a Grammy Award winner. Rather, it's closer to his heart.
"The word 'rewarding' doesn't do it justice," he says.
Today, there's a word that sounds even better: "thanksgiving."