TITUSVILLE, Florida -- Jim Christensen paces outside his home in the shadow of Kennedy Space Center, glancing skyward as he visits on his phone. A NASA rocket launch earlier this morning was scrubbed due to a computer glitch. He'll peer up and up again this week if and when the launch materializes.
Christensen was a curious 11-year-old boy a half-century ago when Neil Armstrong took "one giant leap for mankind" in stepping on the moon.
"I watched on our family's black-and-white TV in our basement as we landed on the moon," Christensen says. "I raced outside immediately and looked up to the moon with my binoculars. The entire time we were on the moon, I was running back and forth from the TV to outside to look up at the moon."
Apollo 11, which made that historic landing July 20, 1969, inspired the boy from Stromsburg, Nebraska. In reality, earlier Apollo missions, like Apollo 8, which launched 50 years ago Friday and within days became the first manned mission to orbit the moon, also played a role in sparking the curiosity of the son of the late Harry and Marlyce Christensen, now of Sioux City. A local newspaper, he recalls, published a photo of little Jim Christensen in his fourth-grade classroom, standing amid several classmates, all of them showing models of 1960s-era space-age travel and technology, pieces all constructed by Harry Christensen in the effort to feed his son's passion.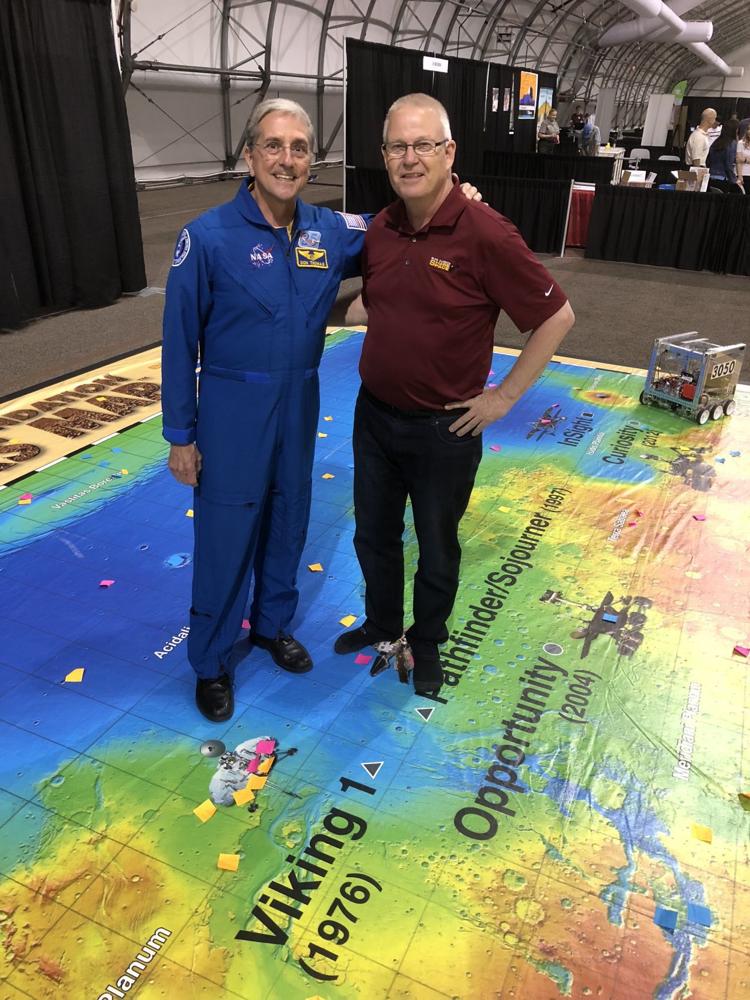 Jim Christensen graduated from Northwestern College in 1979 and took his "giant leap" south to Wall Lake, Iowa, where he taught science for three years. He then landed a job as a teacher in the Galva-Holstein Community School District and team-taught sixth grade with Betty Waller, the mother of his wife, Kim (Waller) Christensen.
Jim Christensen taught 15 years at Galva-Holstein, then served Northwest AEA for 16 years, a time in which he stretched his professional wings to NASA. One summer he landed a position through the National Science Teachers Association at Johnson Space Center in Houston, Texas. In time, NASA bought out Christensen's contract with the AEA as he served the Teaching from Space Program.
"I set up procedures to do video conferences between students and astronauts aboard the Space Station," Christensen says.
Following a six-month stay with NASA in 2001, Christensen returned to Northwest AEA, but kept stoking his interest in space exploration. He helped develop a program that sent Northwest Iowa and other Siouxland and Midwest students to NASA for week-long educational competitions.
That branched out into a similar program Christensen headed for students of Pakistan, India and China. The pro behind the Indian exchange was an entrepreneur who convinced Christensen to head to Florida. Eventually, Christensen was tapped by NASA to help design and open the Educator Center as part of the Kennedy Space Center Visitor Complex.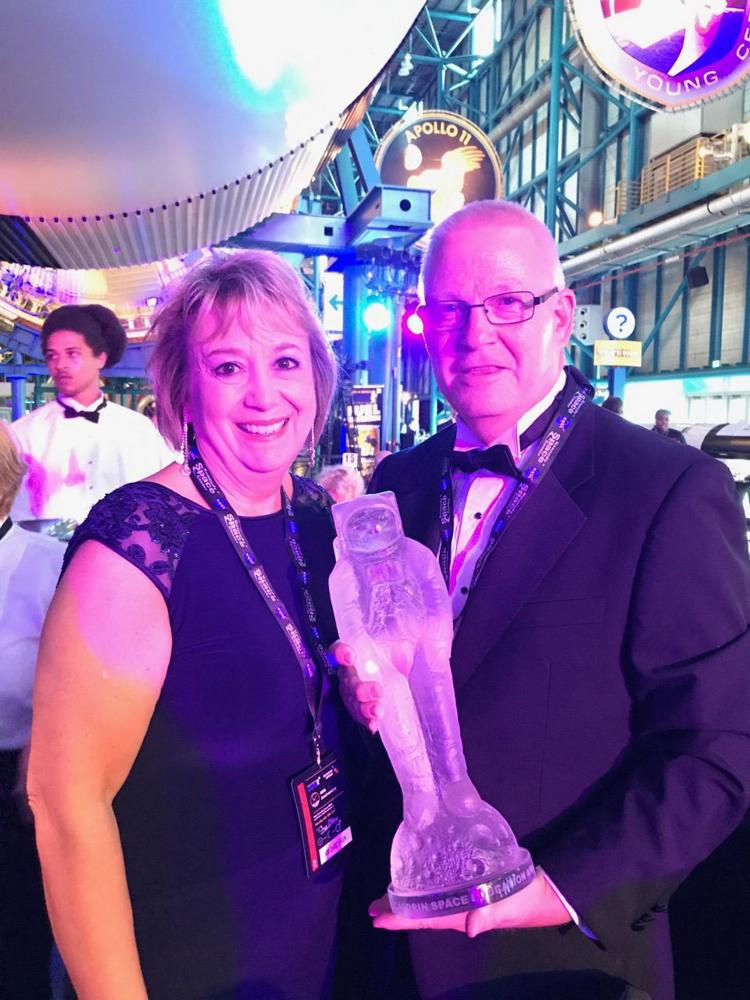 "I was uniquely qualified as I'd worked so long with kids and I'd also worked in the astronaut center at Johnson Space Center in Houston," he says.
Christensen helped pilot an effort to design, build and open the ATX Center, shorthand for the Astronaut Training Experience, a site in which students, adults and corporate employees may spend hours getting a feel for what astronauts experience.
"We have two Orion capsules, two Mission Control centers, and each person has a badge and a computer assigns you two either Orion or Mission Control and you site at a computer that has a timeline and your instrumentation," he says. "You are directed on decisions to make; it's not just a script."
When the time ends for one simulation, say the Orion experience, participants switch and head to Mission Control, or vice versa. This portion of the stay, which includes a micro-gravity simulator, lasts five hours.
Then, a seven-hour experience involves Mars Base One in which participants land on Mars, walk on Mars and reside on Mars for a time. "You land and either go to the operations center, the life experience (plant) lab or the engineering lab," he says. "You work through problems and show communication or collaboration skills. We have swivel chairs so people must turn and talk to their neighbor. We have real plants and every student has a chance to plant something."
Christensen's involvement led officials to honor him with the Buzz Aldrin ShareSpace Foundation Award in Education, an accolade bestowed at a gala reception in which Jeff Bezos was hailed for his innovation and Mae Jemison was feted for her contribution to humanity as the first female person of color to work as an astronaut.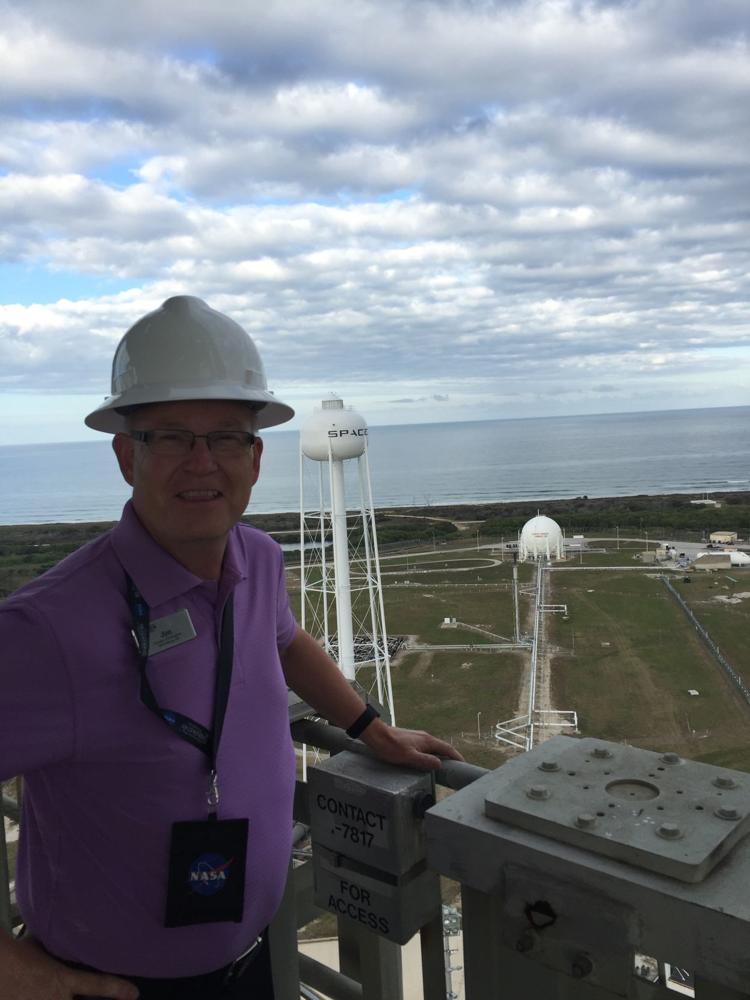 "I received the award and sitting there in front of me were (astronaut) Buzz Aldrin and Michael Collins, who served as command module pilot when we landed on the moon," Christensen says. "I told them both how I spent that evening in 1969 running outside and back inside in Stromsburg, Nebraska."
Christensen, executive director of the Buzz Aldrin ShareSpace Foundation, laughs, sharing that "pinch-me" reaction he still has for his daily work, even at age 61. "My job is to inspire kids, that's a cool job description," he says.
In many ways, it hasn't changed since he landed in Wall Lake, intent on encouraging young learners.
"With the 50th anniversary of the moon landing coming up, my next meeting involves finishing details on a giant moon map," he says, offering notes about a book and curriculum package his organization will see distributed to schools across the U.S. and beyond.
"I'm headed to Brazil soon to work with a group for two weeks," he says.
The experience of being a teacher, he concludes, prepared him for this work. The experience of being a student whose thirst for exploration was constantly fed has certainly paid dividends, too.
In many ways, he's still that bright-eyed learner, always looking skyward and beyond, that next frontier. The rocket launch scrubbed Tuesday morning will happen soon, if cool, clear skies hold on Florida's east coast. "They'll try again tomorrow," Christensen says.
And while he'll watch, he won't use binoculars.  "For me," he says, "the fun is in the big picture."