CEDAR FALLS, Iowa -- The West Sioux Falcons won long before their championship football game kicked-off on Friday at the UNI-Dome in Cedar Falls.
The Falcons' captains lifted an opposing team and a faraway family while carrying the late Jacy McAlexander's jersey to midfield for the ceremonial coin flip. McAlexander, 17, and a junior at South Central Calhoun High School, lost his battle with Ewing's sarcoma (a bone cancer) and died on May 16.
McAlexander fought cancer the first time as an 8-year-old. Following surgery that took three inches of two ribs on his right side, he endured 14 rounds of chemotherapy over the next nine months before earning a clean bill of health.
As a freshman, the son of Earl and Kerri McAlexander, of Rockwell City, Iowa, played football for South Central Calhoun. His cancer returned, however, and forced him to the sidelines. Rather than give in or give up on his beloved Titans, he served as the football and cross country team manager. He also did an Eagle Scout project, played trumpet in the band and served on the State 4-H Council.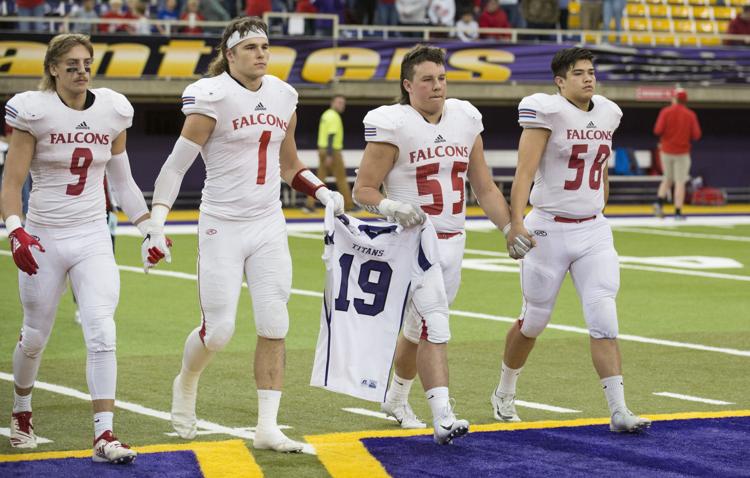 Jacy's football teammates celebrated his legacy this fall by carrying his jersey to midfield during each one of 11 games in this, what would have been his senior year. The Titans won 10 straight before losing to West Sioux in the state quarterfinals.
After that game, officials presented the Titans with their state participation trophy. The seniors on the team draped McAlexander's jersey over the trophy while taking a ceremonial last walk on the gridiron, offering a salute to their fans.
It wasn't lost on the West Sioux gridders. Heck, the West Sioux Falcons cheerleaders, one of the best cheer squads around, took notice of the No. 19 jersey at the coin flip during that quarterfinal contest in Lake City, Iowa. It moved the visiting cheerleaders to "pass the hat" through the West Sioux crowd. They raised around $500, a gift that in some small way complemented the work of Titan kicker Zane Neubaum, who joined a national cause called Alex's Lemonade Stand and offered to raise money for each point he scored this season.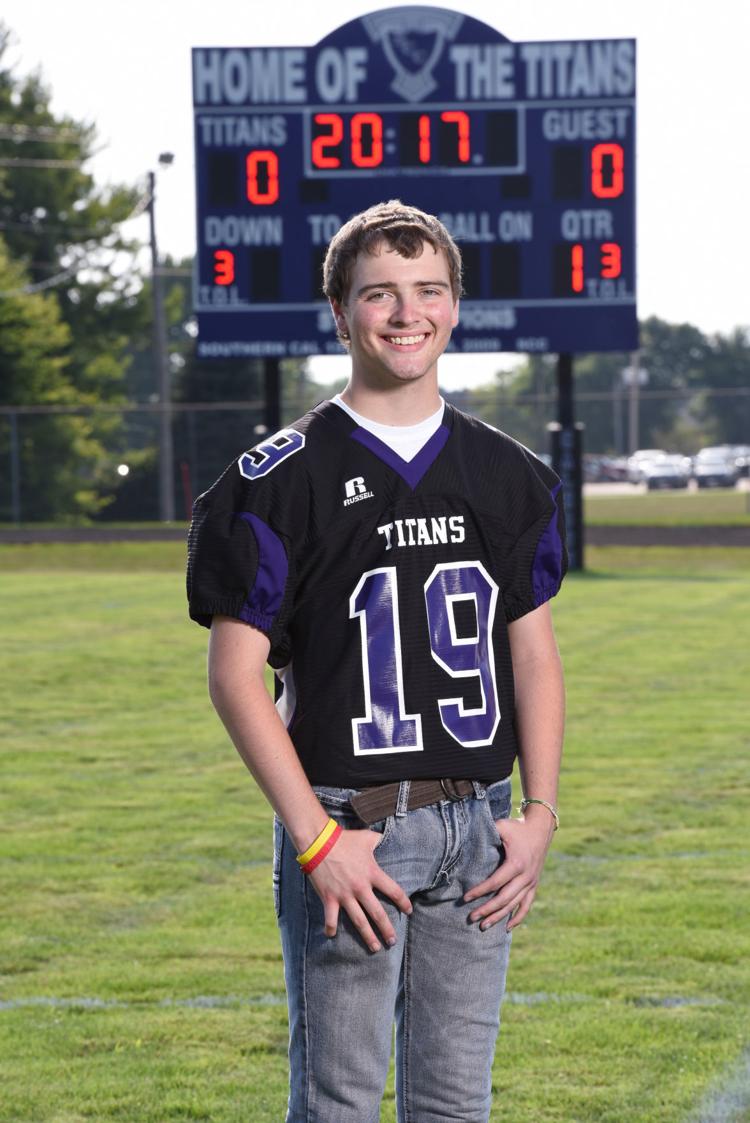 "I think Zane's goal was to raise around $1,000 this season," Earl McAlexander said. "We heard the amount on Wednesday was up around $9,000."
How did the West Sioux football team become the bearer of this special jersey? "When the South Central Calhoun captains carried Jacy's jersey to the coin toss before our game there, it moved our players," said Ben Bouza, West Sioux athletic director. "Two players, Chase Koopmans and Connor Koopmans, who are cousins, came to me and said, 'Let's carry his jersey.'"
According to Bouza, the Koopmans lost their cousin, Dusty Koopmans, age 24, to a similar cancer, osteosarcoma, in 2004. "They said, 'Maybe we can do some good by carrying Jacy's jersey on Friday,'" Bouza said.
You have free articles remaining.
Bouza called Earl McAlexander to ask. McAlexander said his phone noted that a call came from Hawarden, Iowa, where West Sioux High School stands. McAlexander, who lives 133 miles from Hawarden, said he didn't know anyone from there. Still, he felt he should answer.
"It was a hard conversation to have, but Earl was honored that our kids would focus on something bigger," Bouza said.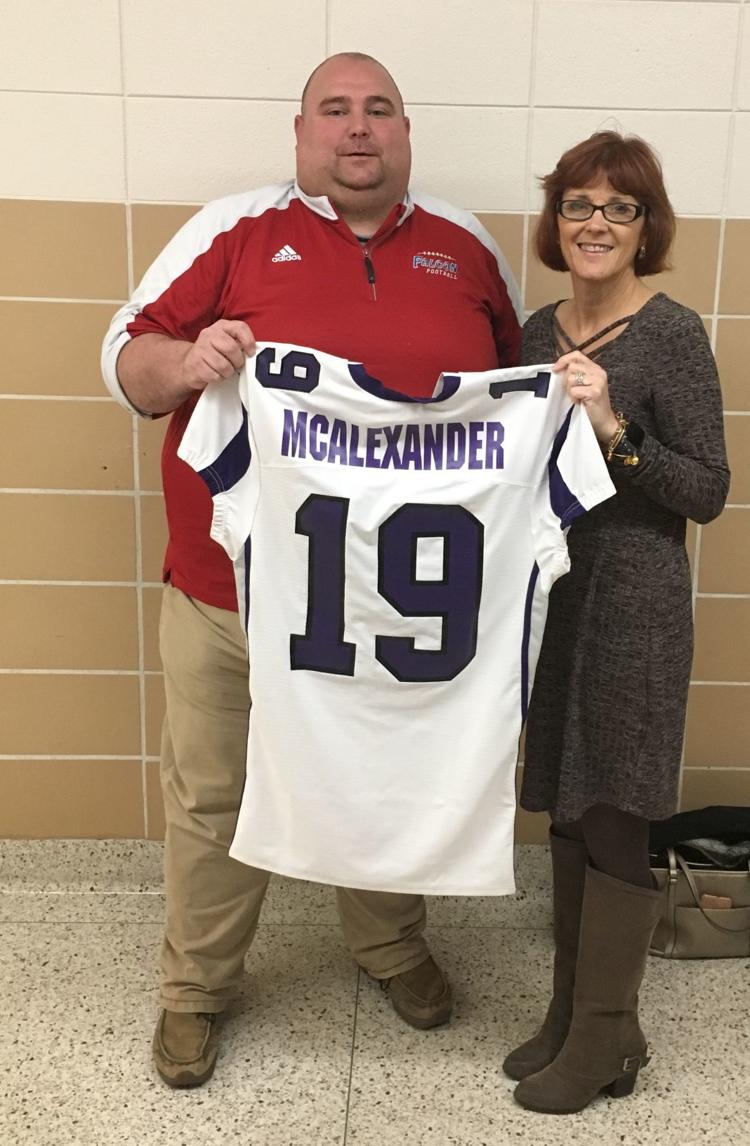 Bouza met Kerri McAlexander, an elementary teacher, after school in Rockwell City on Thursday as he traveled to Cedar Falls, site of the state finals. Kerri gave him the jersey, which he presented to team captains prior to Friday's game.
Earl and Kerri McAlexander watched the scene unfold in the UNI-Dome, emotions mixed on the 6-month anniversary of their son's death. "It's tough, but it also gives us strength to see things like this happen," said Earl, noting how his family found comfort sitting among West Sioux fans for an incredible title contest. "Jacy always said and thought people were good if you gave them the chance to be. This is their way of showing goodness."
West Sioux prevailed in a high-scoring affair, 52-38, giving the Falcons their second crown in as many years.
Beyond kicker Neubaum's pledge drive and the West Sioux cheerleaders' on-the-spot funding effort to fund the fight versus Ewing's sarcoma, Jacy McAlexander did more than his share of heavy lifting for a good cause. He began collecting tabs from pop cans to be recycled in an program that benefits Ronald McDonald House in Des Moines, where his parents stayed more than 300 nights as he was treated in nearly a decade span at Blank Children's Hospital.
"Jacy's goal was to collect one ton's worth of pop tabs," his dad said. "We've now turned in nearly 5,000 pounds already. Our goal is to reach five tons by this birthday next September. We're about halfway there."
One ton will soon grow to five tons. Just as one jersey showed goodness from Calhoun County to Sioux County to Cedar Falls and a statewide stage.
"It's hard every day," Earl McAlexander concluded. "We are doing things Jacy would have wanted to keep doing and to push that as far as we can. That's the least we can do for him."