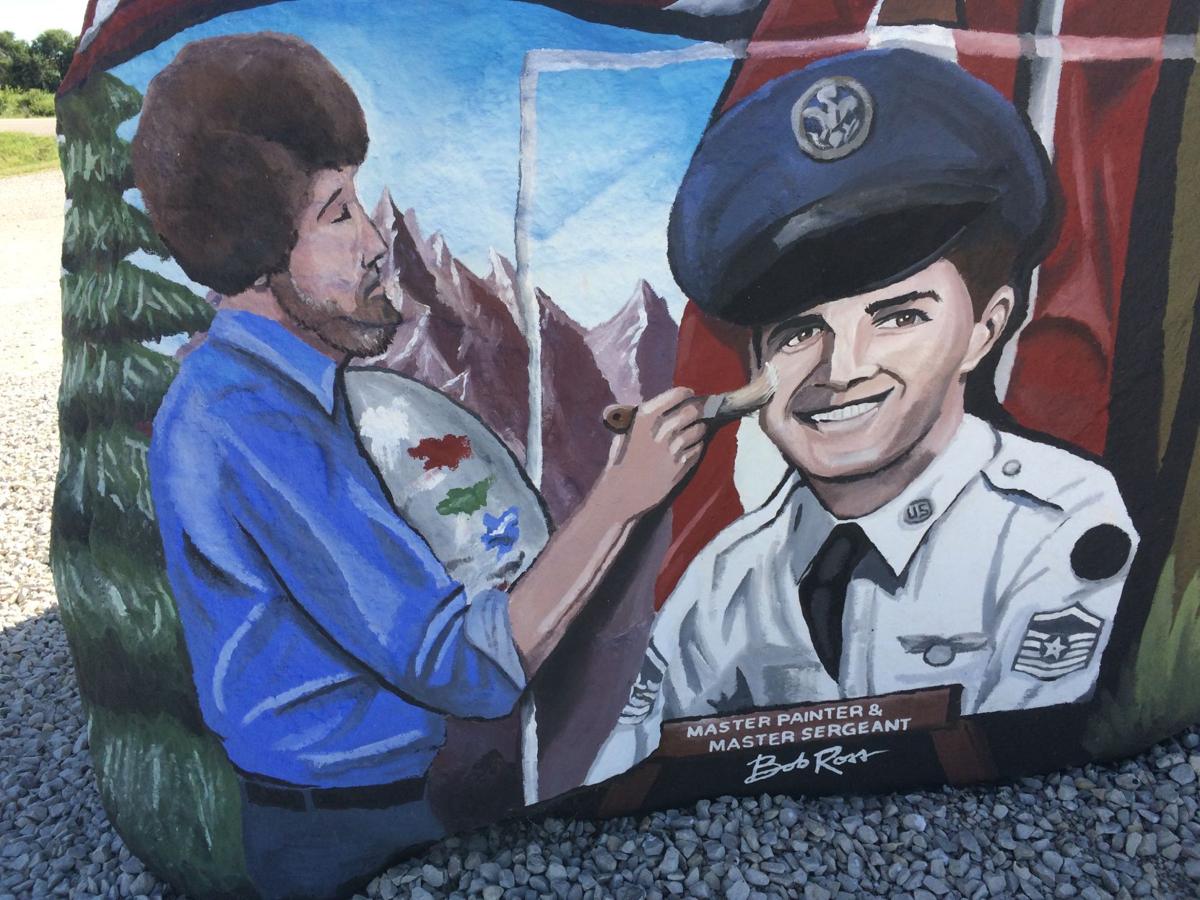 MENLO, Iowa | Before his recent swing into Northwest Iowa, Freedom Rock creator Ray "Bubba" Sorensen put the finishing touches on the 19th edition of his original Freedom Rock south of Menlo.
Sorensen, 38, who always aims to have that Freedom Rock done by Memorial Day, finished this year just a day or two before the holiday. All told, it took him just over three weeks.
"I just realized that I've been doing the original Freedom Rock for half my life," said Sorensen, who painted that Freedom Rock for the first time in 1999.
The original Freedom Rock this year features two depictions of the late Bob Ross, one as Ross the artist, the other as Ross the staff sergeant, a member of the U.S. Air Force for 20 years.
"Bob Ross was an inspiration for me," Sorensen said during a break while painting the Ida County Freedom Rock at Holstein on Monday. "He said he spent part of his career yelling at people (as a staff sergeant) and the rest of his career painting.
"Bob Ross was so well-known, I always thought it would be interesting to portray him," said Sorensen. "I loved his show. He was inspiration for me dating back to times before I began painting the original Freedom Rock."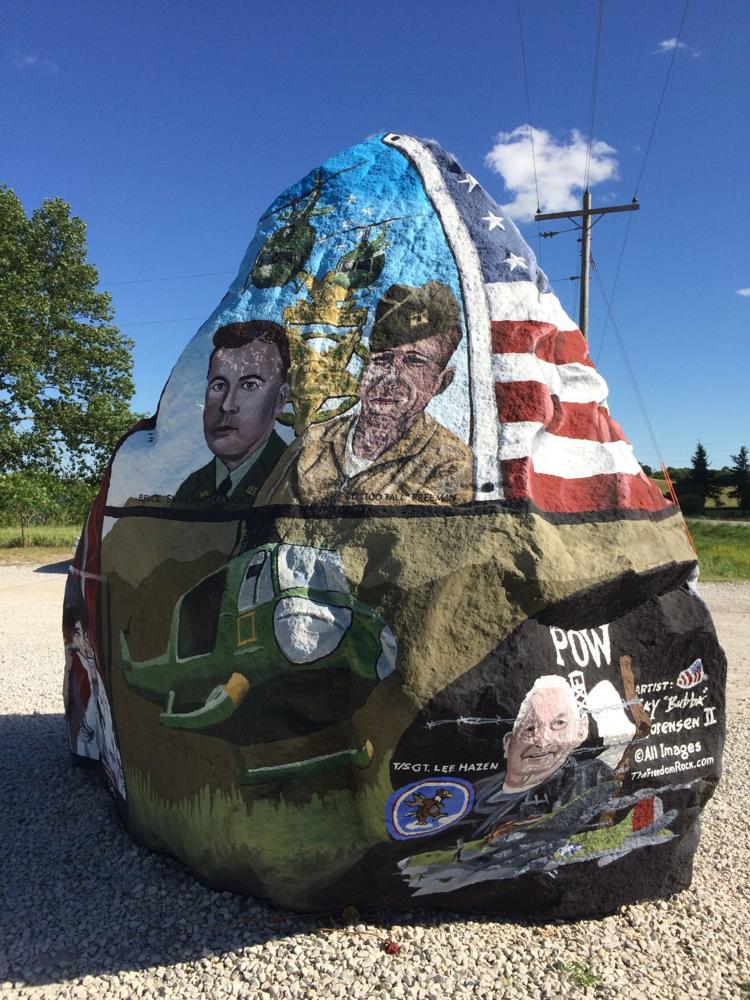 Ross, a native of Florida, enlisted in the Air Force at 18 and spent two decades in the military, serving a portion of his career at Eielson Air Force Base in Alaska, where Ross encountered snow and mountains for the first time, two natural elements he became known for while painting landscape scenes on "The Joy of Painting," which ran for years on Public Television. Ross died from lymphoma in 1995.
You have free articles remaining.
There are other tributes on this edition of the Freedom Rock, a 60-ton boulder located 1.5 miles south of exit 86 off Interstate 80 between Menlo and Greenfield, Iowa, where Sorensen and his family reside.
The late Maj. Ed Freeman and the late Lt. Col. Bruce Crandall are depicted with the Huey helicopter, a Vietnam War scene Sorensen features annually. The paint used for the helicopter has included ashes of Vietnam War veterans for years.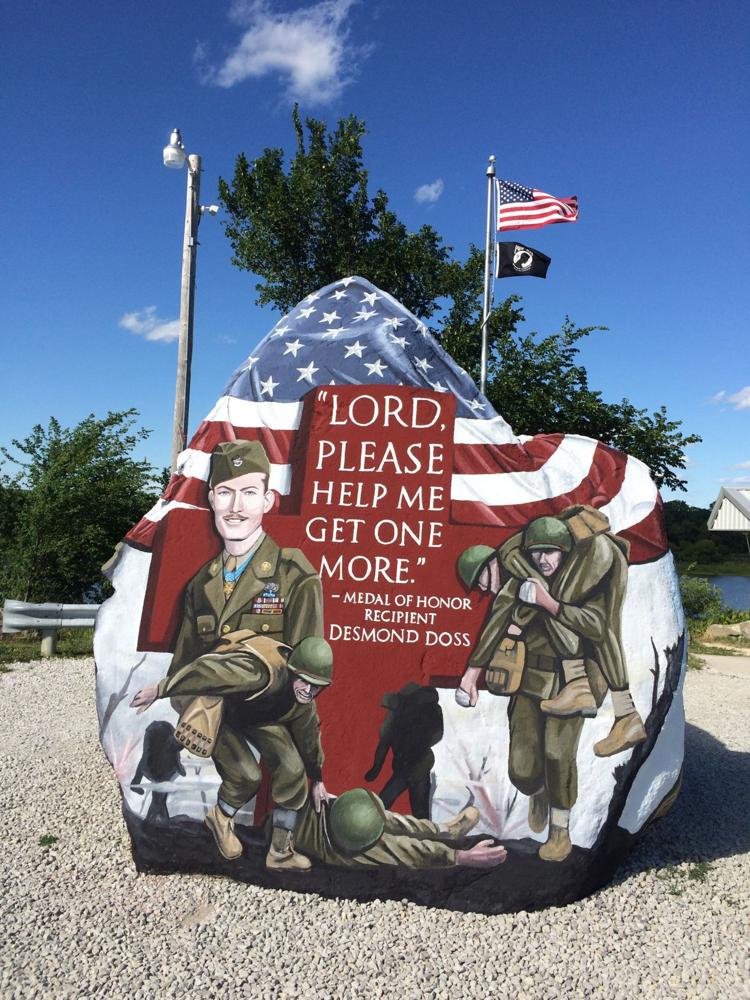 "We added veterans' ashes to the helicopter this year and brought the number to 100 Vietnam veterans whose ashes we've included," Sorensen said.
Freeman and Crandall, heroes in the battles of the Ia Drang Valley in November 1965, were presented with the Medal of Honor in 2001 and 2007, respectively. Both men repeatedly flew their choppers into enemy machine gun and rifle fire in their quest to evacuate wounded U.S. soldiers and Marines.
The front, or west face, of Freedom Rock shows another Medal of Honor recipient, U.S. Army Pvt. First Class Desmond Doss, subject of the movie "Hacksaw Ridge." Doss, a Seventh-Day Adventist and conscientious objector who refused to carry a weapon, heroically fulfilled his duty as a medic who, while continuously exposed to enemy fire, rescued and treated his fellow wounded soldiers. Doss himself was wounded while saving others in a furious battle at Okinawa.
"I had always planned to put Desmond Doss on the rock and then I saw the movie previews," Sorensen said.
The back, or east side, of Freedom Rock this years features "man's best friend," depicted in a trio of service dogs, including the famous U.S. Army Sgt. Stubby, of World War I, a service dog decorated for his work in saving his regiment from surprise mustard gas attacks.
"Anytime I see a story about a service animal, I read it," Sorensen said. "Sgt. Stubby got the rank of sergeant, which I don't think they were supposed to do. But, it was World War I and the rules were a little more relaxed."
Seeing the artwork on the back of the wall, I recalled the life and sacrifice of South Sioux City, Nebraska, resident John Douangdara, a U.S. Navy special warfare dog handler for Naval SEAL Team Six. Douandara died on Aug. 6, 2011, when the Chinook helicopter he and his dog, Bart, were in was shot down, while they served a mission in Afghanistan. The John Douangdara Memorial War Dog Park, named in their honor, keeps their memory alive. Just as the Freedom Rock has done for so many of our nation's finest the past 19 years.